No college football, no Hollywood blockbusters, too many hurricanes are predicted to overwhelm the alphabet…and more ways that 2020 stinks.
But first, one good thing. More than 830,000 fliers passed through airport security on Sunday., Aug. 9, 2020, topping the 800K figure for the first time since mid-March. Here's the year-on-year TSA daily data from March 1, 2019. Still, we have a long way to go to the 2.5 million-or-so travelers passing through airport security this time last year.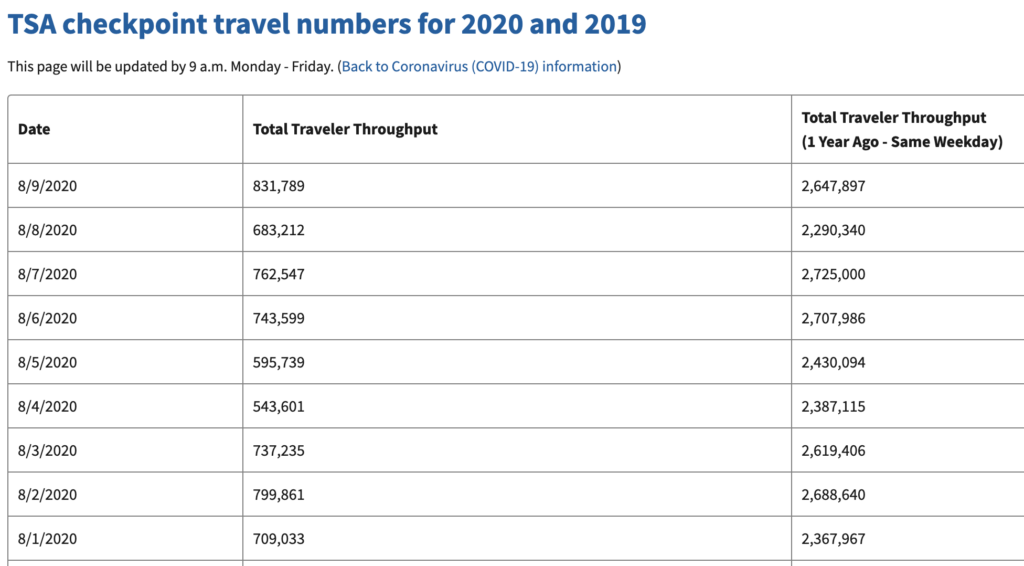 ---
File this item under "Why 2020 Stinks." Storms of 75 mph winds or higher are hurricanes and they get pre-planned names. About 95 percent of these storms form between August and November. The National Oceanic and Atmospheric Administration (NOAA) has never actually predicted that we'd run out of names in one season. Until now, reports the Washington Post.
The season has the potential to be one of the busiest on record, NOAA said.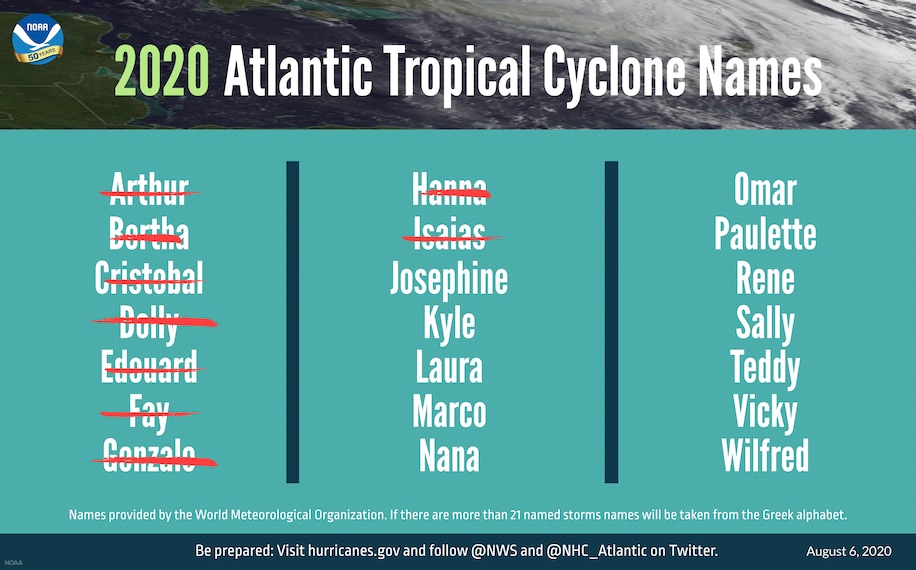 Several letters (Q, U, X, Y, Z) don't get used.
Meteorologists at Colorado State University project 24 named storms, including 12 hurricanes and 5 major hurricanes—so many storms that names would have to be pulled from the Greek alphabet, too. This happened only once before, in 2005, a devastating season that was the most active on record.
---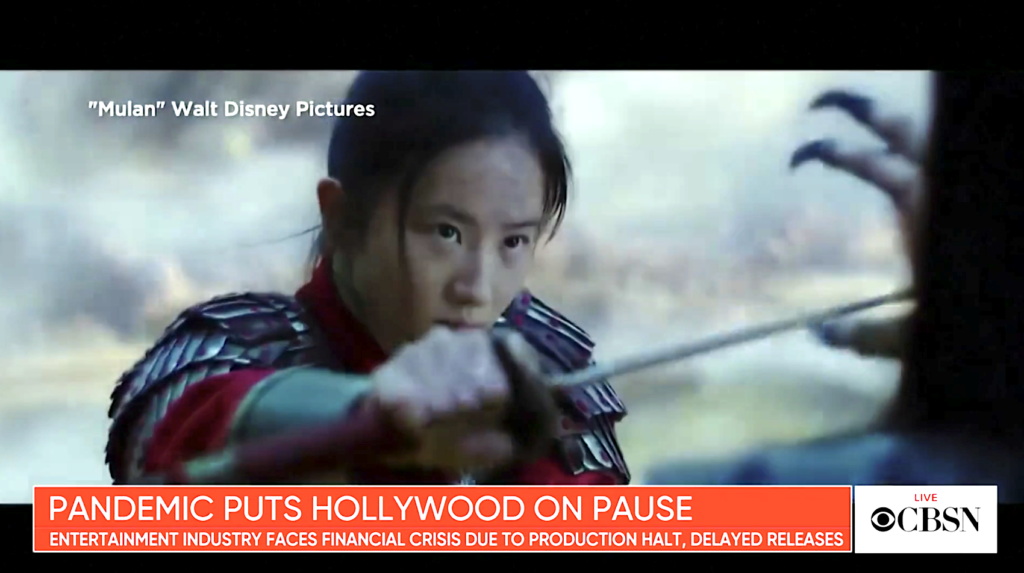 Disney has been losing millions every day since mid-March. The Q3 earnings dropped 42%, for a loss of $11.8 billion, missing Wall Street expectations.
Opening hours are changing: Starting on Sept. 8, the Magic Kingdom and Hollywood Studios will close an hour earlier, Epcot will close two hours earlier, Animal Kingdom will open an hour later and close an hour earlier.
Universal theme parks reported revenues down 94% in the second quarter. Hollywood studios has taken a devastating hit as well. Movie theaters are shuttered and blockbusters are on hold: "Avatar," "Star Wars," "Tenet" and "Mulan," also hurt the company's bottom line.
---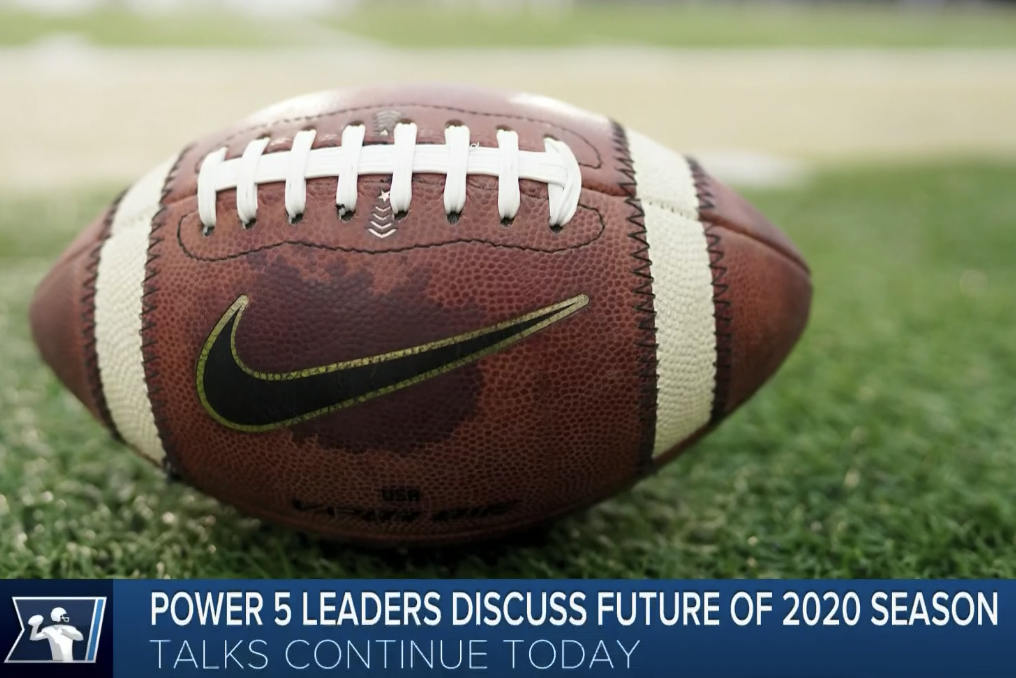 Commissioners of the five biggest NCAA conferences met Sunday and Monday this week to discuss the feasibility of cancelling or having a 2020 NCAA football season, according to CBS Sports. The Power Five—Big Ten*, Big 12, Atlantic Coast Conference, Pacific-12 and Southeastern Conference—were set to continue talks. [*update — Big Ten cancelled the season on 8/11/2020]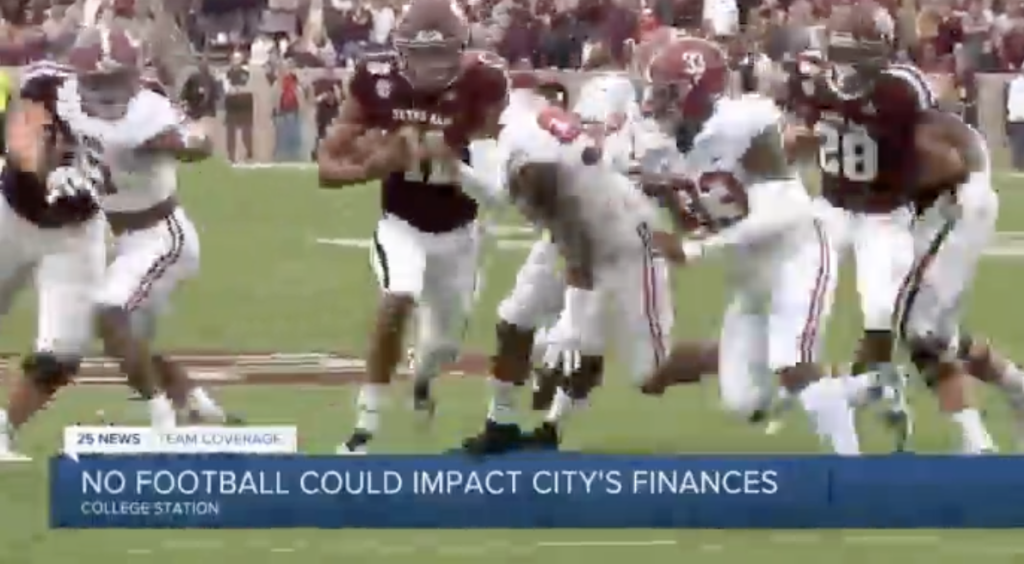 Next worry? The impact that a loss of collegiate football will mean for college towns.
---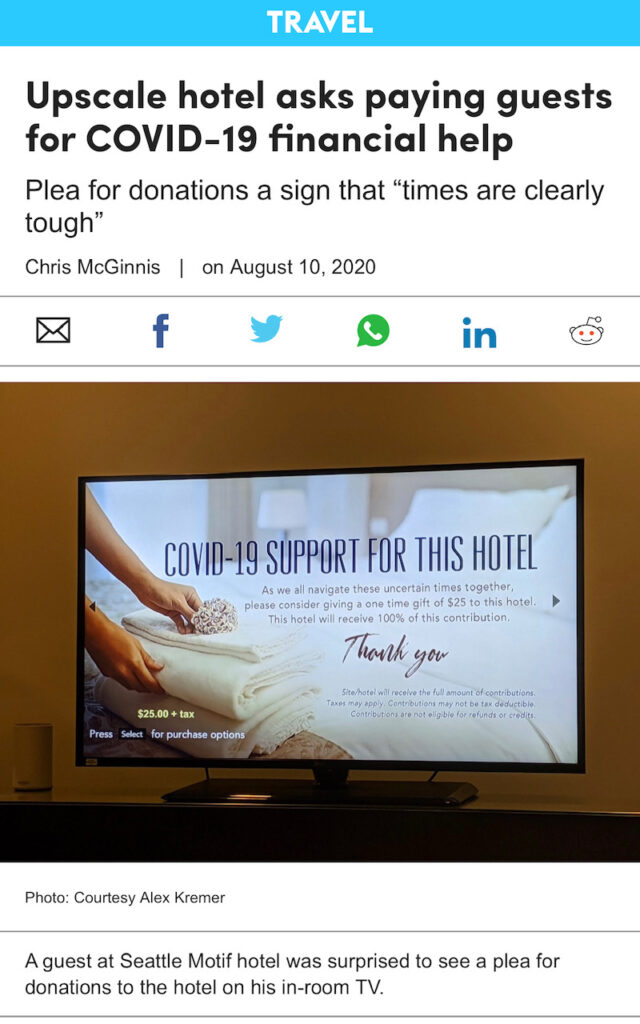 Even the little things are odd. At the upscale downtown Motif Seattle, part of Hyatt, is asking guests for extra cash, reports SFGATE.com. After checking into his room, a hotel guest was astonished to find a message soliciting "COVID-19 Support for this hotel (plus tax?!?). The move is now the subject of an investigation by its corporate owner.