P E O P L E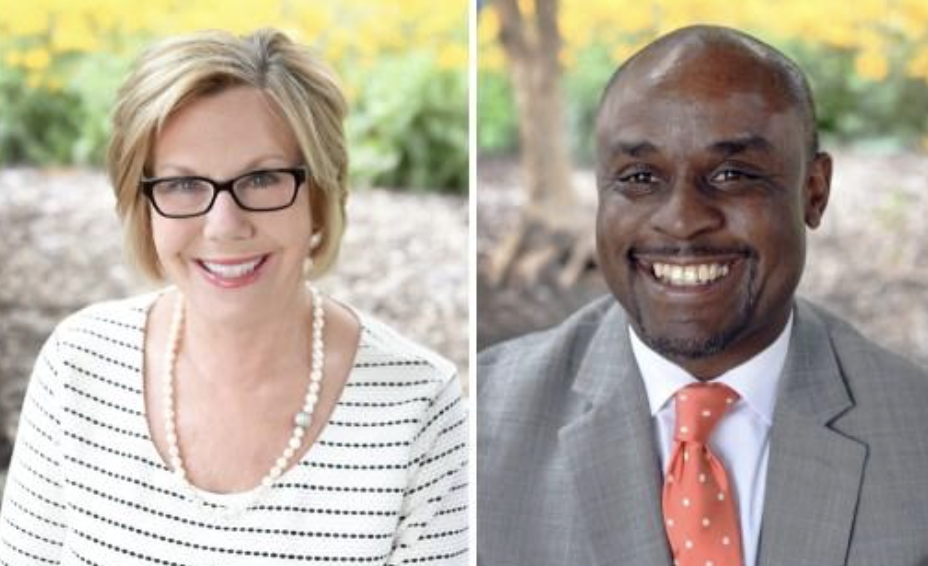 Cleo Battle, COO, has been named as the incoming CEO at Louisville Tourism when Karen Williams retires in June 2021 following 30 years' service. A career veteran, Battle had previously spent 12 years as vice president of sales and services at Richmond Convention & Visitors Bureau in Virginia before joining Louisville in 2013. Formerly known as the Louisville Convention & Visitors Bureau, the DMO marked its 50th anniversary in 2018 with a name change.
Destination DC Senior VP of Marketing & Communications, Robin McClain, has been appointed as second vice chair for the Destinations Council's Board of Advisors at U.S. Travel Association. The council is chaired by Susie Santo, president & CEO at Visit Wichita; vice chair is Paul Bencivengo, president/COO at Visit Bucks County.
Carroll Rheem, VP Research & Analytics, Brand USA since 2013 has announced her departure to explore a "longtime goal" as founder and CEO of her own client-based practice.
Amarillo Convention & Visitor Council announced Kashion Smith is appointed as the first executive director for the newly formed organization. She has been serving in an interim role last March during the transition from a division of the Amarillo Chamber of Commerce to an independent organization.
Douglas O. Trueblood has been named as Chief Sales & Marketing Officer at Bermuda Tourism Authority. He was most recently senior VP marketing at the Nassau Paradise Island Promotion Board.
Congrats to Taisa Veras, who now takes her talents to BuDhaGirl as the Director of Digital Marketing. Her previous role was as director of social media and influencer marketing at NYC & Company where she also served on the eTourism Summit Advisory Board.
Visit Tampa Bay has announced the addition of a new Public Relations Coordinator, Marissa Weaver, who joins the Marketing and Communications team. Weaver graduated magna cum laude from Florida A&M University with a bachelor's degree in broadcast journalism.
Derek Sharpe has been promoted to Director of Brand at CrowdRiff. He joined two years ago as senior designer and led the work to steward two new brands in the portfolio, SEE Conference and Localhood.
An image of Harriet Tubman (1822 – 1913), abolitionist and political activist who played a large role in rescuing slaves via the Underground Railroad, may soon grace the front of the $20 bill. According to the US Treasury Department, the project had been put on hold; Andrew Jackson is headed to the back of the $20 bill.
---
---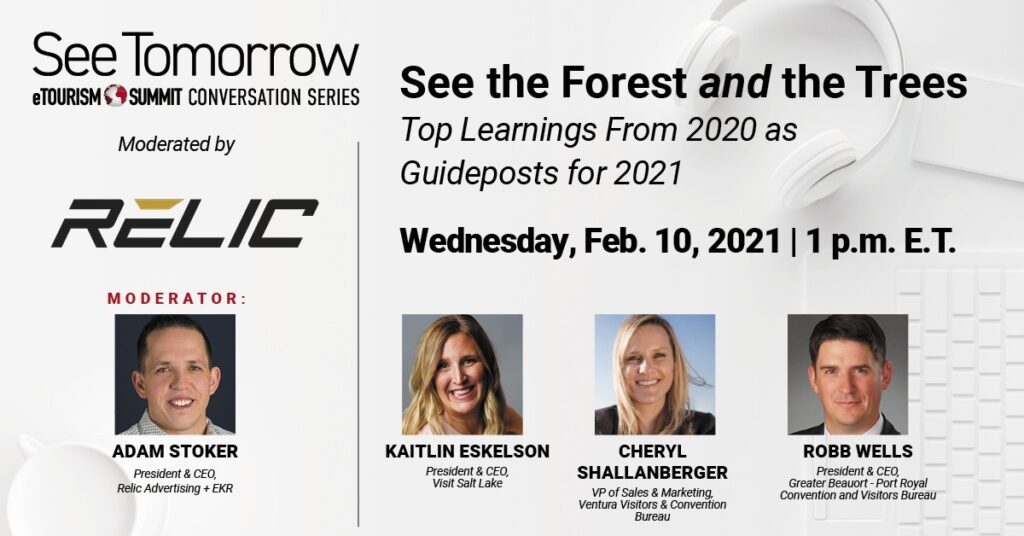 Coming soon: "See Tomorrow Conversation Series" presented by eTourism Summit 2021 — announces the second session on Wednesday, Feb. 10. Register to join the DMO discussion hosted by Relic, moderated by Adam Stoker at 1 p.m. ET.
---
---
J O B S
CEO [new, deadline 2/5/21] — Bermuda Tourism Authority, Hamilton
CEO [new] – PATA (Pacific Asia Travel Organization), Bangkok
President & CEO — Washington County Visitors Association, Beaverton, OR
CEO — Experience Olympia & Beyond, Olympia, WA
President & CEO — VisitGreenvilleSC
Vice President of Marketing — Visit Florida, Tallahassee
Director of Marketing & Communications — Discover Long Island
Chief Marketing Officer — Myrtle Beach Area Chamber of Commerce
Chief Marketing Officer AND PR & Communications Manager — Visit SLO CAL, San Luis Obispo, CA
Director of Marketing & Communications — Visit Stockton, CA
Vice President — Experience Columbia SC
Vice President, Research & Market Analytics — Nashville Convention & Visitors Corp.

Executive Director — Park County Travel Council, Cody, WY
Deputy Director of Marketing — Destin-Fort Walton, FL
Public Relations & Communications Manager [new] — Visit Winston-Salem, NC
Director of Research and Market Intelligence — Virginia Tourism Corp.
Business Analyst — Visit Grand Junction, CO
Sales & Services Manager — Destinations International, Remote
Conference Sales Director — Valdosta-Lowndes Co. Conference Center & Tourism Authority, GA
General Manager — TCF Center – ASM Global, Detroit
Digital Content Specialist — Destination Toronto
Sales Specialist — Emerald Coast Convention Center, Okaloosa County, FL
Senior Software Engineer AND Probability Statistician— Entrada Insights, Salt Lake City
Social Community Manager AND Account Executive, Sales & Marketing AND Account Coordinator, PR — MMGY Global, NYC
Social Community Manager AND Account Executive AND Account Coordinator AND Programmatic Media Manager AND Senior Social Media Art Director — MMGY Global, Overland Park, KS
Social Content Strategist and Content Creator — MMGY Global, Myrtle Beach, SC
Senior Designer — CrowdRiff, Toronto
Customer Success Representative — Simpleview, Tucson
Account Director — Nativo, Greater Los Angeles
Director of Marketing – Clubs — St. Joe Hospitality, Panama City Beach, FL
Director, Sales & Marketing — Meow Wolf, Inc., Denver
Franchise Sales Developer — RLH Corporation, OR
Public Relations Account Manager — DVA Advertising, Bend, OR

Destination Marketing Manager — Wagstaff Media & Marketing, Los Angeles
Note: To see all job listings from January 2021 or earlier, just pop "jobs" into the search bar on The Travel Vertical front page. Send us your people news!