Destination Inspiration: For everybody buried under the Nor'easter, here's a heartwarming hello from Fort Lauderdale, Florida.
---
Check in, Check out, Checkmate: Taking inspiration from Lexington, Kentucky's prominent role in the Netflix series The Queen's Gambit—more than 62 million viewers—the 21C Museum Hotel has redesigned The Harmon Room with a full-on midcentury vibe. Avocado green rocks the themed custom wallpaper in a design dubbed "The Knight's Gambit," copies of Chess Review Magazine are displayed, a handcrafted chess board is front and center, giant chess pieces are suspended from the ceiling for dreamy inspo and local shops lent authentic items for authentic touches. Marketing VP Gathan Borden said, "The Queen's Gambit put a spotlight on Lexington and piqued people's interest in our community at a time when we could really use a boost." Aside from capturing premium nightly rates, there's a nine-stop guide from VisitLEX, "The Queen's Gambit Guide to Lexington, Kentucky." Major coverage from mainstream media? Definitely.
---
Whaliest Place: Dana Point in Orange County, California was first in the Americas to be awarded the prestigious Whale Heritage Site by the World Cetacean Alliance—that's the world's largest marine conservation partnership for promoting safe and sustainable whale watching. Hurray for the successful efforts of two small businesses in this coastal destination (pop: 33,300 humans | 450,000 common dolphins). Dana Point Whale Watching Company also successfully trademarked Dana Point as the Dolphin & Whale Capital of the World® in 2019.
---
Gone. Oh, No! Near Big Sur, California, a huge chunk of the stunning, scenic Pacific Coast Highway, a.k.a. CA Highway 1, has fallen into the Pacific. Again. A previous wash out from a mudslide in May 2017 closed the road, cutting off communities for 18 months. Recent wild fire burn scars contributed to instability when a torrential winter rainstorm proved too much for this stretch of road, closed due to the weather forecast, about 50 miles south of Monterey and 50 miles north of Hearst Castle in San Simeon.
---
Breaking Woodchuck News: As snow fell around the small gathering of bearded gentlemen in top hats, Punxsutawney Phil did see his shadow, predicting six more weeks of winter. Feb. 2, 2021 was the 135th Groundhog Day in Gobbler's Knob, Western PA. The Pennsylvania Tourism Office made sure it happened, even if virtually. The purpose of Holi-stay PA was to help Pennsylvanians celebrate in new and creative ways, while prioritizing health and safety, according to Carrie Lepore, Deputy Secretary of Marketing, Tourism & Film. But, wait – there's more. The Philadelphia Inquirer reports Punxsutawney Phil is on the video messaging service Cameo, appearing in the arms of his handler, 'The Rainmaker," with requests at $99 with a chat at $0.99. Really?
---

Stimulus checks: A small town in California will pay you $100 to come visit. Vouchers are being offered with every two-night stay in the California Central Coast beach town about 2.5 hours north of Los Angeles. "Cash in on good wine, legendary barbecue and wide open spaces," says the Visit Santa Maria Valley website.
---
Class Trip: "No student tours, no problem," says Destination DC. The group tour team, which usually assists educators with planning visits, has made a virtual pivot. The team is sharing this new Black History Month educational video — Episode 2 seen here — as part of a new series for teachers called Learning on Location.
---
Social Media Managers R-o-c-k : Someone has a sense of humor. We love this tweet. Houston, can you hear me? Chicken or beef?
---
Lights, camera… Founded in 1978 with the objective of attracting filmmakers to the state, it was the brainchild of the head of Robert Redford's production company Wildwood, the Utah Film Commission and the actor. The Sundance Film Festival is remote this year, so for the very first time, people could join from home.
In its virtual incarnation, the festival has enormous donor, corporate, foundation, and provider support as well as local support from Utah and Salt Lake City. Single film tickets $15; all-festival passes flew out the door. festival.sundance.org
---
Boston Bonus: Amazon signed a full-building lease in a new 17-story office tower located at One Boston Wharf Road, set to complete in 2024. The company is taking 630,000 square feet of space at 'Innovation District" in the Boston Seaport, and will be adding 3,000 corporate and technology jobs. The company already employs 3,700 at its Boston hub.
---
Unicorn Alert: Atlanta has been producing Silicon Valley-type unicorns at an accelerated pace lately, positioning this metro as southeastern USA's leading tech hub. Reports indicate that funding for venture-backed startups based in the greater Atlanta area hit a 5-year high last year at nearly $2 billion.
---
No Bigfoot Here: Get noticed through denial? That works in Eureka, California, where city managers went on record to dismiss the existence of a primitive man monster in their giant redwoods park. Nearby Willow Creek, California is known as the Bigfoot Capitol of the World, given the many claims of sightings in the area beginning in the 1950s. So, which is it?
---
Tripadvisor: The newest annual survey names Panama City Beach, Fla. as the No. 2 "Emerging Destination" in the world in its Travelers Choice 2021 Best of the Best Awards. Colorado Springs is No. 7 on the list of 25 places. Among the world's "Trending Destinations." the US winners were Gatlinburg, Tenn. (No. 5) and St. Augustine, Fla. (No. 25).
A shout out to Chicago for two of the 10 top trip experiences, Chicago Architecture River Cruise and Gangsters and Ghosts Tour.
---
Local Focal: Visit Tri-Valley, a destination marketing organization east of San Francisco, and the SF-based U.S. Cultural & Heritage Marketing Council will host two virtual meetings in February to discuss the development of a local cultural and heritage tourism plan with community leaders.
---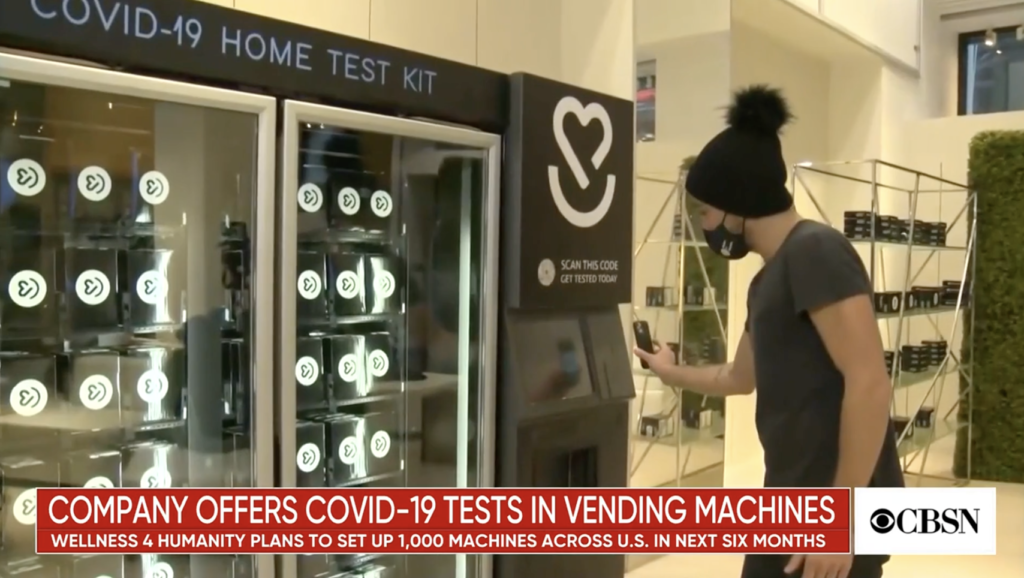 Vending Machines: Seen in New York City and at Oakland International Airport, as the first U.S. airport to install, Covid-19 test kits are being sold in contactless vending machines. Open the machine with a QR code on your phone to access the saliva sample kit, submit it via FedEx. Results are returned via mobile phone app within 1-2 days. The cost is $119.