Congratulations to all from among our own ranks of peers in the wonderful world of destination tourism. The Destination Organization Leadership Award from Destinations International went to three individuals this year who "through their exceptional work and achievements, have made a significant contribution to the destination marketing industry and a profound difference in the communities they serve." Hailing from Arizona, Alaska, and Massachusetts, they are: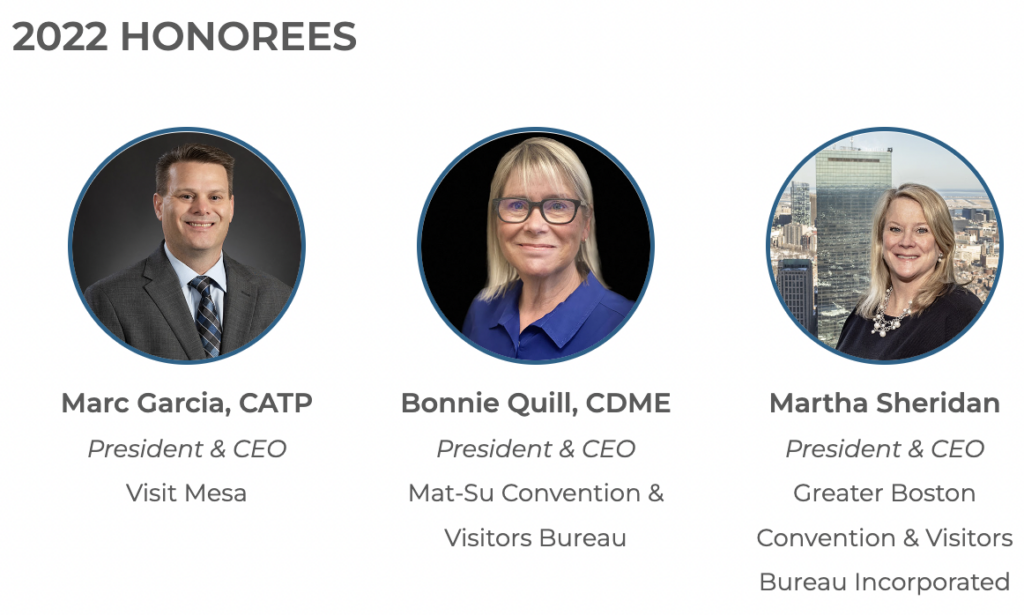 Twenty-three industry leaders earned the Certified Destination Management Executive (CDME) designation in 2022. They were recognized at Destination International's Annual Convention this week in Toronto. Well done, everyone.
2022 CDME recipients:
Vanessa Bechtol, Vice President of Strategic Initiatives, Visit Tucson
Kelli Brown, Interactive Producer, Miles Partnership
Kelli Carter, Director of Marketing, Walton County Tourism Department
Emily Cassell, Director, Arlington Convention and Visitors Service
Jennifer R. Chance, VP Finance and Operations, Visit Jackson
Victoria Clarke, CEO, Tourism Mississauga
Brady J. Closson, Deputy Executive Director, Grapevine Convention and Visitors Bureau
Sondra Corbitt, Executive Director, Houma Area Convention and Visitors Bureau
Sean Dixon, President, Visit Topeka
Andi Dzilums, Tourism Investment Manager, Travel Alberta
Rebecca Engum, CEO, Great Falls Montana Tourism
Nichole Farley, Director of Public Policy and Economic Opportunity, Visit Salt Lake
Mandy Grant, Director, Finance & Administration, Banff & Lake Louise Tourism
Nathan Hermiston, Senior Vice-President, Convention Sales & Services, Visit KC
Jon Hunsberger, Executive Director, Elkhart County, IN CVB
Nancy Jackson, Manager, Destination Development, Explore Edmonton
Alex Michaels, President and CEO, Discover Lehigh Valley
Heather Savoie, Sr. Vice President of Finance, Visit Lake Charles
Andrew Schmidt, President and CEO, Visit Greenville, NC
Susan M. Smith, President/CEO, Visit Bastrop
Tina Valdecanas, President and COO, Clarity of Place
Ashley S. Woitena, Senior Vice President, Sales, VisitColumbusGA
Rachel Wood, Chief Marketing Officer, Explore Branson
Twenty-four destination organizations received a Destination Marketing Accreditation Program (DMAP) designation in recognition of their destination organization's commitment to industry excellence and meeting the industry standard for performance and accountability of destination marketing organizations around the world. 
New Accreditations:
Discover Long Island
Houma Area Convention & Visitors Bureau
Little Rock Convention & Visitors Bureau
Visit Bastrop*
4-Year Renewals:
Amelia Island Convention & Visitors Bureau
Butler County Tourism & Convention Bureau
Cobb Travel & Tourism
Coastal Mississippi
Destination Augusta
Discover Green Bay
Discover the Palm Beaches
Greater Lansing Convention & Visitors Bureau
Hilton Head Island-Bluffton Chamber of Commerce and Visitor & Convention Bureau
Lafayette Convention & Visitors Commission
Louisville Tourism
Naples, Marco Island, Everglades Convention & Visitors Bureau
Springfield Missouri Convention & Visitors Bureau
St. Augustine, Ponte Vedra & The Beaches Visitors & Convention Bureau
Visit Spokane
8-Year Reaccreditations:
Cabarrus County Convention & Visitors Bureau*
Meet Chicago Northwest
Reno-Sparks Convention & Visitors Authority
Visit Baltimore
Visit Huntington Beach*
*Designates DMAP With Distinction
About Destinations International:
Destinations International is the world's largest resource for official destination organizations, convention and visitors bureaus (CVBs) and tourism boards.