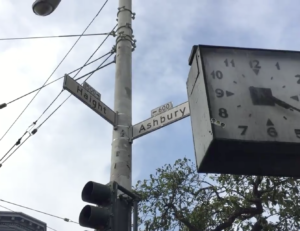 Pick a 'hood. Make a movie. San Francisco is your sandbox.
In 2017, Haight-Ashbury was one of several San Francisco neighborhoods featured in a same-day production destination video hands-on workshop.
The Haight will again be one of the city 'hoods for 2018 (plus places like Chinatown, the Golden Gate Bridge, North Beach, Fisherman's Wharf, Golden Gate Park, Ocean Beach, and the Mission District) when amateur teams take it from scratch to make destination videos in under six hours using only smartphones and an iMovie program for laptop editing:
The Budget: $0.00
The Team:  x4, chosen at random
The Mentor: Ryan Thompson, Founder & CEO, Odyssey (Make Stories Human)
On Oct. 9, 2018, we're offering the Smartphone Video Workshop as a Pre-Conference Day option at the 19th Annual eTourism Summit on Oct. 10-11, 2018. Professional editors and industry leaders will assist each group. Spaces are limited to 24, so register now.
You'll take home video making skills that make you a zero-budget-hero.
Read our interview with Jessica Blank, Marketing Manager at One Liberty Observation Deck in Philly, who was a 2017 video production team member, and see the team's terrific result, a 68-second Haight-Ashbury video here.