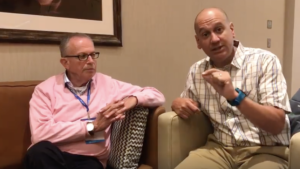 Jake Steinman, eTourism Summit founder, and Todd Skelton, Head of Destination Marketing, Western US & Canada, at TripAdvisor discuss the platform's cool tool partnership coming to "Innovation Station" at eTourism Summit's Pre-Conference Day.
"You can hold your agencies' and permanent partners' feet to the fire," they suggest.
"Pathmatics is a technology where you'll be able to pull back the veil on programmatic advertising and be able to see actually where your ads are running. With this technology, you'll also be able to see screen shots in real time of your programmatic buys, what sites you're working with direct, what sites you're working with indirect," says Skelton. "You'll also be able to see the ad path, see what different vendors you're working with. Are they buying that media efficiently? Then, make educated decisions on where you're working, who you're working with and how they're buying that media," he adds.
To see the video pinned to the top of the eTourism Summit Facebook page, click here. 
The personalized session at "Innovation Station" is an unbeatable value…because the half-day workshop is free for everyone. Are you signed up yet? Register here.