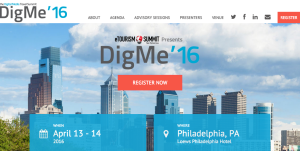 What's new for DigMe'16
Here's a look at some of the exciting new sessions just added to the DigMe'16 agenda for April 13-14, 2016 in Philadelphia. Plus, the all-new Facebook Marketing Certification Class is now open.  
Ø Free UX Testing Sessions. April 13-14 at 9:00 a.m. – 4:00 p.m. Sign up for your 20 minute appointment for a desktop or mobile website review during both days of DigMe.  A live consumer panel curated by Destination Analysts will test your mobile and desktop websites. 
Ø Seven Content Marketing Trends to Help You Budget for the Coming Year.  A presentation about Content Marketing Trends that any travel marketer should consider during their next budgeting cycle.
Ø How to Execute a Programmatic Buying Plan: What you need to know to make programmatic buying understandable, affordable and effective.
Ø Flip The Funnel: Five Ways to Look at ROI
Also, participate in great topic sessions on Digital Strategy & Conversion.