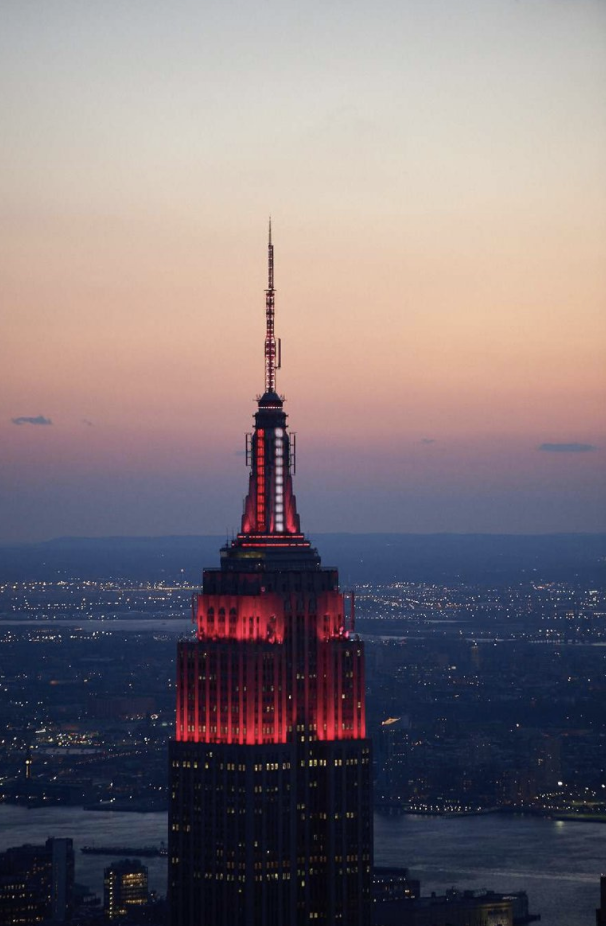 A roundup of such incredible resources from our eTourism Community.
Help yourself to real data gathered by experts to feel confident in your decision-making.
Please let us know if there are other resources to be added.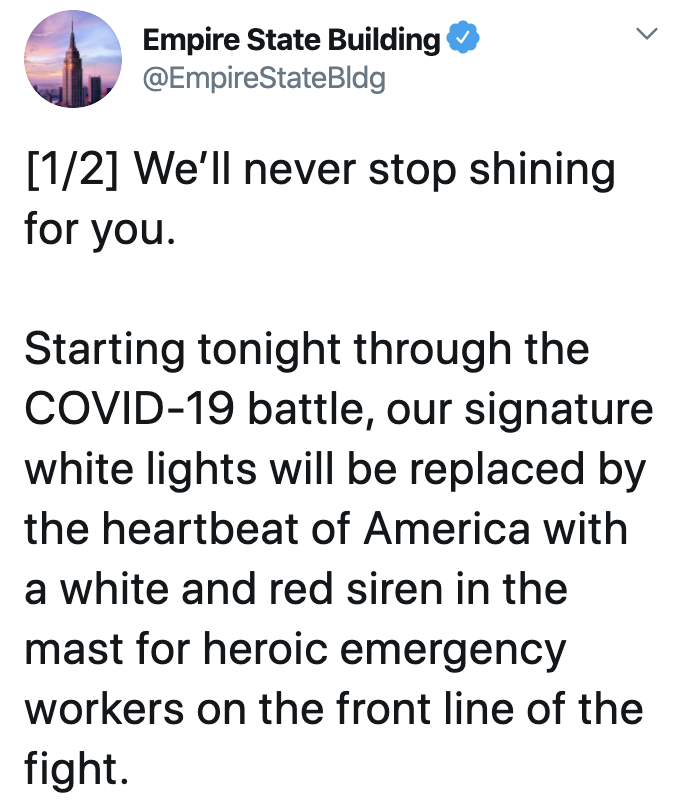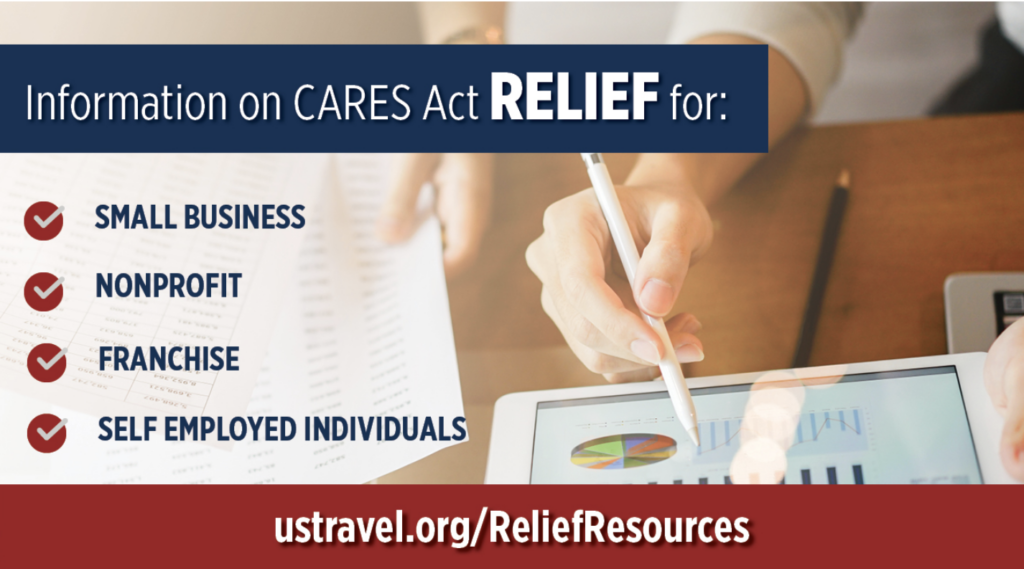 U.S. Travel Association — The go-to place for COVID-19 CARES Act Relief Resources. "The CARES Act, the largest economic relief package in our nation's history, was signed into law on March 27 and includes major provisions U.S. Travel fought for to deliver economic support to travel businesses, travel workers and their families." Also online, an 11-page PDF with more information: "The Small Business Owners Guide to the CARES Act."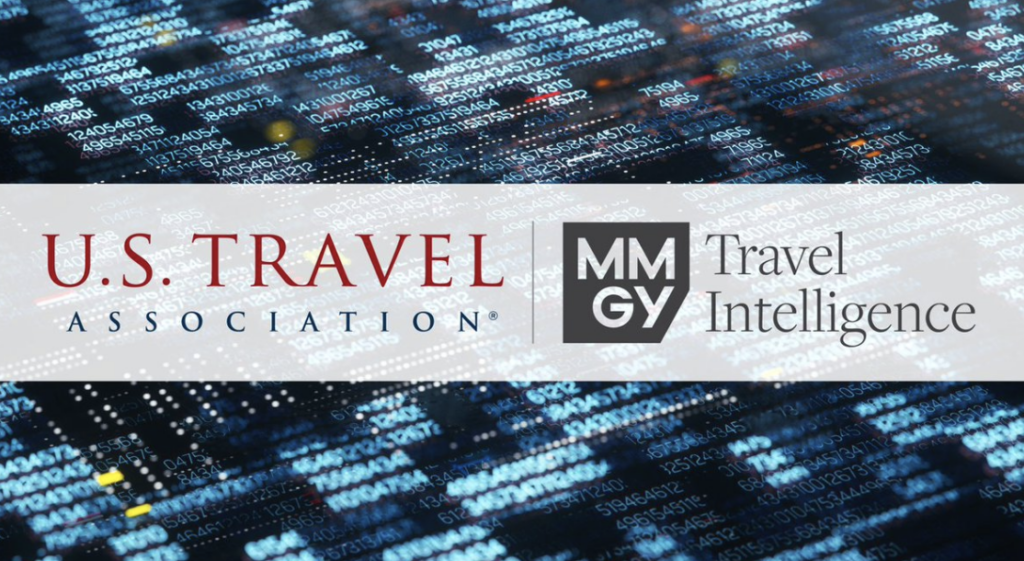 Also from U.S. Travel Association: "We are proud to work in cooperation with MMGY Travel Intelligence on a new bi-weekly survey tracking U.S. business and leisure traveler sentiment in the months ahead. Initial results will be shared next week."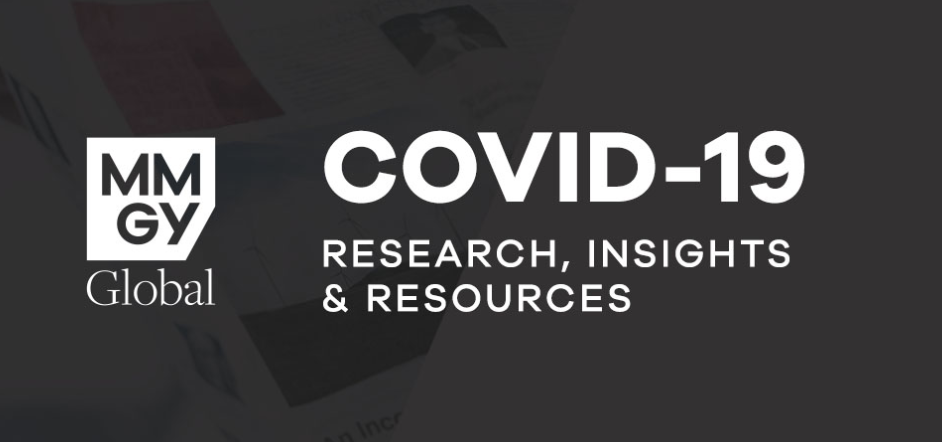 For more information, visit the MMGY Global "COVID-19 Research, Insights, & Resources" hub where the company's information is gathered.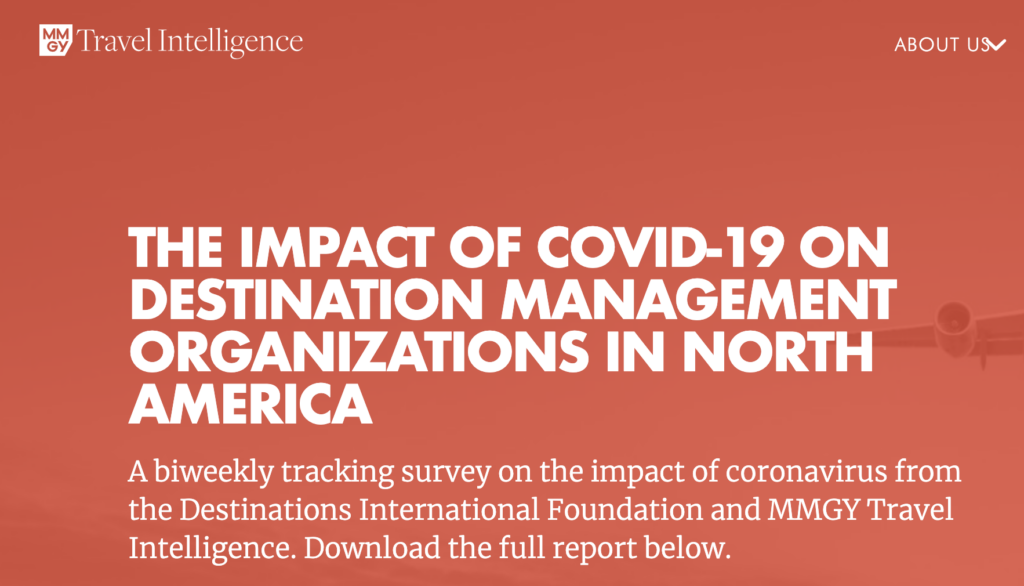 Also from MMGY Travel Intelligence — In association with Destinations International Foundation, "The Impact of COVID-19 on Destination Management Organizations in North America" (click for the link) was published on March 23. This is the second of a multi-wave study that notes,"…went from a sense of uncertainty to a strong expectation of extreme impact over the next 6 months. Since last week, the percentage of destinations reporting coronavirus-related postponements and/or cancellations of conferences, meetings, or events surged from under 40% to almost 100%. Although only 30% of destination organizations have their own pandemic emergency plan, they continue to play an important role in reassuring the traveling public."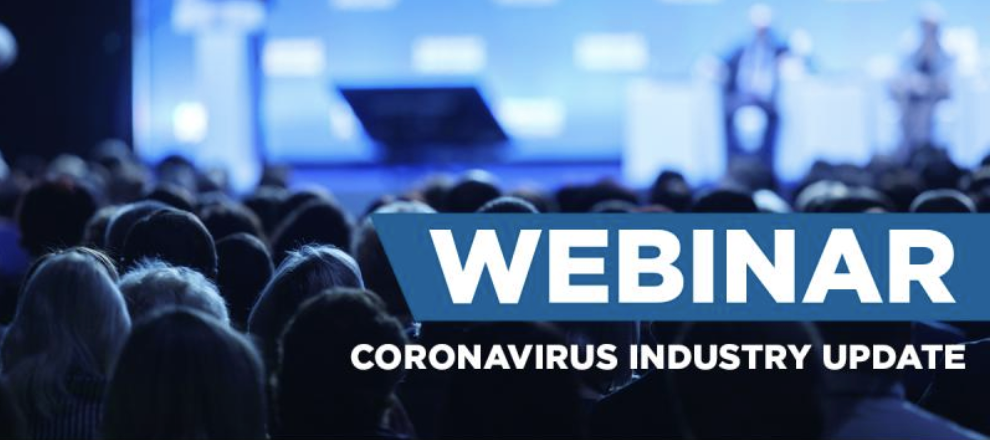 Also from Destinations International — Wednesday, April 1 at 11:30 a.m. ET is another weekly "Coronavirus Industry Update Webinar" (click to register). Past webinar content and a link to future webinars are found here. This week's update focuses on how destination organizations are creating value right now in their communities. This week's panelists:
Jack Johnson, Destinations International
John Groh and Nick Povalitis, Rockford Area Convention & Visitors Bureau
Minto Schneider, CDME, Waterloo Regional Tourism Marketing Corporation
Leah Chandler, Discover Puerto Rico

Longwoods International — "COVID-19 American Traveler Sentiment Survey," Wave 3 fielded March 25-26 has been released. An easy-to-digest presentation with week-over-week comparisons, Amir Eylon, President & CEO, says the weekly research report "…indicates that the decline continues but the rate of decline in key sentiment factors has slowed. Potential silver lining: almost 3/4 of traveling Americans still are indicating they will travel in the next six months, suggesting the large volume of pent up demand…" Miles Partnership says, "We're proud to support Longwoods International as they share the latest findings…" The survey covers 1,000 traveling Americans each week and the most recent highlights from the data are published every Tuesday morning. Longwoods' news release summary of the findings is found here.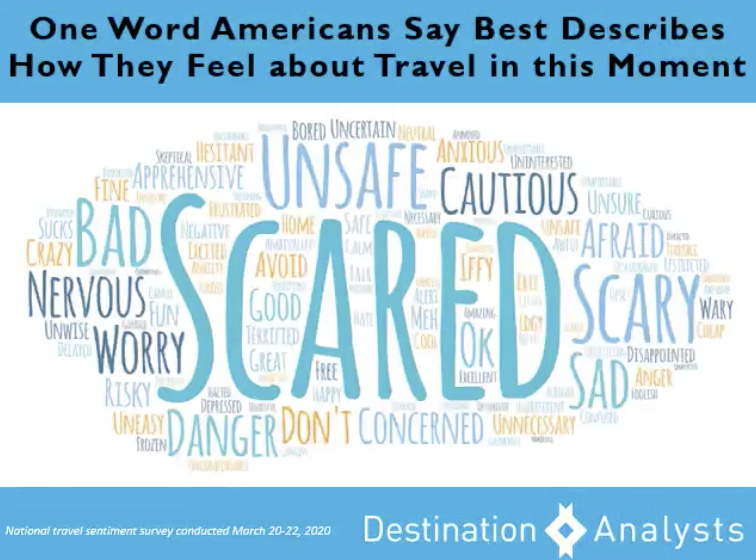 Destination Analysts — Update on "Coronavirus' Impact on American Travel" for the week of March 30 is released. Among the data-rich findings, DA also asked American travelers how they feel about travel at the moment, expressed in one word, as seen in this word cloud.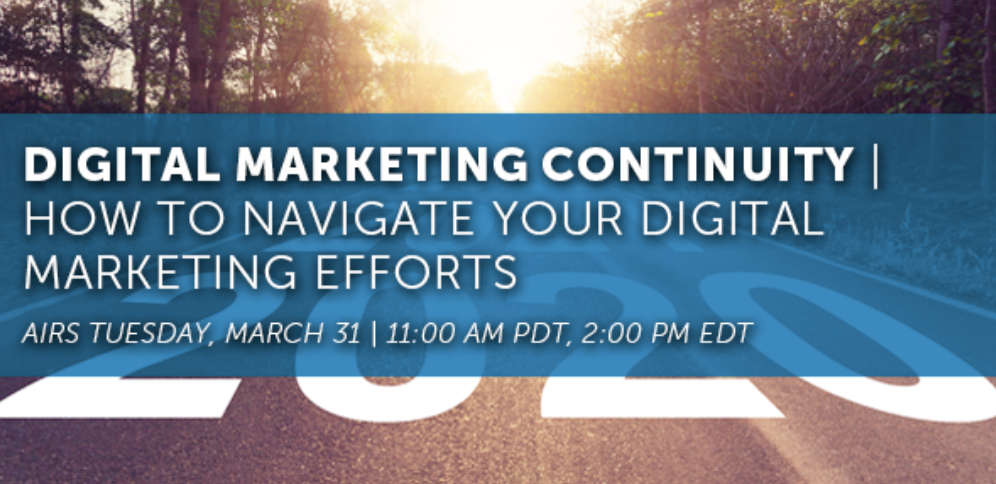 Simpleview — For a step-by-step tutorial on how to add or update your CMS pages to display updated listings (open for business; temporarily closed; takeout available; delivery available), see the recent webinar, New Business Continuity Amenities in CRM. For a more in-depth look at how to build COVID-19 landing pages for your destination, register for an upcoming webinar on Friday, April 3.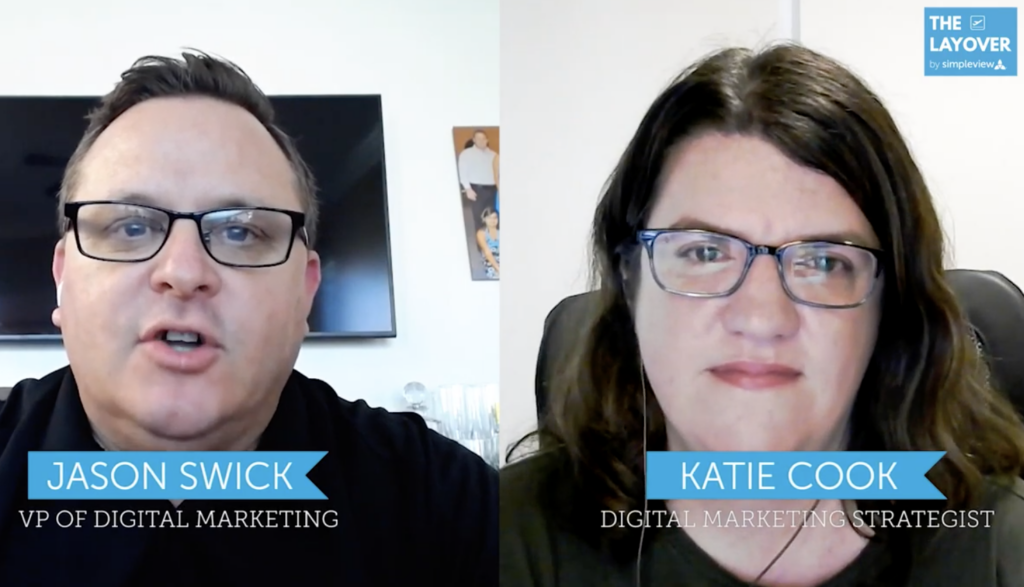 You can also watch "Marketing in Times of Uncertainty" (13 minutes) with Jason Swick, VP of Digital Marketing and Digital Marketing Strategist, Katie Cook.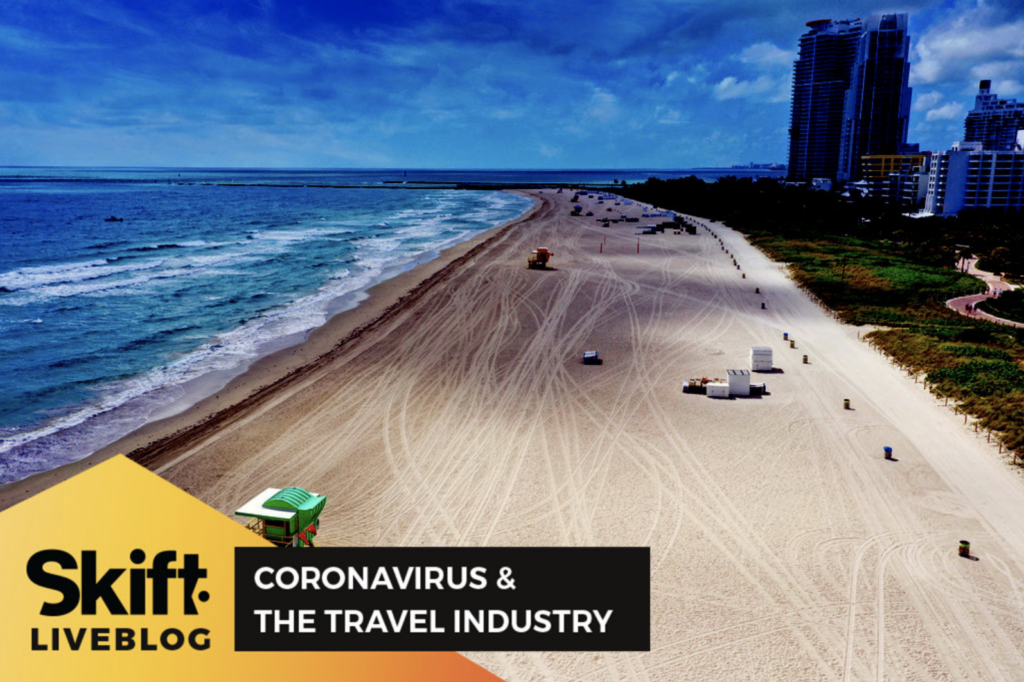 Skift — "Coronavirus and the Travel Industry" is a continually updated blog from the editorial team with the latest industry news for staying on top of things, also with pages for the airline, cruise and hospitality sectors.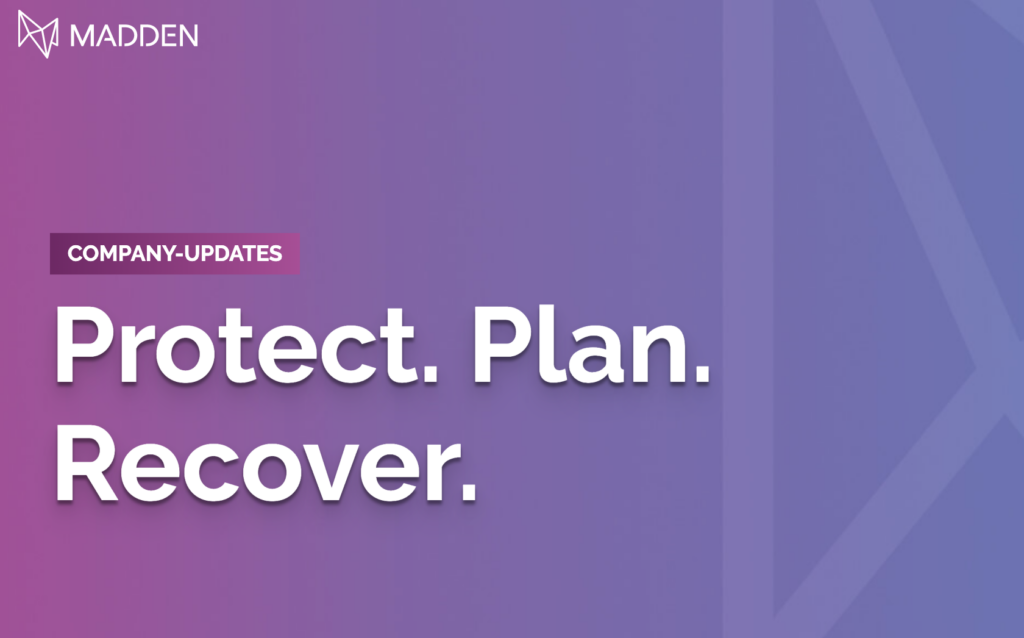 Madden Media — "Protect. Plan. Recover." is written for DMOs during their transition from destination marketing organizations to destination management organizations, it's a "framework to provide you and your partners with a helpful guide to thinking about not just short-term actions, but preparing and planning for the recovery of your marketing efforts for your destination."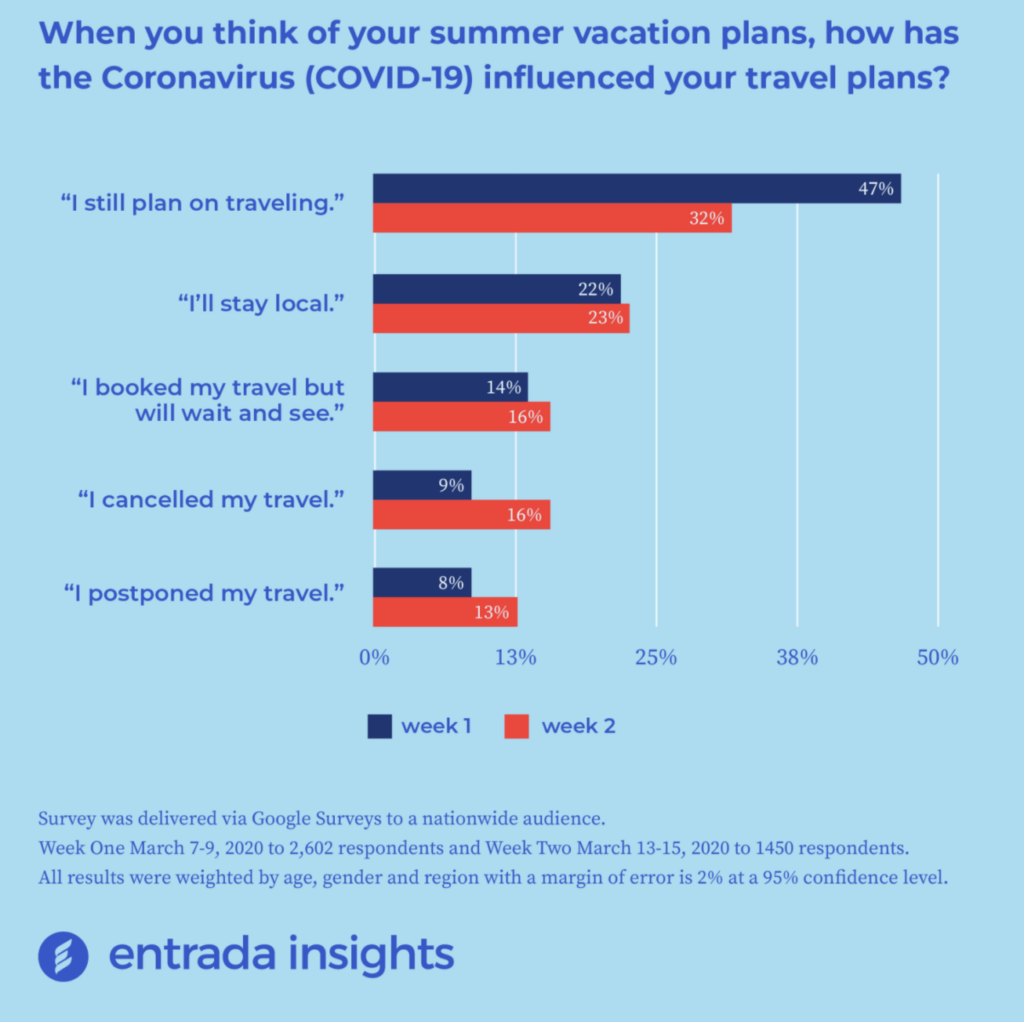 Entrada Insights — "Five Recommendations for Leading Through a Crisis" suggests, "While medical experts race to understand more about the public health implications, as the leader of a DMO, you are left to manage your stakeholders who are looking for answers on how to protect their businesses, adjust their operations, and lead their employees through an uncertain period. Here are five things DMO leaders can do…"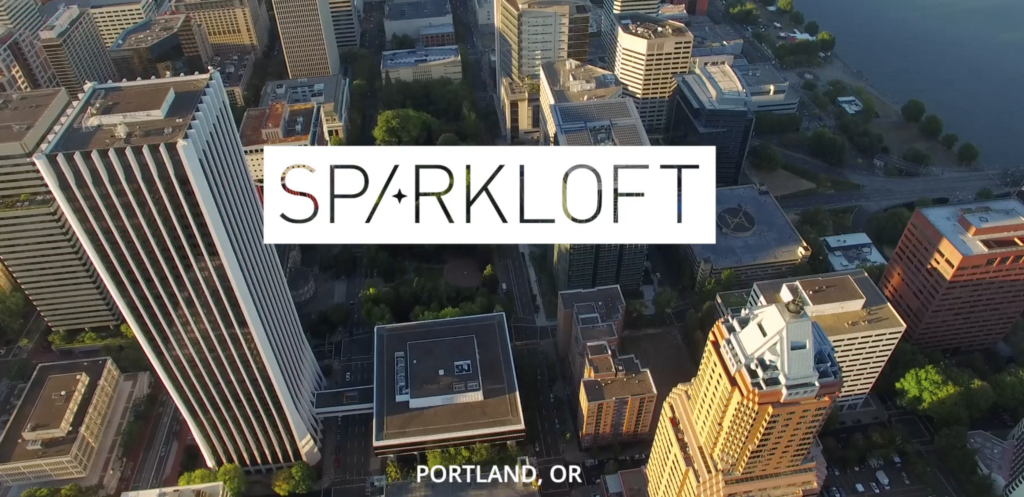 Sparkloft Media — Providing a free Weekly Coronavirus Sentiment Report as a means of helping everyone better understand what consumers are thinking. A new format expands the section of Sparkloft's recommendations on what marketers should be doing based on the most recent data plus an indication of where they think things will be going. To get the weekly report, use the form found here.
Break the Ice Media — A virtual tourism conference, Destination on the Left, takes place throughout April. Registration is free, and the topics of 12 presentations are themed around digital marketing, travel trade marketing and niche marketing. Among the presenters are speakers from Destination Innovate, ADARA, Family Travel Association, World Food Travel Association and others. Some topics will address the current outbreak, while others offer evergreen marketing advice.