---
Travel Michigan — Pure Michigan is fully back with $30 million in funding in the state's 2022 fiscal year budget that started Oct. 1. Travel Michigan will reboot the Pure Michigan campaign, which essentially went silent during the first year of the pandemic and was then scaled back in 2021.
The upcoming campaigns will focus on "reminding the world that we are still Pure Michigan and that we still offer great experiences," said Dave Lorenz, vice president of Travel Michigan, part of the Michigan Economic Development Corp. "We really need to help the travel industry come back to life," said Lorenz, who expects that 2022 "will be the year when America and the world discovers how to travel in the new environment."
Related: Talking 'Pure Michigan' with Dave Lorenz, VP of Travel Michigan (Sept. 7, 2021)
---

"Sounds Like Puerto Rico" — The five-part video campaign that takes visitors on a virtual journey to discover and understand the Island's jargon and its origins has been nominated for 5 EMMY Awards by the National Academy of Television Arts and Sciences Regional Suncoast Chapter.
Best Directing Long Form
Best Writing Long Form
Best Cinematography Long Form
Best Editing Long Form
Best Magazine Series
---
San Diego Tourism Authority — A new pilot program is intended to benefit businesses owned by people of color, LGBTQ+, women, and veterans. One of the first of this scope, the initiative promotes equity and inclusion in by providing free membership in the DMO, providing mentoring, education, and networking opportunities to a diverse demographic.
Bank of America and San Diego Gas & Electric are co-sponsors in offering a package of services valued at over $10,000, including free membership and a $1,000 credit toward the tourism authority's digital advertising platforms. sandiego.org/accelerator
---
Kansas City — They wants the World Cup in 2026, and they're letting the world know it. The prestigious FIFA World Cup 2026 will be staged in Canada, Mexico and the United States in 16 host cities with 48 teams participating.
The intention is to stage matches at 16 venues (2 in Canada, 3 in Mexico, and 11 in the United States). There are 17 U.S. options still in play pending final selection.
---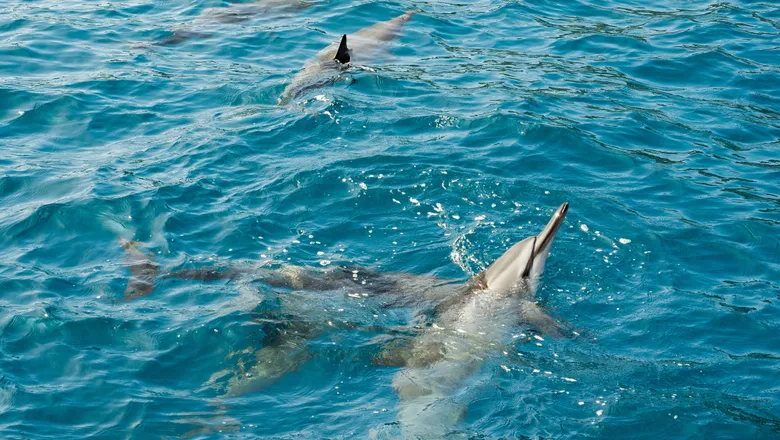 Hawaii: Welcome back, sys the governor, starting November 1st. Hawaii is open, open, open (just bring your vax card). However, don't plan to swim with the dolphins.
New regulations from NOAA restrict approaching areas where spinner dolphins congregate near the shoreline, their natural daytime habitat. This rule applies to boats, canoes, stand-up paddle boards, drones and all other manmade objects. Boat tour companies that take people to areas off the coast of the islands frequented by dolphins with the objective of giving them the opportunity to swim in the water near the animals must not approach within 50 yards of a spinner dolphin that is within two nautical miles of the shore of the populated Hawaiian Islands.
---
Baton Rouge: Baton Rouge Metropolitan Airport, the state's second-largest, is getting a makeover thanks to a partnership with Visit Baton Rouge and Baton Rouge Gallery, a center of contemporary art supporting Louisiana artists.
---

Greater Springfield Convention & Visitors Bureau (Mass.) and Bandwango have partnered on a new program, "The Downtown Springfield Check-in Challenge." Visitors and locals can visit a dedicated mobile passport landing page to sign up, generating a link to open the passport on their home screen where they can access it any time. There is never anything to download and no bulky apps take up space on a user's phone. Once the visitor has checked into three locations, they will automatically win a pair of Springfield City of First socks designed by local small business, Upscale Socks. More local businesses are joining the 17 already participating ones.
---
---
DMOs & Friends — In the News
Facebook: Rebranding? Facebook says it wants to rebrand itself around the metaverse, the future of the internet. (But, what is the metaverse?) So…instead of being tethered to a computer, in the metaverse you might use a headset to enter a virtual world connecting all sorts of digital environments — work, play, concerts, theater, or just hanging out. Put another way, some say this next iteration means the metaverse would be to virtual reality what today's smartphone is to those clunky mobile phones of the 1980s. Also being reported is that FB will name Publicis as its new lead agency winner.
But how did Facebook do in Q3? Facebook reported Q3 earnings of $29 billion in revenue, up 35% from the same period a year earlier. The company posted nearly $9.2 billion in profit, up 17% from the year prior. — PR Week
Pinterest: Deal is off? "Not pursuing an acquisition of Pinterest at this time," says PayPal, owner of Venmo. Last week, there was news of a potential takeover valued at an estimated $45 billion, which would have been one of the biggest consumer internet takeovers in recent history.
GasBuddy: See live ticking average of pump prices across the nation for a gallon of the regular. Select by regions, see trends and get expert opinions and fuel insights here.
Kayak and Expedia: Following the announcement that the USA would lift Covid-19 travel restrictions for fully vaccinated international visitors, these OTAs have reported double-digit increases in online searches for inbound travel.
Affinity Solutions: There's a new partnership with Zartico to give DMOs real-time visibility into visitor spending. The partnership combines two influential service providers with destination marketing and economic development industry expertise. The pairing of Affinity's real-time purchase insights platform with Zartico's Operating System allows Destination Marketing Organizations to gain real-time visibility into the purchase behavior of nearly 94 million consumers who spend over $650 billion annually. 
Marriott: The hotel company (and others) reportedly made millions off of 'deceptive' resort fees, says the D.C. Attorney General in recently unsealed documents.
Ritz-Carlton Yacht Collection: The inaugural yacht, Evrima, has a fresh coat of exterior paint, a milestone marking significant progress in the outfitting for the yacht's launch. They're currently building up a creative, innovative and accomplished team. Interested in joining? Details to [email protected].
Hertz: Now out of bankruptcy, the rental car giant is buying 100,000 Tesla Model 3s next month in a $4.2 billion deal, making electric vehicles 20% of its rental fleet. Hertz said it will also install "thousands" of charging stations in its locations to supplement Tesla's already expansive Supercharger network, and that it will set up an expedited app-based booking process for the EVs.
Tesla provided this list of cities getting rental Tesla Model 3s by the end of 2021: Atlanta, Austin, Baltimore, Birmingham, Boston, Charlotte, Chicago, Dallas, Denver, Detroit, Fresno, Ft Myers, Honolulu, Houston, Jacksonville, Kansas City, Las Vegas, Los Angeles, Maui, Memphis, Miami, Minneapolis, Nashville, New Orleans, New York City, Norfolk, Oklahoma City, Orlando, Philadelphia, Phoenix, Pittsburgh, Portland, Raleigh, Richmond, Sacramento, Salt Lake City, San Antonio, San Diego, San Francisco, San Jose, Seattle, St. Louis, Tampa, Tucson, Tulsa, and Washington D.C. — Car and Driver