WHEN: Wednesday, Aug. 19, 2020 at 1 p.m. ET
WHAT: "Post-Paralysis. Being a Smarter, Faster, Quicker DMO." Join us to raise a virtual toast to Josh Collins and Streetsense for moderating the final webinar in our series. What began as an experiment in March grew to several thousand attendees in a virtual roundtable where there has always been a lively conversation around DMOs and our B2B community. ICYMI: The recorded sessions are available on a dedicated YouTube channel.
WHO: Don't miss the last "Staying Connected" webinar from Connect Travel moderated by Josh Collins from Streetsense who is joined this week by David Downing, president of brand, United Landmark Associates and Alisa Bailey, president, Alisa Bailey Consulting Travel & Tourism.
---

WHEN: Thursday, Aug. 20, at 2 p.m. ET
WHAT: "Funding Futures," a major study of the recovery and future of tourism and DMO funding models, which analyzed 115 North American cities, all 50 U.S. states and 10 Canadian provinces to summarize the current situation and the outlook for recovery. It also introduces and explores 10 alternative options for tourism and DMO funding to be "built back better" for more balanced, resilient and sustainable funding.
WHO: Powered by U.S. Travel Association, the ESTO webinar series presents: John Lambeth of Civitas Advisors, Chris Adams of Miles Partnership and Adam Sacks of Tourism Economics with support from Destination Analysts, Destinations International and two of the study's participating DMOs. Attend and get access to the free industry report.
---

WHEN: Thursday, Aug. 20 at 9 a.m. ET
WHAT: "Accelerate Recovery through Travel Advertising," discussing new challenges to the global travel industry due to Covid-19 as travel marketers continue important work planning a safe and measured recovery. Reaching the right traveler at the right time with the right message is key to recovery. In this webinar, learn how to refresh campaign strategies accordingly.
WHO: Expedia Group Media Solutions has evolved its targeting strategies, created new opportunities to reach potential travelers, and shifted products to help drive awareness and demand. Hear from Andrew van der Feltz, Senior Director of Business Development and Christine Walker Scarce, Director of Product Marketing.
---

WHEN: Every Tuesday at 8 a.m. PT/11 a.m. ET
WHAT: Destination Analysts is tracking and publishing key consumer perceptions, attitudes and behaviors through unbiased, expert-designed research to help the travel, tourism and hospitality industries form strategy and communicate during the COVID-19 crisis. Highlights are presented weekly.
WHO: Partners and clients hear from guests in an online presentation and interactive discussion of the complete findings of 1,200+ American leisure and business travelers in surveys that are fielded weekly.
---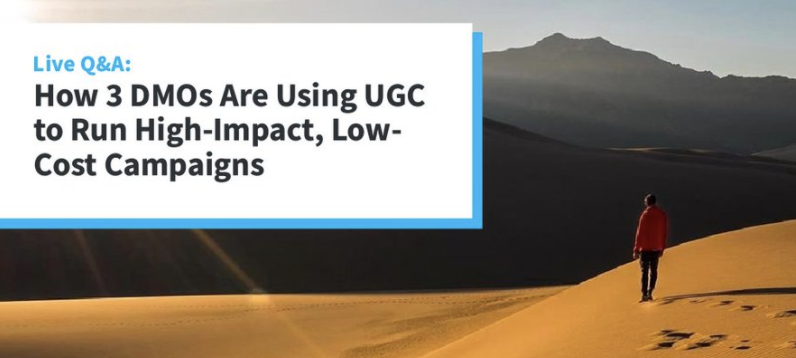 WHEN: Tuesday, August 25, 2020 at 3 p.m. ET
WHAT: Live Q&A with three DMOs: The value of UGC to these small to medium-sized destination marketing organizations; examples of high-impact, low-cost campaigns they're running right now across web, social and print; how they're using UGC to support and amplify their partners and build trust with locals & travelers.
WHO: CrowdRiff plus guests.
---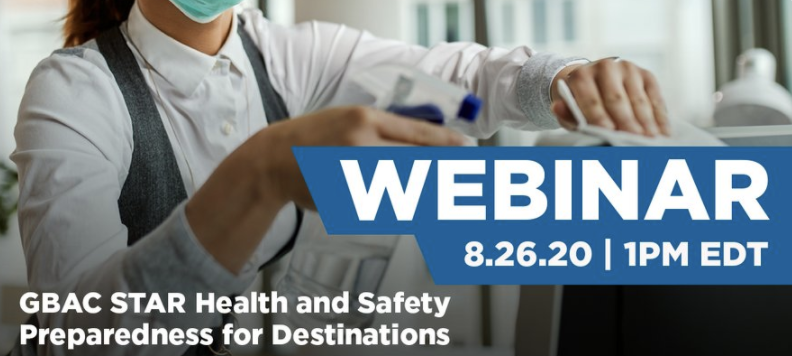 WHEN: (forward planning) Wednesday, Aug. 26, 2020 at 1 p.m. ET
WHAT: "GBAC STAR Health & Safety Preparedness for Destinations," a detailed overview of an important new accreditation program developed by ISSA's Global Biorisk Advisory Council. The cleaning industry's only outbreak prevention, response and recovery accreditation for facilities is considered the Gold Standard in facility preparedness.
WHO: John H. Barrett, executive director, ISSA and Brant Insero, director of education, training, certifications and standards will walk you through the program. Craig Davis, CEO, Visit Dallas will share the DMO's commitment to creating a safe and healthy environment by working with ISSA to increase awareness of the destination's readiness in safely welcoming back visitors.
---