The elimination of Covid-19 testing for inbound international visitors to the U.S. has been widely applauded. But, tourist visas remain a challenge to international tourism recovery reflected an average of 419 days' wait from non-visa waiver countries.
GOOD NEWS: For months, DMOs, U.S. mayors, travel associations, and airlines have been aggressively lobbying for the government to drop the pre-departure testing requirement, widely viewed as a significant impediment to recovery.

Done. On Friday, the White House announced that the CDC ended its requirement for air passengers to test negative for Covid-19 prior to arriving in the U.S., since "science and data" indicates it's no longer critical. The testing requirement, which went into effect at 12:01 a.m. on Sunday, had been in place since January 2021. Read more here.
However…
The visa waiver program allows citizens or nationals of 40 countries to visit the United States without a visa for tourism or business for stays up to 90 days. These travelers must apply for an electronic travel authorization (ESTA) visa that's valid for two years, the cost of which went up last month from $14 to $21.
What about everyone else? No such luck. Long visa interview wait times harm our U.S. recovery by delaying or dissuading visitation by travelers whose spending supports millions of American jobs and billions of American exports.

BAD NEWS: The average is 419 days' wait for international visitors from other nationalities requiring a visa.
● As of May 3, 2022, one-third (33%) of consulates in our top 10 visa-requiring markets face wait times exceeding one year.

● Nearly three-quarters (72%) of consulates in our top 10 visa-requiring markets face wait times exceeding 100 days.

● Consulates from visa-requiring countries with the longest wait times now exceed two years.

● The top inbound markets for the U.S. that need a B1/B2 visa sent more than 28 million visitors
to the U.S. who spent a combined $87 billion.
● Eight of our top 20 markets (in 2019) required a tourist visa.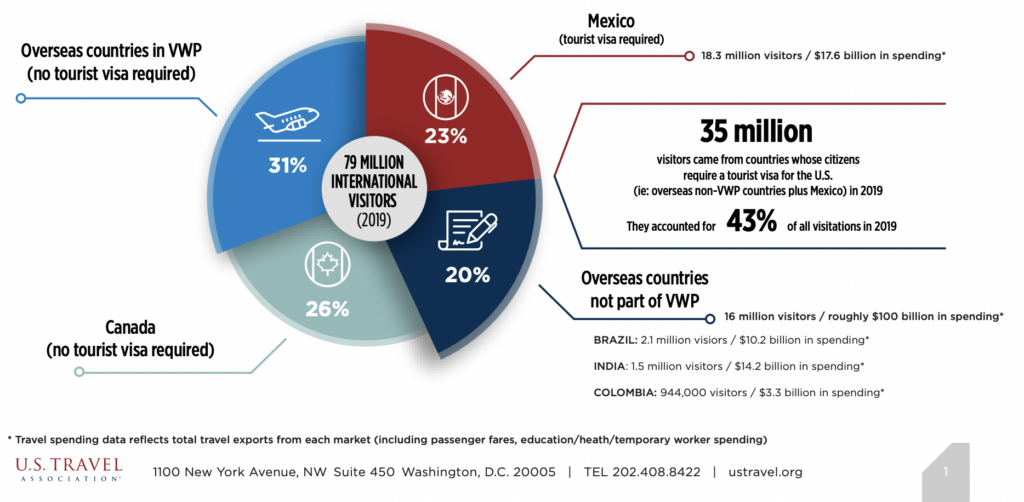 ● Since country-based travel restrictions were lifted, average wait times for the U.S.'s top 10 visa requiring inbound markets have gotten worse; increasing from 344 days in November 2021 to 384 days in February 2022 to 419 days in May 2022.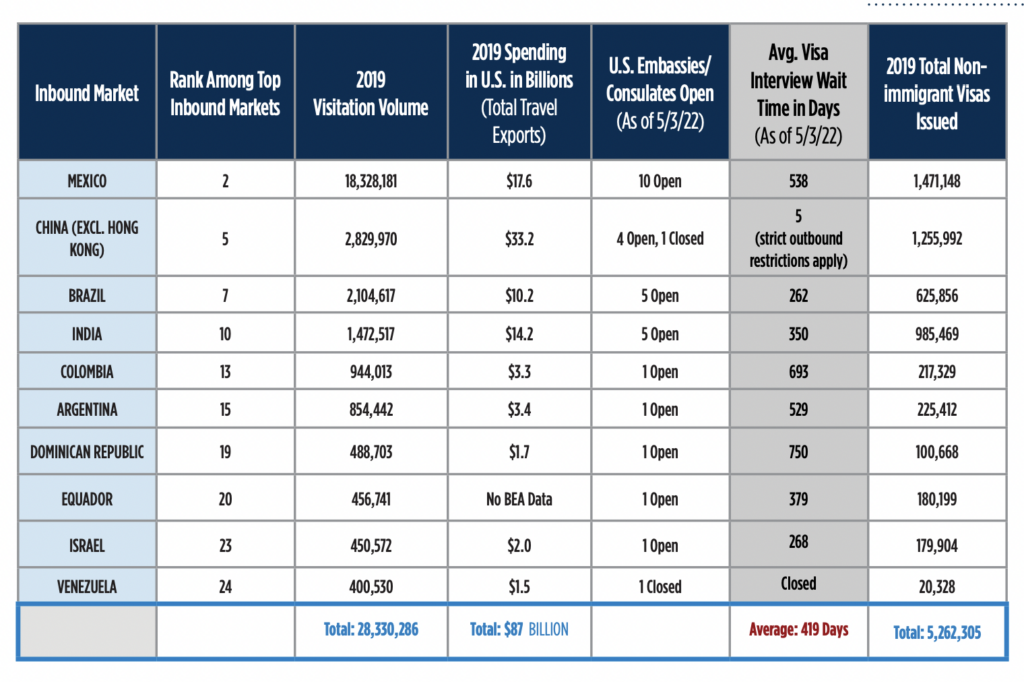 Most expensive visa fees among top global destinations