It's OK, LinkedIn. You can have a podcast, too. LinkedIn Podcast Network launched last week with 12 shows covering topics like Big Tech, company diversity, and mental health in the workplace.
Why? To boost user engagement and expand as a creator platform, of course.
Sound interesting? LinkedIn has "Big Technology," "The Start-Up of You," and "Brown Table Talk" among its new shows with hosts that range from reporters to CEOs. See their full list of shows here.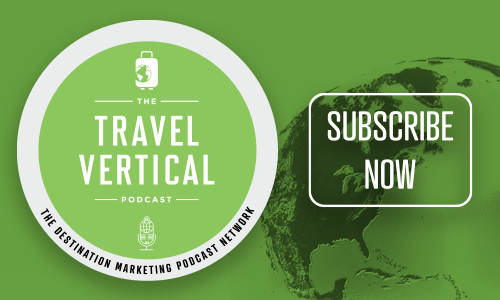 So…we think now is a good time to remind readers that The Travel Vertical has a podcast, too. It's called The Travel Vertical Podcast (see what we did there?)
Launched last April — nearly a whole year before copycat LinkedIn — so far there are 22 episodes in the can.
(By the way, LinkedIn isn't the only podcast that talks to reporters and CEOs.)
Each episode of The Travel Vertical Podcast is less than 30 minutes featuring job openings, people moves, award-worthy campaign ideas, research round-ups, fun facts, and a fabulous surprise guest or two, including (to date):
Melvin Tennant, President & CEO, Meet Minneapolis
Kara Franker, President & CEO, Visit Estes Park
Kaitlin Eskelson, President & CEO, Visit Salt Lake
Karen Kuhl, Executive Director, Tour Cayuga County
Becca Smith, Senior Director Marketing & Events, Connect Travel
Todd O'Leary, Vice President Marketing, Sonoma County Tourism
Amir Eylon, President & CEO, Longwoods International
Ed Harris, President & CEO, Discover Lancaster
Jim Byers, leading Canadian travel writer
Kristen Jarnagin Reynolds, President & CEO, Discover Long Island
Kim Sidoriak, President & CEO, Visit Carlsbad
Leah Chandler, CMO, Discover Puerto Rico
Michelle Thana, Director of Marketing, Washington State Tourism
Tom Loftus, Vice President Marketing, Visit Richmond
Michael Martelon, President & CEO, Visit Santa Cruz County
Kyle Edmiston, President & CEO, Visit Lake Charles
---
Three FAQs:
Q: How do I get notified of new episodes?
A: When you subscribe on your favorite podcast channel, turn on Notifications in your smartphone Settings (as well as in the app) to get pinged for a new episode every two weeks.
Q: Can I be a guest?
A: Most of our guests are DMOs with compelling stories. Got one of your own? Get in touch here or email: [email protected]
Q: You're always talking about people on the move and job listings. How can I get coverage for that?
A: Send your DMO people and job news to [email protected]. It's free.
---
We're part of The Destination Marketing Podcast Network (TheDMPN.com) produced by Adam Stoker and the talented team at Relic who create podcasts for DMOs and podcasts by DMOs.
---