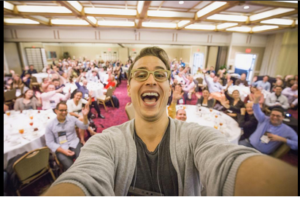 Seriously, what are you waiting for?
Only a few spots are left for eTourism Summit on October 10-11, 2018. Registration closes Friday, September 28 at midnight.
Four great Pre-Conference Day Workshops on October 9 are filling up too.
Facebook Guerrilla Marketing Workshop – only 3 spots are left
Nineteen years after its founding in 2000, eTourism Summit keeps a sharp eye on its original mission. And the 2018 agenda lives up to the promise. The workshop focuses on tactical manipulation of the platform to produce the best possible result for every single dollar invested. Thirty attendees are invited to come prepared with ammunition…a laptop. It's a step-by-step, hands-on workshop. All the skills needed to ensure that micro-targeting is deadly accurate and that ROI will survive and thrive out there are adroitly presented by The BlitzMetrics Team.
Smartphone Video Storytelling Workshop – only five spots are left
The annual eTourism Summit is an important "See Tomorrow" moment in the fast-changing world of digital marketing. At the "Create" workshop, Instagram TV (IGTV), the new standalone vertical video application launched in June 2018, gets special attention in a hands-on workshop. Back by popular demand, the eTourism Summit smartphone video storytelling workshop makes an encore appearance with a sharp focus on IGTV. Teams of four are dropped off at iconic locations throughout San Francisco and return to edit raw footage for a video suited for IGTV. Industry leaders and professional editors lead the instruction and the editing modules. By the end of an action-packed day, a video is born.
Marketing Analytica Workshop – only seven spots are left
Geeks will love this new workshop when attendees take a day-long deep dive into data driven marketing. Sessions are jam-packed with insights and best practices for budgets of every size. Each presentation is facilitated by DMO thought leaders and marketing experts from across the U.S., unpacking and delving into real life examples. As a bonus, registered DMOs can mitigate risks associated with trying new strategies and campaigns by consulting with a curated roster of peers who share their own successes (and always some failures).
Innovation Station is free to attend for all eTourism Summit registered attendees and non-attendees. See the agenda and sign up here.