Things didn't go at all according to plan. Virgin Voyages took delivery on its brand new cruise ship, Scarlet Lady, about five minutes before the world changed.
To mark the first anniversary of her delivery date of Valentine's Day 2020, Virgin Voyages launched "Shiploads of Love" to celebrate pandemic heroes.
Sir Richard Branson's lifestyle cruise company announced a plan to give away 2,201 voyages over the next year, looking for people to nominate others who deserve a great getaway. Submit a short video by March 16 to explain why a nominee should sail away with Virgin.
"This initiative is meant to pay tribute to those who have impacted our lives in a meaningful way," Virgin Voyages said in an announcement. "No good deed is too small, and no individual is to be overlooked. Love and beauty exist in the eye of the beholder, including our unsung heroes, who have shown us that their embrace makes the world a better place."
The first of four Virgin ships, Scarlet Lady is set to debut on May 9, 2021 operating exclusively as an adults-only ship sailing mainly four-to-five-night Caribbean itineraries from Miami.
---
O Canada: Inbound travel by Canadians to the United States has been suffering from a long-term case of the blahs since 2015. There was no upward movement on arrivals for several years due to a lousy exchange rate coupled with negative sentiment regarding North American borders during the Trump Administration. This wasn't good news since about half of all international visitors to the US originate in North America, including Mexico.
Then, pandemic mania.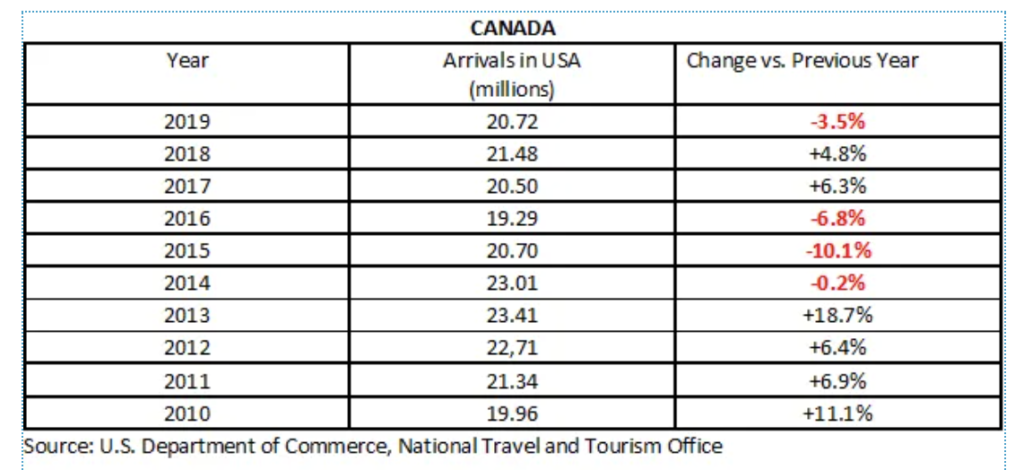 Inbound Report, our sister publication asks, what hope is there for a rejuvenated source market from our neighbor? And when? We took a closer look.
Destination Canada is fielding a weekly online survey with approximately 1,800 responses for resident sentiment questions collected from Canadians. The study is fielded from Friday to Sunday preceding the report date, weighted by population excluding the northern territories given the small population size. The questions are being asked by Leger, a market research provider.
The findings on resident sentiment survey are presented by province, to determine how Canadians feel about traveling within their own province, to locations nearby, throughout Canada and/or to the USA and overseas.
P.S. Apparently, Canadians don't want us visiting, either. Starting next week, air arrivals into Canada must head to a quarantine hotel as they await testing. Drivers and passengers need to show proof of a negative Covid-19 test taken within 72 hours.
In the meantime, social media reminds us that Canada does have some amazing sights.
---
Visit Orlando launched its first major campaign since the pandemic. "The Wonder Remains," pegged at a $2.2M budget includes TV, YouTube, digital ads, social media ads, e-newsletters and website content aimed at drive markets: Alabama, Louisiana, Mississippi, North Carolina, South Carolina, Tennessee Texas, and Florida residents.
"It's critical that we connect with audiences that are currently making travel plans to ensure our share of the market and showcase the innovative safety measures implemented throughout Orlando," said Casandra Matej, president and CEO.
Also in Florida, the Space Coast Office of Tourism launched a new campaign from their new creative agency, &Barr. Executive Director Peter Cranis said the spring campaign will begin next week with digital ads and then TV starting a few weeks later. It will run through March and focus on the drive markets. The budget for the media buy is $650,000. Check out the imagery here:
Just revealed: "The Original, The One, The Only, The Palm Beaches" is the new campaign from Discover the Palm Beaches. Channeling "the golden age of travel" is the vibe at America's First Resort Destination that's been welcoming generations of travelers to sunny getaways for 125 years.
---
Virginia Tourism Corporation announced 10 communities for Round One of the DRIVE 2.0 Statewide Tourism Plan to focus on promotion, product development and advocacy. Implementation began in January 2021.
According to a release, the VTC will facilitate the process by equipping communities across the state with the tools they need to succeed in a competitive travel and tourism market.
Bristol
Charlottesville/Albemarle County
Hopewell/Prince George County
Nelson County
Norfolk
Pulaski County
Richmond Region
Visit Virginia's Blue Ridge
Scott County
Tazewell County
DRIVE 2.0 is a community conversation with the goal of coming to a consensus for future planning. It supports a five-year strategic blueprint for promotion and tourism development in a statewide tourism plan that began pre-pandemic.
The program will focus on what DMOs should be promoting and what they should be building. Participating communities will be challenged to create ways to increase visitation and sustain vibrant communities. During the implementation process, the communities will be gathering input and expertise from their own local and regional tourism partners through a community survey and a consensus meeting.
"The coronavirus pandemic has had a devastating impact on the tourism industry," said Rita McClenny, president and CEO of Virginia Tourism Corporation. "Now more than ever, it is imperative that we provide strategic guidance and direction as we look ahead to brighter days. DRIVE 2.0 does just that, outlining key strategies for destinations to succeed, from understanding the competition to developing connected product to recognizing and harnessing the power of continued tourism advocacy.
---
Costa Rica Tourism Board asked North Americans to get personal with the question, "Who's essential to you?" More than 5,800 responses came back with the names of those who made a difference during the first year of the pandemic, entered to win an all-expenses-paid trip to Costa Rica, the Tourism Board said.
The tourism board will announce 15 winners by the end of February, with each receiving a one-week vacation for two to Costa Rica.
"The fact that almost six thousand people participated in this initiative, inspired not only by expressing to a loved one what they feel for them, but also by knowing the beauties that Costa Rica offers, fills us with great joy," said Marketing Director Carolina Trejos.
---