"California has emerged as the center of cannabis tourism for now," reports Forbes. (Will we call it a canna-cation?)
Visit Modesto partnered with Cultivar, a cannabis tourism strategy firm, to launch the MoTown CannaPass, a passport-style reward program that helps visitors discover a variety of restaurants, activities and cannabis retailers in the area.
Visit Oakland is the first U.S. destination to launch a Cannabis Trail, a dedicated immersive experience relating the city's marijuana heritage, plus retailers, a map and a glossary.

And in West Hollywood, the destination was dubbed "Amsterdam of the Far West" by the Los Angeles Times due to its many cannabis dispensaries.
The Michigan Cannabis Trail guides visitors around legal cannabis in the Great Lakes region.
Nineteen states and Washington, D.C., have legalized recreational cannabis, with several more states poised to do likewise this year.
---
The Connecticut Office of Tourism has unveiled a $3 million tourism campaign, "Find Your Vibe." According to a press statement from the governor's office, the campaign "reflects a more updated, youthful, and holistic view of Connecticut's vibrant culture, while focusing on the energy and excitement travelers experience when visiting tourist attractions, hotels, and restaurants, and exploring the state's abundant outdoor offerings."
The #CTvibe campaign will run through Labor Day and encompasses broadcast, online, print and billboard advertising, along with a website update. The campaign will also include advertisement placements:
Inflight video on JetBlue for the entire summer on targeted flights, including all those into New York City, Boston, Connecticut, and in/out of Florida, as well as all domestic flights (50 states, Caribbean, and Canada) on American Airlines in August.
Takeover of the large digital billboards in the new Moynihan Train Hall in Penn Station in New York City.
High-impact transportation placements targeting the Hamptons, NYC P
ride, and The Governors Ball, an annual music festival on Randall's Island in NYC.
---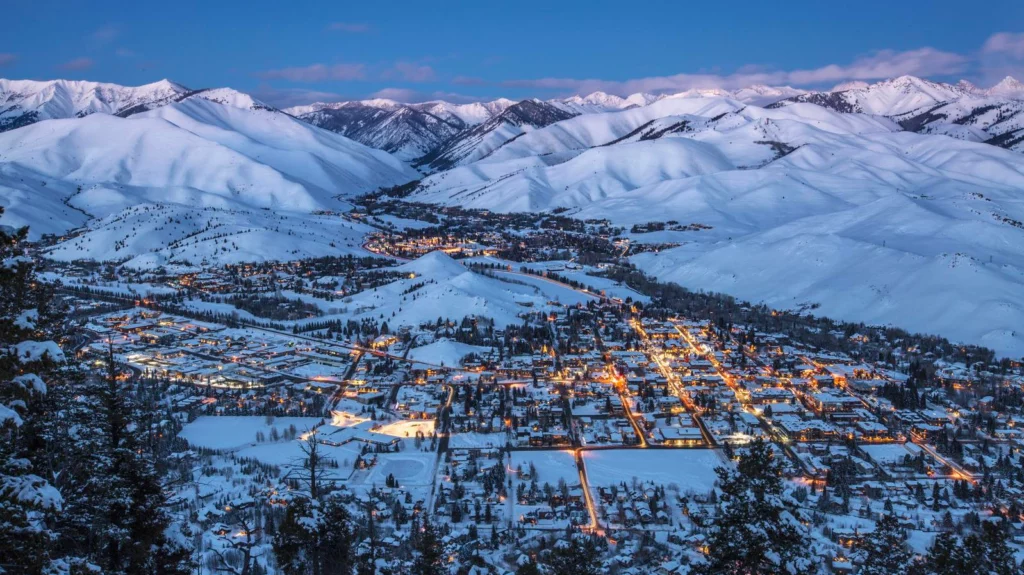 Visit Sun Valley (Ketchum, Idaho) has developed a new post-Covid campaign, STAY SUNNY, with their creative agency partner, Two Things. From "relative obscurity," things changed quickly. "Almost overnight, Sun Valley became the place to be. Tourists flooded the valley in droves. And the locals tasked with satisfying the needs of these visitors became, in a word, overwhelmed."


Each creative piece is informed by a pain point Sun Valley wanted to address. The creative brief indicates that "stay sunny" is a call to action, reflecting optimism while also emphasizing the blunt and honest need for visitors to be respectful, "Be kind to others or we'll call your mother."
Two Things says, "…communication has been delivered through non-traditional media, i.e., chalked sidewalks, construction site plywood, murals, bumper stickers, viewfinders…The money saved from not doing a traditional media buy has freed us up to do more local collabs and to execute all production locally." In fact, they built a vault (digital toolkit) for local community partners to tap into and spread the message from napkins and coasters to radio spots.
Visit Sun Valley even created a partnership with four restaurants/coffee shops that provide customized wooden tokens for staff to hand out to patrons exhibiting good behavior. The tokens are good for a $15 discount on the tab. And a local brewery is gifting four packs for good behavior, too.
---
In Colorado, Steamboat Springs Chamber unveiled its communications strategy as seen on the website, including the new slogan, "Kindness Floats the Boat."
The new slogan is part of the chamber's new emphasis on destination management, which started with the pandemic-era slogan "Visit Responsibly." When the pandemic brought an influx of summer visitors, many as first-timers in Steamboat, the chamber shifted its efforts toward informing visitors how to be responsible guests.
The chamber apportions 75% of its budget toward destination management, with the other 25% going toward destination promotion.