Marriott Security Disaster
In a mega-sized Marriott security breach, over 500 million consumers have suffered stolen personal information, including names, birthdates, addresses, locations, gender, email, payment card information and passport information. A class action suit has been filed against the world's largest hotel group.
One of the largest data breaches ever began in 2014, allowing criminals to freely roam Marriott's system, remaining undetected for four years. Although Marriott discovered the breach on September 8, 2018, they did not notify consumers for nearly three months, and still have not been transparent on the extent of the breach, identity of the hackers, nor the scope of the attack. The New York Attorney General's Office announced that it would be investigating the breach, indicating that they should have been notified. Read more here.
5G is Coming and the Future is F-a-s-t
We're talking about 1000x faster than 4G. "Wireless carriers are preparing for 5G connectivity, the next generation of cellular networking that promises to bring faster download speeds to consumers. Hardware manufacturers are also getting ready, with plans already in motion for a number of devices that will take advantage of those faster networks," reports The Verge. Don't expect to see an Apple phone with 5G until 2020. Read more here and here.
Biometric Terminal Ready at Hartsfield International Airport
Smile and put your passport away. Delta says the Atlanta airport's Terminal F has become the "first biometric terminal" in the United States where passengers can use facial recognition technology "from curb to gate." And Delta has already announced plans to offer the technology in Detroit. Read more here.
Google Hangouts Will Be Hung Out to Dry
Google Hangouts is likely on the chopping block. "Hangouts as a brand will live on with G Suite's Hangouts Chat and Hangouts Meet, the former intended to be a team communication app comparable to Slack, and the latter a video meetings platform," reports 9to5Google. No word yet from Scott Johnston, Product Lead at G Suite, as to whether the consumer changeover is expected in 2019 or 2020, although he has confirmed the eventual shutdown of Google Hangouts.  Read more here.
Signs of a Social Media Backlash
No selfies, please…We're on vacation. If you're sensing it, you're not alone. Some destinations are joining the resistance against social media in campaigns such as Unhashtag Vienna. For example: "Welcome to Vienna. Not #Vienna." Heard about the Bali resort that's banned mobile devices at the pool? Or the Dublin hotel that told off the freeloader (a.k.a. influencer?) Or the Swiss hotels that hire Instagram-sitters to manage guests' social media posts so they don't have to?  Read more here.
Forecasting Tourist Congestion with Wi-Fi Usage
A new solution to over tourism may be the "Kyoto Arashiyama Travel Guide," a website based on visitors' Wi-Fi mobile usage. It indicates estimated visitor congestion in Kyoto's eight top spots, including Togetsukyo Bridge and Bamboo Grove. Users see a bar chart indicating the number of hourly visitors so they can go when it's less crowded. The system can predict congestion for any day of the week based on data collected in the previous week. Read more here.
Unlikely Bedfellows in Vancouver
In a first-of-its-kind landmark partnership, Tourism Vancouver and Airbnb have signed an agreement to market that city as a tourism destination. Airbnb will use Instagram, Facebook, and Twitter as well as its magazine Airbnbmag. Read more here.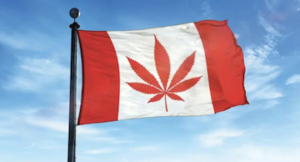 Conference: Canada and Cannabis
More from Canada. In October 2018, our northern neighbor became the world's second nation to legalize the recreational use of cannabis. Attendees at the annual congress of the Tourism Industry Association of Canada, the largest private-sector association for that nation's tourism industry, discussed potential opportunities to build expertise and leadership by innovating with new ways of folding consumption into the tourism experience. Read more here.
App for Visually Impaired to Navigate London Heathrow
Available free of charge, Aira app connects passengers directly to a trained professional agent for advice on navigating through Heathrow. The app is pre-loaded on a mobile phone and an agent provides guided assistance on demand. The number of passengers requesting special assistance at Heathrow is rising by about 8% a year, currently at about 6,000. Read more here.
Sun May Be Setting on Iconic Lifestyle Magazine
"Go digital, young man…" Sunset magazine, the longtime lifestyle pulse of the West that's nearly as old as California itself, is in dire straits.
Publications are suffering from a defection of advertisers to the internet. Magazines have been particularly hard hit; publisher Condé Nast last week announced it was ending the print edition of Glamour. Golf, Bride, and W titles are for sale. Hearst is no longer printing Seventeen or Redbook. Andy Warhol's Interview Magazine is shuttered. After 45 years in Australia, Cosmopolitan is no more. Read more here.