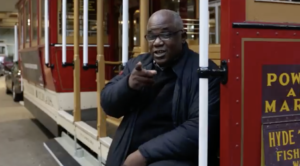 Steal this idea and make it your own?
We all know that meet-the-locals is a tried and true approach to destination marketing when it's well done. On the heels of "You're Always Welcome Here," San Francisco is putting the accent on inclusivity and diversity.
Meet Ellis "Coach" Cato, a gripman on the signature cable cars that climb this city's crazy hills on a ride where he says, "the magic happens."
Born and bred in San Francisco, Cato (pictured below with his son, Ellis Cato III) is one of the nine local ambassadors who share a personal and professional story in "I Am San Francisco," the second phase of SF Travel's "You Are Always Welcome" campaign.
Individual stories are rolled out weekly, told in photos, video, text, and audio. And each ends by telling the viewer, "I am San Francisco and you are always welcome." The campaign was developed in partnership with Brenton Gieser and Felix Uribe, creators of the Tender Souls Project, a photo documentary project.
The first phase of SF Travel's digital messaging (see
The Travel Vertical
, Jan. 23, 2018) spread itself internationally via partnerships with Visit California and the three other California gateways: Los Angeles, San Diego and Anaheim.
 "Our first phase addressed the visitor directly to assure them that, no matter where they come from or how they live, they are always welcome here. We wanted to distance ourselves from the rhetoric coming out of the capital," said San Francisco Travel Association President and CEO Joe D'Alessandro. "Phase two is from the local's perspective, presenting why San Francisco is the place for them and, by extension, for everyone."