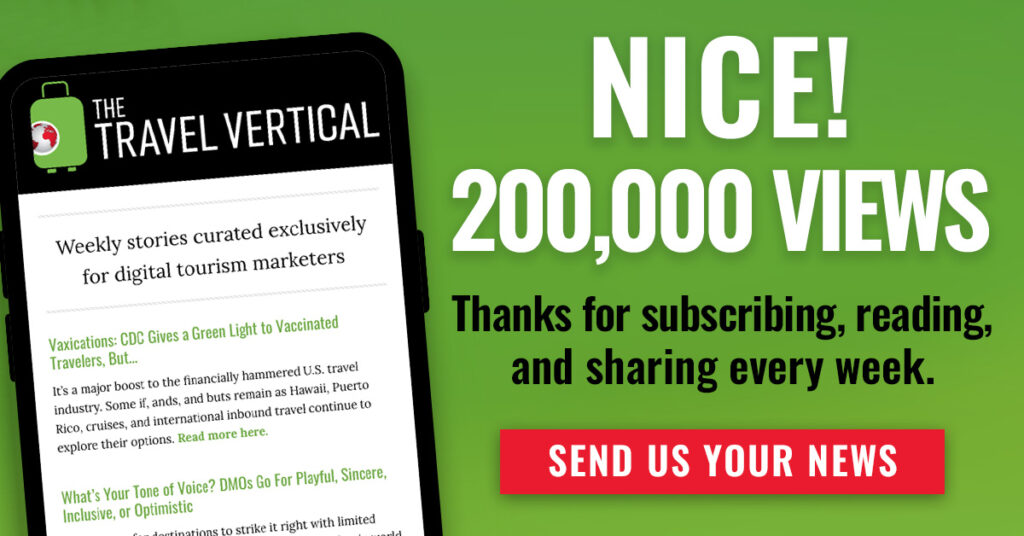 This B2B newsletter was introduced in December 2015 as a way to keep the eTourism Community connected between annual gatherings at eTourism Summit. Our four P's are people, places, promotions, and open positions. Our tone of voice is fun, funny (sometimes), factual, fascinating, fast to read and…above all…relevant in an unpredictable world.
Oh, and now at the 200K mark, beginning this week there's a fifth P for Podcast, where we talk about highlights from the week that was and the week that will be. Starts April 21, 2021.
Subscribe here and send us your news or come on as a guest.
The eTourism Community is everything. We're always looking to create new opportunities for deeper, more meaningful connections (and always keeping an emphasis on "fun.") Check out events that are close to our hearts.
eTourism Summit co-locates with IPW in Las Vegas on Sept. 20-22, 2021. Registration is now open.
Emerging Tourism Stars is presented in partnership with MMGY Global to recognize up-and-coming industry movers and shakers of all ages. Those selected receive a scholarship to attend eTourism Summit with an invitation to share their personal story in a panel conversation. Nominate a star today.
eTSY Awards celebrates excellence in digital tourism marketing in its fourth year, in partnership with Expedia Group and Destination Marketing Podcast. Now accepting submissions in a dozen categories.