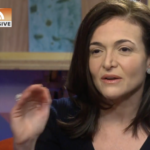 How about a paid Facebook subscription model in the future?
Not so hypothetical? Sheryl Sandberg raised a few eyebrows with her revenue-focused TODAY show answer to the question, "Could you come up with a tool that said, 'I do not want Facebook go use my personal profile data to target me for advertising?'" (See a 34-second video clip here.)
"Convincing people to pay more with their wallets than their eyeballs may be difficult," suggests TechCrunch writer Josh Constine.
So, TechCrunch crunched the numbers based on average revenue per user and came up with $11-$14 dollars as a (hypothetical) monthly subscription fee for US/Canadian Facebook users who want to opt out of ads. Then, there's the "Resentment vs Appreciation" consideration. Read more here.