Will increased concerns about security mean that more Americans are vacationing within the USA this year?
The Travelzoo® Spring 2017 Travel Trends Report Survey released last week indicates that US travelers are feeling more anxious about both domestic and international travel and are planning their vacations with safety and security in mind.
As a result, 60 percent of those surveyed are intending to remain in the USA for their primary vacation destination this year. Reasons cited for impacting booking choices include terrorism, anti-American sentiment, and political unrest, along with crime and personal safety.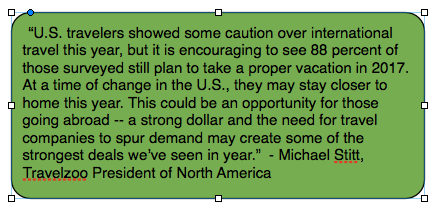 Safety Trumps All
More than half said President Trump's election made them more reluctant to travel abroad, while nearly half said the same thing about travel to certain parts of the USA. While affordability was an influence on travel plans, 72 percent said they would pay more for a vacation if it meant increased security.
While 50 percent agreed that a stronger dollar made some destinations more desirable in 2017, recent terrorist events in some places was top of mind. When asked which cities they considered safest for spring 2017 travel, respondents named New York City, London, and Rome. Cities considered least safe were named as Istanbul, Jerusalem, and Cairo.
Travelers Already Planning for Summer
The majority of those surveyed will book their 2017 vacations by April; more than half of all trips planned will take place in May through July.  Travelzoo concludes that the idea of a tradition summer vacation is still very much alive in a year of uncertainty, with beach vacations cited as the most popular trip. Florida, Georgia, and South Carolina ranked highest as preferred destinations. One in three indicated interest in visiting Cuba in 2017.

Trravelzoo's press release is found here.