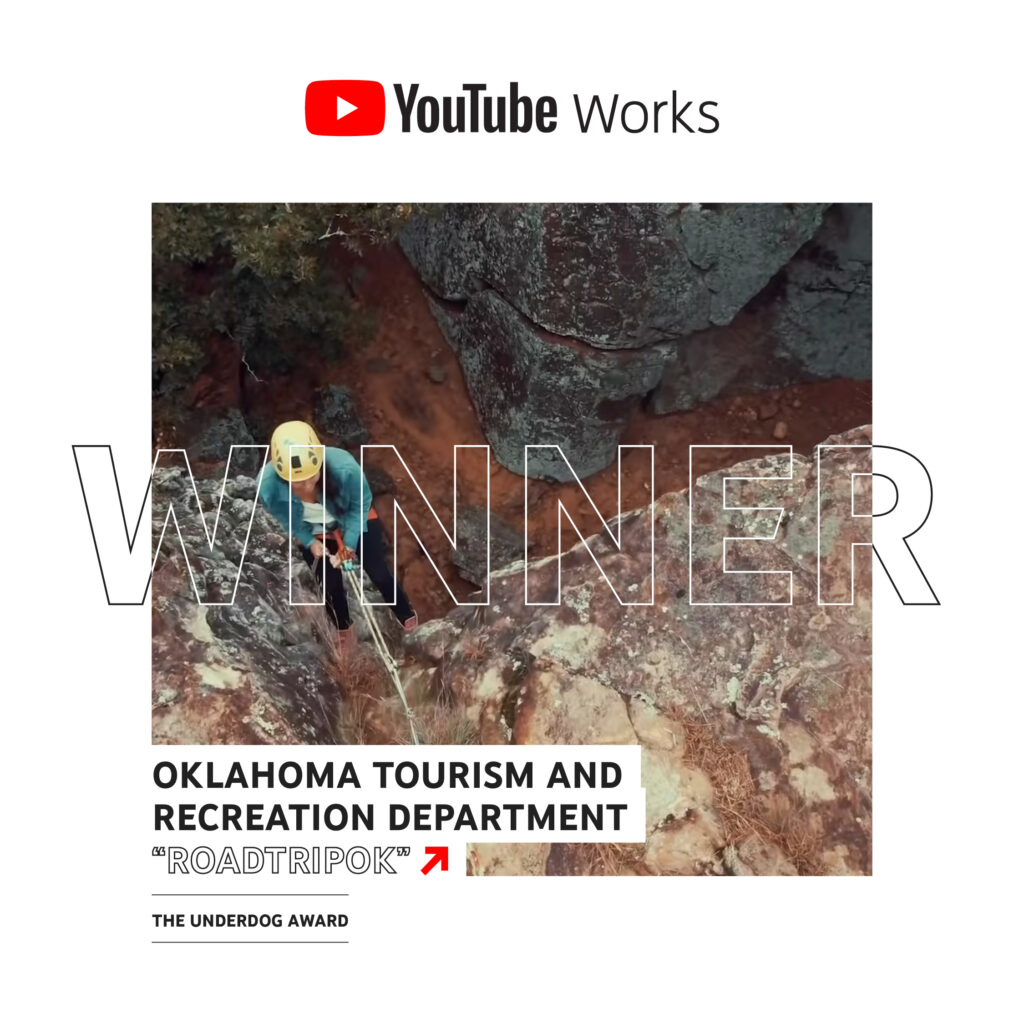 Congrats to the Oklahoma Tourism & Recreation Department for their big win for "ROADTRIPOK" in the 2021 U.S. YouTube Works Awards. The challenge? How could underdog Oklahoma attract new visitors? The idea? Four adventurers, 52 destinations, 150 attractions, and a different episode posted on YouTube every week.
If you can only watch one of the 52-episode series that roams all across the state of Oklahoma, watch this one of the highlights; it's the finale. Besides, you may never hear a more enthusiastic tourism ambassador than Oklahoma Lt. Gov. Matt Pinnell.
---
Visit Omaha has announced "Rent for Recovery Initiative" to assist local tourism businesses challenged by the pandemic. The DMO plans to give up its current office space for the next 12-24 months, saving approximately $250,000. During that time, Visit Omaha will use a portion of that savings to support the tourism industry through this initiative. Each week, Visit Omaha will book meeting rooms at different hotels, attractions, and restaurants to host the organization's staff meetings in an effort to support the recovery process.
"Essentially, this initiative means we will rent space for 52 meetings in the next year to support businesses hit hardest by the pandemic," said Visit Omaha Interim Executive Director Deborah Ward. "By giving up our office and utilizing our partners' available meeting space, we hope to provide support to an industry that employs nearly 18,000 local residents. In addition, this initiative will allow us to forge more personal relationships with our tourism partners after a year of such upheaval and change."
---
4,795 miles east of Omaha, Zermatt sits at an elevation of 5,276 feet, at the foot of Switzerland's highest, craggy Alpine peaks. Most people would call the landscape dramatic.
Martin Nydegger, CEO of Switzerland Tourism, has a product that Robert De Niro complains to native son Roger Federer "is just too perfect." De Niro throws out the f-word (wow, a bold Switzerland creative team) when turning Roger down on his invitation to film in this place that De Niro claims has "no drama, no drama at all." This story set in Manhattan and Zermatt is a gem in just 90 seconds.
---
Related: Steal This Idea: Cool Stuff on DMO Websites
---

Reminder: Have you got a winner? eTourism Summit, in partnership with Expedia Group Media Solutions and Destination Marketing Podcast, are hosting the Fourth Annual eSTY Awards. We're searching for digital excellence in a dozen original categories. Note: Deadline is June 28, so go here to submit your entry…or entries!
---
Lots of deserving moms were gifted spa visits for Mother's Day. However, VisitLEX says that "Nobody deserves our appreciation more than the magnificent horse mamas that make Lexington, Kentucky, the Horse Capital of the World."
So they partnered with Lane's End Farm — home to some of the most revered stallions in the business and a one-of-kind tourist destination in its own right — to make it happen. This gorgeous Thoroughbred mare, Angelo's Ashes, is a magnificent horse mama whose bloodline includes Secretariat and Seattle Slew. She got a Mother's Day makeover with plenty of pampering…"Check out those bangs!"
The Lexington-based creative team at Cornett says, "This world's first equine Mother's Day makeover included a relaxing bath, hair braiding, hoof picking and polishing, and a coat of luxurious glitter hoof polish. Of course, no horse 'spa' day would be complete without a rejuvenating crudité platter of exotic fruits, warm towels, and refreshing carrot-infused water.
On a more serious note, VisitLEX points out the importance supporting the important work of Central Kentucky's Thoroughbred aftercare organizations at www.visitlex.com/mothers-day-makeover.
-> Watch The Travel Vertical for another creative idea from the killer VisitLEX and Cornett team in the next roundup of DMO awesomeness. Send us yours?
---
Meet Minneapolis has an extensive, well-organized job board within their website. This community resource serves as a connection between employers with job openings and job seekers and invites employers to submit employment opportunities as well.

---
Visit Orlando gets the hospitality message out in a video with help from a principal dancer, a chef/restaurateur, a front desk hotelier, a guest services specialist, an airline operations lead, and a local nonprofit executive.
---
Visit Detroit took inspiration from National Travel and Tourism Week to promote "Hometown Week." The website says, "Every day we will show you a unique piece of Metro Detroit and give you an insider's look at what makes our city a 'Must visit.' Bookmark this page and check back often to see what we have for you."
Samantha Scott, Content Creator at Detroit Metro Convention & Visitors Bureau highlights Evita's snippet that we love: "Detroit is more than a destination. It's a conversation."
Plus, there's more entertainment mixed with cool local discoveries. For three 12-hour days, the FullView Productions film crew followed Evita Robinson of Nomadness Travel Tribe and Audacityfest on her experiences exploring the city and connecting with Detroiters, highlighting cultural endeavors and small businesses within vibrant BIPOC and Latin X communities.