We're all on a journey within a journey and the only road map is data. Join the next "Staying Connected" webinar on Wednesday, June 10 at 1 p.m. (ET) where we'll get this conversation going about where the numbers are taking us.

Geek out with this panel of experts along with host and moderator Josh Collins of Streetsense.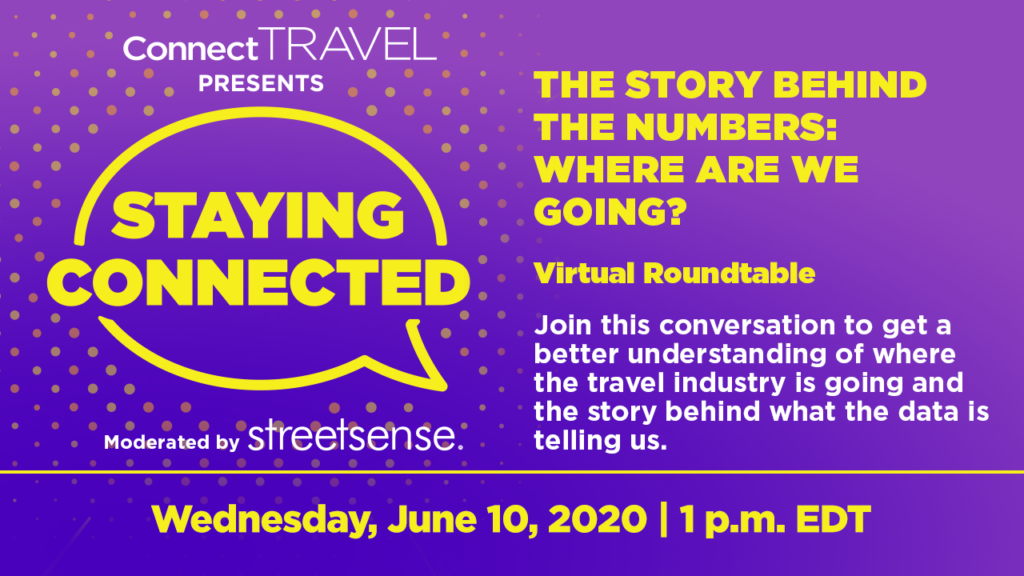 Jamie Lane, Sr. Director, Economics & Forecasting, CBRE
Jay Kinghorn, Chief Digital And Analytics Officer, Co-founder, Entrada Insights
Allison Schult, Visit North Carolina and Principal & Chief Navigator, Mile Marker 630
Josh Collins, Director Destination Activations and Marketing, Streetsense
In case you missed it, Key Takeaways from last week's webinar with Arival on the topic, "Think Differently: It's Time for DMOs to Work With Local Tours, Activities, Attractions and Experiences." Thanks to our panelists, including Visit Salt Lake City, Visit Houston, San Diego Zoo, Bandwango, Bindlestiff Tours.

We've gone from big growth heroes to zero with no sales funnel. So, it's time to think differently; that means building from within, starting with community development. Local tours, activities, attractions and experiences are the foundation for that plan.
What's new and interesting is the buzz that makes a place unique. For example, Visit Houston created a website "things-to-do" marketplace; Visit Salt Lake City created a 365 days/year sightseeing pass; Bandwango explains how Visit Indy builds niche audience around a craft ale trail; Las Vegas visitors self-drive to parks where a guide from Bindlestiff Tours meets them; San Diego Tourism promotes the San Diego Zoo's 'Kids Free October' and is building on it (think Miami Spice and Miami Spa months).
DMOs should rethink their KPIs. Look at the whole consumer journey and look at adding value, including loss leaders like free things-to-do. Create resident ambassadors, invite locals to visit locally, remember the importance of VFR as an incentive to travel.
There's untapped opportunity to build more and stronger relationships. Only 49% of the operators in this forum indicate they're currently working with their destination marketing organizations (DMOs).
We're at a crossroads for change. The room tax funding model for DMOs has been disrupted by Covid-19, so metrics will shift. DMOs are more interested than ever in promoting Ma & Pa places, small businesses and local enterprises.

Catch up on any conversations you may have missed on our YouTube channel.