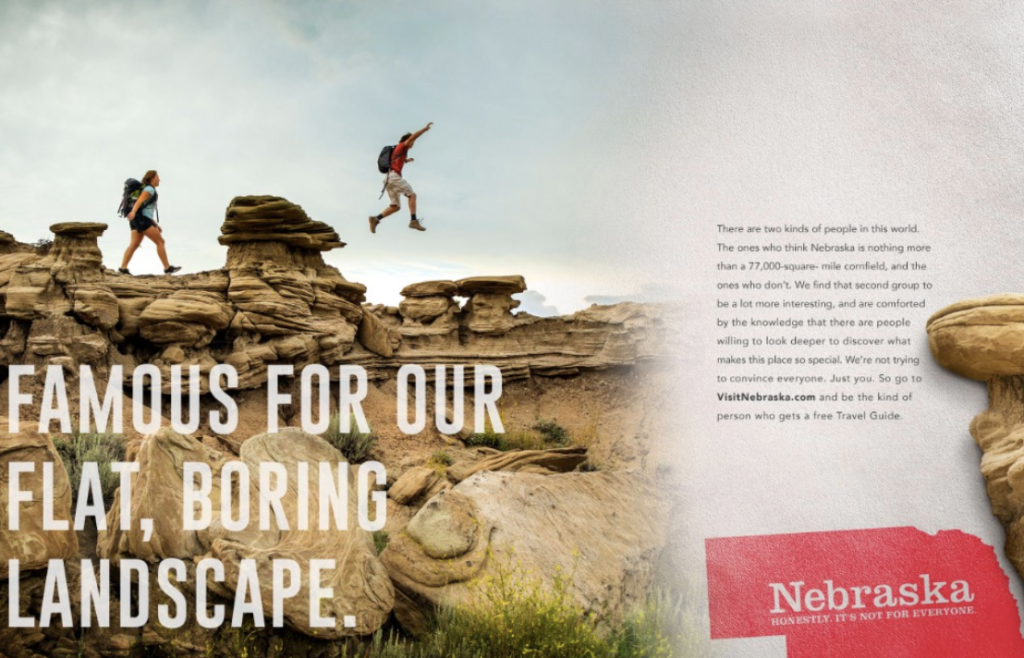 No more "Nebraska Nice." Now, the Cornhusker State tourism slogan aims to captivate with its attention-grabbing tagline, "Nebraska: Honestly, it's not for everyone." And, it's working.
Adopting cheeky as the tone of voice previously seen at Travel Oregon and Visit Salt Lake, Nebraska's new ad pitch leans on charming, self-deprecating humor, touting "Lucky for you, there's nothing to do here" and "Famous for our flat, boring landscape" juxtaposed by appealing images indicating the opposite.
After out-of-state audience testing conducted by Milwaukee-based Brand Lever, the campaign was developed by a Denver-based advertising agency, Vladimir Jones. Tourism officials estimated the cost of developing the 2019 campaign at $450,000. State Tourism Director John Ricks said that because Nebraska ranks as the "least likely state" for visitors (see 2017 MMGY study in The Travel Vertical, Nov. 8, 2017), the marketing campaign needed to be different. "To make people listen, you have to hook them somehow. We had to shake people up," Ricks told the Omaha World-Herald.  Read more in The Kansas City Star report.
Nebraska Tourism Commission's marketing manager, Jenn Gjerde, said they received an overwhelming number of requests for T-shirts with the slogan within 24 hours of the announcement. Resulting media coverage reached more than 384 million people in the blink of an eye, reports the state DMO.
Nebraska's campaign is getting plenty of attention. Watch Steven Colbert on The Late Show have some fun with Nebraska and 11 other fictitious state tourism campaigns.