Stephen Perry, CEO of New Orleans & Company, isn't too optimistic about the resumption of British Airways flights resuming in early March, as planned. Furthermore, restrictions on international flights currently mean that only U.S. citizens and permanent residents may fly inbound to New Orleans and only British passport holders may board for Heathrow.
"Everyone here wants BA back, but we know that is likely to be delayed depending on what happens in the COVID world," Perry told The Times-Picayune.
The CDC has issued a new ruling that air passengers flying to the U.S. from a foreign country will be required to show proof of a negative Covid-19 test taken no more than three days prior to the flight. The order goes into effect on Jan. 26, 2021.
Can a Vaccination Certification Kickstart International Travel?
"A testing requirement provides yet another layer of safety for international travel, and should be accompanied by other risk-based policies—including lifting international inbound travel restrictions and dropping any post-arrival quarantine requirements.
"With an international testing requirement in place, international visitors and returning residents would be tested at much higher rates than the general public and pose a much lower risk of transmitting the disease. So it would make sense to lift international travel restrictions and quarantine requirements at the same time.
Ahead of a meeting on Jan. 21, 2021, the European Commission's president has come out in favor of a vaccination certificate that would be recognized in all 27 member states.
As more and more governments, businesses, and universities demand proof of Covid-19 inoculation, health and tech groups have started developing digital "vaccination passports."
Microsoft, Oracle, and Salesforce have teamed up with healthcare organizations such as the nonprofit Mayo Clinic to create an internationally accepted digital card that can store information on negative tests and proof of vaccination. CommonPass, supported by The World Economic Forum, is one of the SMART Health Cards now in trials. More at Vaccination Credential Initiative.
Related: CommonPass Makes a Successful Landing at EWR
While many professional groups and industry associations are voicing support, there are objections. In addition to privacy and discriminatory issues raised by the WTTA and WHO, questions that cannot yet be answered arise: How long will the vaccine be effective? How long should the passport remain valid? What if there's a new vaccine for a new strain?
Meantime, we've got a winter to get through.
Test, Quarantine, Test: Country-by-Country
Last week, Canada began requiring all inbound travelers to show proof of a negative Covid-19 test in addition to its two-week quarantine requirement.
All travel corridors to/from the United Kingdom have closed as of Jan. 18 through at least Feb. 15. Anyone entering the UK will have to present a negative Covid-19 test within 72 hours before boarding. On arrival, a strict 10-day self-quarantine is required unless a second negative test is produced after a second test on day five of self-isolation. Flights from South America and Portugal are banned altogether, due to another variant identified in Brazil.
England is currently under a national lockdown. Stay-at-home orders mean going out only for grocery shopping, exercise, or essential work. Similar measures are in place across much of Scotland, Wales and Northern Ireland.
This past weekend, France extended the Paris curfew (6 p.m. to 6 a.m.) throughout the entire country. The prime minister warned people to be prepared for another possible lockdown.
In Spain, where the biggest snowstorm in decades hit Madrid, infection rates are outpacing much of Europe. Restrictions and curfews are being imposed on a regional basis, with travel restricted between regions.
On Jan. 16 in Italy, the prime minister announced coronavirus extension to March 5 and Covid-19 national emergency status until at least April 30.
Forget the Easter holidays. In Germany, the government has warned that people will only be able to go on holiday after Whitsun (May 24).
Austria tightened controls at its border and from Jan. 15, every person, including citizens and residents of Austria, will be required to register online before crossing.
In the Netherlands, a negative Covid-19 test was made compulsory from Dec. 15, including drivers arriving via the Eurotunnel and passengers on Eurostar trains.
Denmark temporarily banned all inbound flights and announced that a vaccination passport is being developed. Sweden imposed entry bans on Denmark and United Kingdom arrivals. Norway has made Covid-19 testing obligatory for all arrivals.
Japan has announced a second Covid-19 emergency state, effective Jan. 8, 2021, putting tourism recovery in jeopardy. Postponed for a year until July 23-August 8, the Tokyo 2020 Olympic Games are looking iffy for 2021.
Hotels Are Ready to Vaccinate America

Hospitality for Hope Initiative
AHLA launched the Hospitality for Hope initiative in early 2020, identifying more than 20,000 hotels with 2.3 million rooms to provide temporary housing for emergency and healthcare workers.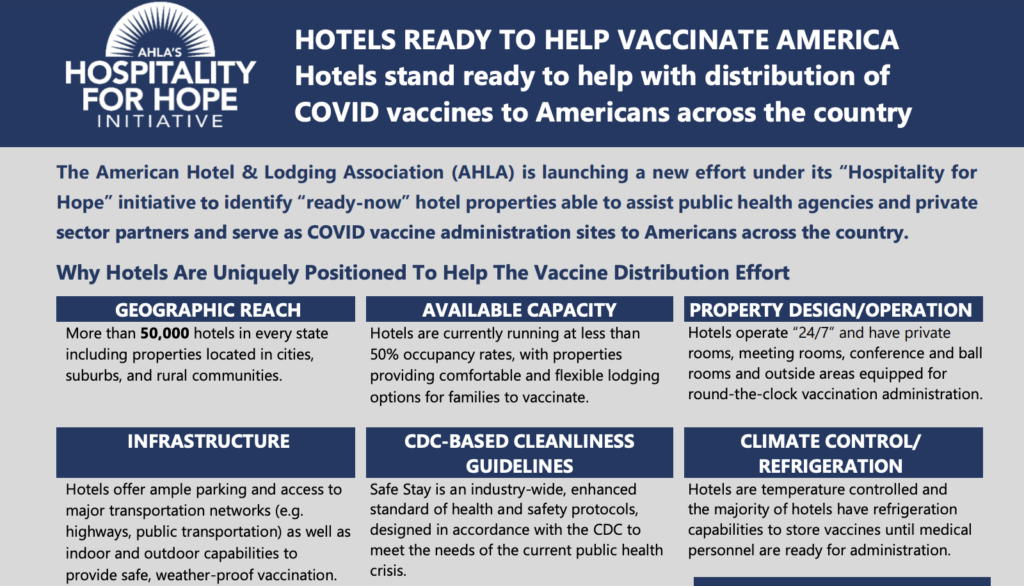 "With the next phases of vaccination distribution underway, hotels have the unique capability to help provide additional locations to assist with the administration of the vaccine," said AHLA President & CEO Chip Rogers. In a letter to the incoming president, he suggested 50,000+ hotels across the US have the geographic reach, access, rooms, staff support, cleanliness protocols, refrigeration, parking lots, etc. to serve as vaccine distribution centers in partnership with public health authorities.
---
---
For the Dream Stage: "The New York Times 52 Places"
Instead of travel writers, The New York Times asked readers "the spots that have delighted, inspired and comforted them in a dark year." The resulting 52 entries were curated from 2,000+ worldwide suggestions. "52 Places to Love in 2021" was published last week featuring these U.S. destinations.
Big Sky Country, Montana
Lake Michigan
East Haddam, Connecticut
Bryce Canyon National Park, Utah
Santa Rosa, California
The Hudson River at Tappan Zee, New York
Northern Arkansas
Gate of the Arctic National Park and Preserve, Alaska
The Rawah Wilderness, Colorado
The Methow Valley, Washington