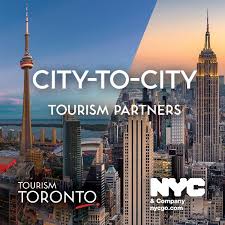 OK, we get it. These are big numbers. NYC & Co. reported a record-breaking 61.8 million visitors last year and Tourism Toronto saw an all-time high of 43 million visitors.
Few DMOs can boast such volume but every destination can design a city-to-city partnership to boost awareness and stimulate travel like the one these two cities launched last autumn.
Under the two-year agreement, both destination marketing organizations collaborate and share best practices. They each invest $500,000 in marketing and advertising assets to help promote the other destination. Air Canada chimed in with winter discounted fares for the city pair.