As a source of destination inspiration, we look at five diverse DMOs doing different things as they explore and explain the impact of tourism.
Discover Flagstaff
Astrotourism: To further amplify Flagstaff and its position as the world's first Dark Sky City in 2001, Discover Flagstaff has teamed with non-profit Flagstaff Dark Skies Coalition, to offer a non-fungible token (NFT) photo collection named "A Night in Flagstaff."
There are "70 images for $700 each from 7,000 feet," each minted as a one-of-a-kind, moment-in-time capturing the star-filled skies over Flagstaff's Buffalo Park, a location less than two miles from City Hall.
Each image is a 20-second exposure, the first taken beginning at 19:53 February 5, 2022 MST and the last beginning at 21:02 MST. The view is toward the north-northwest, including the iconic skyline of the San Francisco Peaks, the highest point in Arizona at 12,637 feet.
Proceeds from the NFT sales will support the Northern Arizona EONS (Eyes on Night Skies) research program, an effort to measure and monitor sky brightness.
Visit Tampa Bay
"Meet the Fenways from Boston," suggests the explainer video in the first of three tourist examples.
"Every day, thousands visit Tampa Bay, and with so many ways to play, they each hunt for treasure in their own special way. Yet, they all have one thing in common: everywhere they go, they break out their loot and are happy to pay. So how do we calculate the total impact of tourism to our region? The answer goes much deeper than you think. Come along as we Measure the Treasure for three different visits to Tampa Bay."
"How Tampa Bay Measures the Treasure" is a fun animation presented by Visit Tampa Bay in 3:16 mins.
Visit Big Sky
Reporting from Montana on another DMO looking to shift from marketing to management. "As Big Sky has grown, we're hitting a capacity issue," said Brad Niva, CEO of the Big Sky Chamber of Commerce and Visit Big Sky. "All of our hotels are full, our restaurants are full [and] lift lines are longer. …our shift…doesn't mean we stop marketing, but we do need to continue to communicate with our visitors and so to educate them about how to be a good visitor."

Some of that communication will come in the form of new wayfinding signage which Niva said is currently being updated as well as the new "Love Big Sky Like a Local" education campaign which gives tourists tips on how to be respectful. — Source: Explore Big Sky
Visit Panama City Beach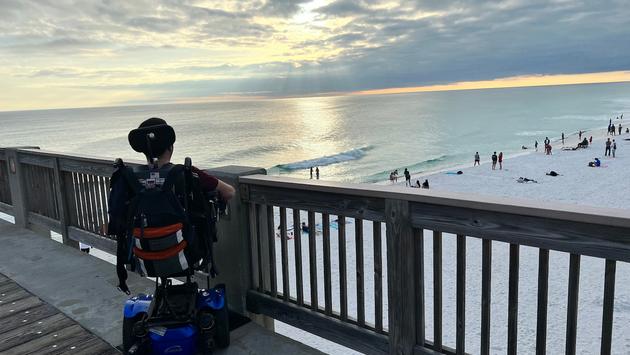 Visit Panama City Beach has unveiled the "Fun.For.All." campaign to put the spotlight on the destination's accessible travel options. Accessible travel is a top priority for our destination and community," said Visit Panama City Beach President and CEO Dan Rowe.
Launched in tandem with National Mobility Awareness Month, the initiative aligns with the Visit Florida "Limitless Florida" campaign promoting accessible statewide resources and activities.
Panama City Beach provides travelers with elevated boardwalks, beach wheelchair rentals, accessible fishing piers, accessible attractions and accommodations, and a considerable number of restaurants with wheelchair ramps and spacious dining area. For visitors with speech, hearing or vision impairments, the Bay Town Trolly provides sign language interpreters and documents in Braille upon request. It is also wheelchair accessible and service animal friendly.
Great Lakes, Wisconsin
Travel Superior in Wisconsin says it all. The DMO on the Great Lakes gets back to basics with a campaign simply labeled, "Remember Fun?"
The six-week campaign that runs through June and includes radio, billboard, magazine, newspaper, digital, web and social media advertising aimed at Twin Cities and Eau Claire 25-49 year olds with young families.
"We're looking forward to a summer of strong activity among additional travelers who may not have felt comfortable going on vacation the past couple of years," said Taylor Pedersen, president and CEO of Travel Superior.