P E O P L E
Jake Buganski has been appointed as the first CEO of the newly formed Skagit Tourism Bureau in Washington State. He joins from Tempest where he was VP of Strategy, prior to which his DMO roles included Director, New Jersey Division of Travel and Tourism. (Jake's profile indicates he is also the future first Tourism Director on Mars.)
Kelli Steele returns to the Putnam County Convention & Visitors Bureau in West Virginia as Executive Director. She had previously served in this role for nearly four years through September 2020.
Alissa Steele has been appointed Marketing Manager at Philadelphia Convention & Visitors Bureau. She joins from her previous role as Advertising Specialist at the Philadelphia Phillies.
Dione Williams has been appointed Director of Convention Sales at Travel Portland in Oregon. He joins from Las Vegas Expo Inc., and has an extensive background in hotel and resort sales.
Susan Valen has been named as the new Director of Sales at Visit Huntington Beach. Her DMO experience includes 13 years as National Sales Director for Long Beach Convention & Visitors Bureau until 2020.
Two new appointments at Great Rivers & Routes Tourism Bureau in Illinois, which encompasses 39 cities and towns. Jason Troop is the first-ever Sports Tourism Marketing Manager. He joins from Wheeling, WV where he was Director of Business Development of the Highlands Sports Complex and brings considerable professional experience in sports management and marketing.
Joey Naples is the bureau's Tourism Engagement & Outdoor Recreation Coordinator. He is a resident of Carlinville where he owns The Uptown Tavern, has extensive agricultural experience and has been involved in the community for 15 years.
Anna Tanski, former CEO of Visit Duluth, is the new Head of Festivals & Events at The Catalyst Story Institute. Catalyst is a Duluth-based nonprofit that discovers storytelling artists, develops their creative skills, showcases their story ideas to the world, and advances their careers within the television industry.
Jenn Schaal departs Meet Minneapolis following five years as Director of Partnership. She indicates that she has accepted a new role outside of the tourism industry.
Zane Harrington departs Visit Dallas following five years as Communications Manager. He joins Perot Museum of Nature & Science, also in Dallas, as Marketing & Communications Manager.
Kindra Fry departs her role as Senior Director-Sports Tourism & Events at Visit College Station to become Assistant Athletic Director-Special Events at Texas A&M University, also in College Station.




San Diego Tourism Authority has a new Director of Information Technology. Aldino P. joins the team, bringing more than 20 years' experience in IT leadership.







Also in California, Conrad Braganza has joined Sonoma County Tourism as Senior Manager of Research. Previous to working in roles with the City of Fresno, he had been Senior Marketing Research and Development Analyst at the Fresno/Clovis Convention & Visitors Bureau.
Xavier Roque takes up a new position as Media Relations Coordinator at Visit California. He joins from Visit Napa Valley where he had been Partnership Marketing Manager.
Laura Messer has joined Virginia Tourism Corporation as Destination Development Specialist. She moves over from James City County where she had been Tourism & Marketing Coordinator.
Bri Seifert has taken up a new position as Sales Manager at Visit Fort Collins in Colorado. Previously, as an independent consultant and company owner, she had worked with Colorado Office of Tourism for a number of years.

Stephan Hengst has been appointed Executive Director of the Provincetown Business Guild in Cape Cod, MA. He had been Director of Marketing, Communications & PR at The Culinary Institute of America in Hudson Valley, NY.
Based in Denver, Maria Pradissitto has joined Herrmann Global as Account Manager. Her DMO background includes Colorado Tourism Office and Durango Area Tourism Office.
Mark Preston, formerly of Tripadvisor, has joined Adara as Senior Sales Director.
---
---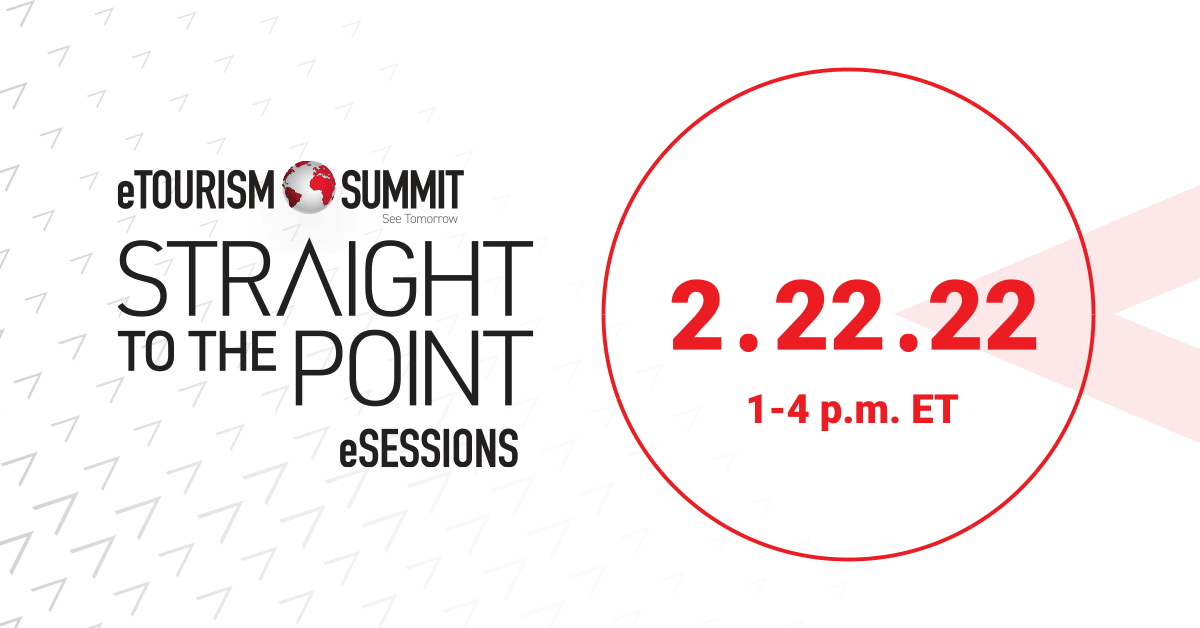 ---
---
R F P s
"Visit Indian River has just rebranded and is looking for a new website to match our new image. Our current website, VisitIndianRiverCounty.com is out of date and is time for a facelift." — Lisa Konupka, Marketing & Public Relations Coordinator, Visit Indian River County, FL (details are found on Lisa's LinkedIn page).
McCurtain County Tourism Authority in Oklahoma is searching for a full service advertising agency. The DMO is currently accepting proposals; the deadline to submit is March 7, 2022. Contact Executive Director Charity O'Donnell ([email protected]) to request a bid packet.
Visit SLO CAL, the destination marketing & management organization for San Luis Obispo, California, has issued a request for proposals for a qualified full-service public relations agency with tourism experience. The scope of work will be for a three year period beginning on or about July 1, 2022. Questions are due by 12 p.m. PT on Feb. 9, 2022. Proposals are due by March 4, 2022.Visit-SLO-CAL-Request-for-Proposal-PR-final-1.22Download
Wyoming Office of Tourism (closing March 1, 2022) — Seeking proposals for advertising agency of record for the Wyoming state marketing program. RFP is available on Public Purchase where the WY Advertising account is RFP #0148-G – Advertising (Public Purchase requires a free log-in/registration to access the RFP.)
Public Purchase link: Public Purchase: Bid Notification, Government bids, Reverse Auctions and Procurement Tools for Government Agencies
Alaska Travel Industry Association (closing 2/11/22 and 2/25/22)— Seeking proposals for three elements (Advertising, PR & Media Relations, Visitor Research) supporting the Alaska Tourism Marketing Program.
Hawaii Tourism Authority — Hawaii Tourism Brand Marketing & Management Services in the US Major Market Area (hawaiitourismauthority.org/rfps)
State of Hawaii Economic Development, & Tourism (closing 2/25/22) — A Research Project Related to Visitor and Resident Geolocation Tracking for July 2022 – June 2024

---
---
J O B S
President & CEO — Visit Seattle, WA
Executive Director — Pasadena Convention & Visitors Bureau, CA (new)
Executive Director — Corpus Christi Sports Commission, TX
Executive Director — Visit Chelan County, WA (new position, new DMO)
President — Visit Overland Park, KS (new)
President & CEO — South Shore Convention and Visitors Authority, Hammond, IN
Director AND Manager Sports Tourism AND Manager Tourism Marketing — Lake County Board of Commissioners, FL
Director — South Padre Island Convention and Visitors Bureau, TX
Executive Director — Discover New England, Portsmouth, NH
Executive Director — Visit Dana Point, CA
Chief Financial Officer AND National Sales Manager — Cincinnati USA Convention & Visitors Bureau, OH
Vice President of Equity, Diversity, and Inclusion AND Sales Administrative Assistant — Meet Minneapolis, MN
Vice President Meeting Sales & Services — Visit Fort Worth, TX
Vice President — Abilene Convention & Visitors Bureau, TX
Vice President Global Marketing — Destination Vancouver, B.C., Canada
Vice President of Tourism — Visit Denver, CO
Vice President of Sales — Visit Greater Palm Springs, CA
Convention Center Manager — Broward County/Greater Fort Lauderdale Convention & Visitors Bureau, FL
Director, Tourism Market Development-Canada & US (new) AND Integrated Marketing Project Manager AND Coordinator Member Programs & Services AND Senior Copy Director AND UX Design Lead — NYC & Company
Senior Manager Research AND Digital Marketing Manager AND International Media Relations — Destination DC, Wash., DC
Director of Marketing AND Social Media Marketing Specialist — Greater Boston Convention & Visitors Bureau, MA
Director of Marketing AND Sales Manager — Little Rock Convention & Visitors Bureau, AR
Director of Marketing AND Director of Sales — Visit SLO CAL, San Luis Obispo, CA
Director of Marketing & Communications — Visit El Paso, TX
Marketing Communications Manager-Meetings & Conventions — Visit Orlando (new)
Director of Public Relations — Visit Tampa Bay (new)
Director of Diversity, Equity and Inclusion — Myrtle Beach Area Chamber of Commerce, SC (new)
Director of Tourism Strategy & Information AND Marketing Coordinator — Cobb Travel & Tourism, Inc., GA
Senior Director Convention Services — Destination Cleveland, OH
Director of National Accounts — Visit Spokane, WA
Director of Sales Citywide Conventions — Visit Houston, TX
National Sales Manager-Washington DC — Las Vegas Convention & Visitors Authority, Wash., DC Metro
Director of National Accounts (mid-Atlantic office) — Nashville Convention & Visitors Corp, Wash DC
Senior Sales Specialist — Visit The Woodlands, TX
Digital Marketing Manager — Colorado Office of Tourism
Senior Manager Social Media AND Global Marketing Trade Account Executive — Visit Florida
CRM & Research Analyst AND Marketing Manager AND Marketing Project Manager AND Communications Manager AND Sales Coordinator — Visit Dallas, TX
PR Manager — Sonoma County Tourism, CA
PR Manager — Santa Monica Travel & Tourism, CA
Marketing Manager — Experience Columbus, OH (new)
Business Development Manager — Visit Carlsbad, CA
Business Analyst — Visit Grand Junction, CO
Business Insights Specialist — Destination Vancouver, Canada
Manager Travel Trade — Ottawa Tourism, Canada
Market Intelligence Analyst — Lee County Visitor & Convention Bureau, FL
Tourism Data Specialist — Economic Development Partnership of North Carolina, Raleigh
Social Media & Content Manager — Explore Asheville, NC (new)
Destination Content Coordinator — Rowan County Tourism Development Authority, NC
Tourism Manager — Snowmass Tourism, CO
Tourism Manager — City of College Station, TX
Sports Marketing Coordinator — Savannah Sports Council/Visit Savannah, GA
Communications Coordinator — Experience Scottsdale, AZ (new)
Communications & Travel Trade Manager — Yakima Valley Tourism, WA (new)
Marketing & Social Media Specialist — Visit Buffalo Niagara, NY (new)
Marketing Manager-Leisure — Experience Columbus, OH (new)
Marketing & Communications Manager — Wilmington Alliance, DE
Marketing & Tourism Manager — City of Tomball, TX
Content Marketing Strategist AND Sports Sales Manager AND Event Services Specialist — Branson Lakes Area Chamber of Commerce & CVB, MO
Events & Marketing Manager — Erie Sports Commission, PA
Sports Sales & Marketing Manager — Gwinnett Sports Commission, Duluth, GA
Digital Marketing Coordinator — Mammoth Lakes Tourism, CA
Site Experience Manager — San Diego Tourism Authority, CA
Sales & CRM Support Coordinator — Providence Warwick Convention & Visitors Bureau, RI
Sales Coordinator — Visit Richmond, VA
Sales Administrative Assistant — Meet Minneapolis, MN
Office Administrator — Visit Aurora, CO
Administrative Assistant — Saugatuck Douglas Convention & Visitors Bureau, MI
Travel Counselor — Visit San Antonio, TX (new)
Manager of Meetings & Events — Destinations International
Director of Research — Longwoods International, Columbus, OH (new)
Strategic Advisor — Zartico, remote East Coast
Creative Copywriter AND Senior UI Web Designer AND Account Coordinator AND PR/Content Coordinator AND Social Media Coordinator AND more — Relic Advertising + EKR, Provo UT
Interactive Producer AND Facebook Ads Manager AND Account Coordinator x2 AND Advertising & Data Manager AND Sr. Developer-Drupal, Classic & Decoupled AND Account Manager AND Business Analyst in Lakewood, CO (new) — Miles Partnership, many roles remote
Digital Marketing Manager (Denver) AND Tourism PR Account Director (x2 Miami & NYC) AND Tourism Account Manager (NYC) AND Tourism Account Executive (NYC) AND PR Account Coordinator (NYC) AND Senior Writer — Development Counsellors International
PR & Content Strategist AND Associate Media Specialist — Madden Media, Tucson, AZ
Client Success Associate — Sojern, Omaha, NE
Senior Account Executive AND Account Coordinator — Ketchum
Vice President of Global Sales — ConferenceDirect, remote
President & CEO — HospitalityTN, Nashville
Marketing Technology Specialist eCommerce — Herschend Family Entertainment, Peachtree Corners, GA
VP Technology — New York Cruise Lines, NYC
VP-Technology & Digital — Disney Parks, FL
Senior Manager Destination Marketing — Delta Airlines, Atlanta
Director of Marketing — Minnesota Twins, MN
Partnership Marketing Manager — Orlando City Soccer Club, FL
Research Analyst-Marketing Audience Insights — The New York Times, NYC
VP of Revenue — Empire State Building Observatory, NYC
Tourism Account Executive — Mall of America, MN
Social Media Coordinator — International Tennis Hall of Fame, Newport, RI
Staff Writer — Destination Innovate, remote