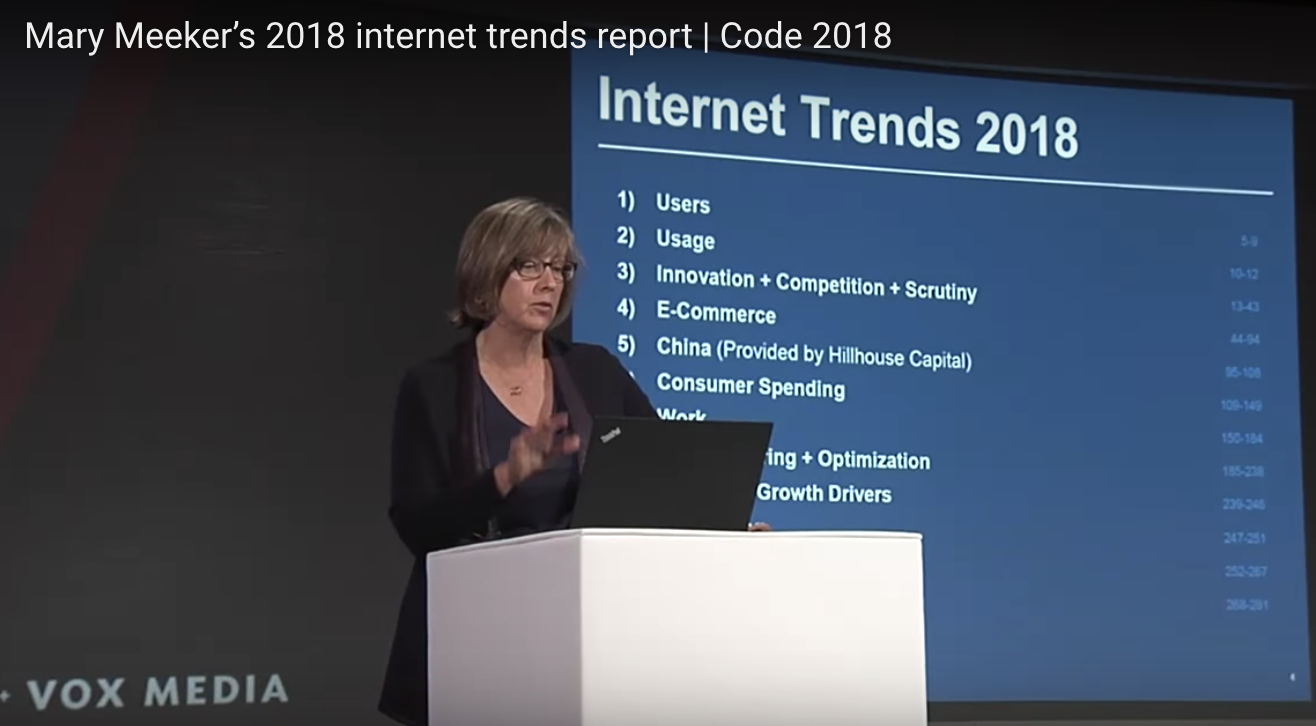 Mary Meeker, a partner at VC firm Kleiner Perkins Caufield & Byers, presented her annual "Internet Trends Report" at Recode's Code Conference on May 30, 2018.
Known for always being ahead of the curve, the extensive report uses data to identify business-related trends. It's a detailed snapshot–294 slides–on the future of the internet, a place where more than half the world now spends a lot of time.
Some of the highlights:
Smartphone usage:  Shipments didn't grow at all in 2017 for the first year ever. With more than half the world online, there are fewer people left to connect, so internet user growth dropped from 12% to 7%.
Online time: U.S. adults clocked up 5.9 hours per day on digital media in 2017, up from 5.6 hours in 2016.  Some 3.3 of those hours were spent on mobile.
Mobile ads: People are shifting their time to mobile faster than ad dollars are following, creating a $7 billion mobile ad opportunity, which must be supported by safe content.
Crypto: Interest in cryptocurrency explodes as Coinbase's user count has nearly quadrupled since January 2017.
Mobile Payments: China continues to lead the world in mobile payment adoption, with over 500 million active mobile payment users in 2017.
Voice: Voice technology reaches 95% accuracy. Amazon Echo and other voice-controlled products are taking off. Echo's U.S. users grew from 20 million in the third quarter of 2017 to more than 30 million in the fourth quarter.
Privacy: Tech companies are facing a "privacy paradox." They're caught between using data to provide better consumer experiences and violating consumer privacy.
E-commerce: Sales grew 16 percent in the U.S. in 2017, up from 14 percent in 2016, with Amazon's share at 28% last year. Bricks and mortar retail sales continue to decline.
Big tech: Competing on more fronts as Amazon moves into advertising and Google expands from an ads platform to a commerce platform via Google Home Ordering.
Get the whole presentation here.