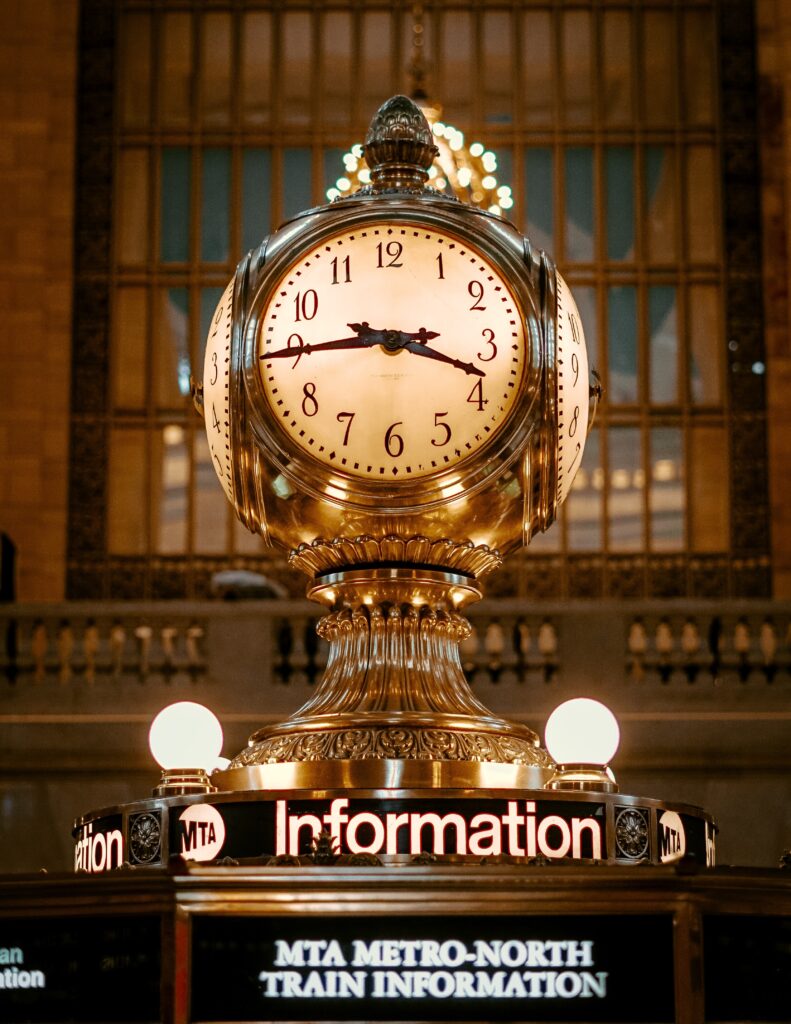 U.S. Travel Association
MMGY + Expedia Group Media Solutions, Sojern, ADARA
Rove Marketing
Arrivalist
TSA
ADARA
Destination Analysts
Longwoods International
IGLTA
AH&LA
Total spending on domestic travel will drop 45% by the end of this year and inbound travel spending will fall 75%, according to the latest Tourism Economics forecast in a report prepared for the U.S. Travel Association.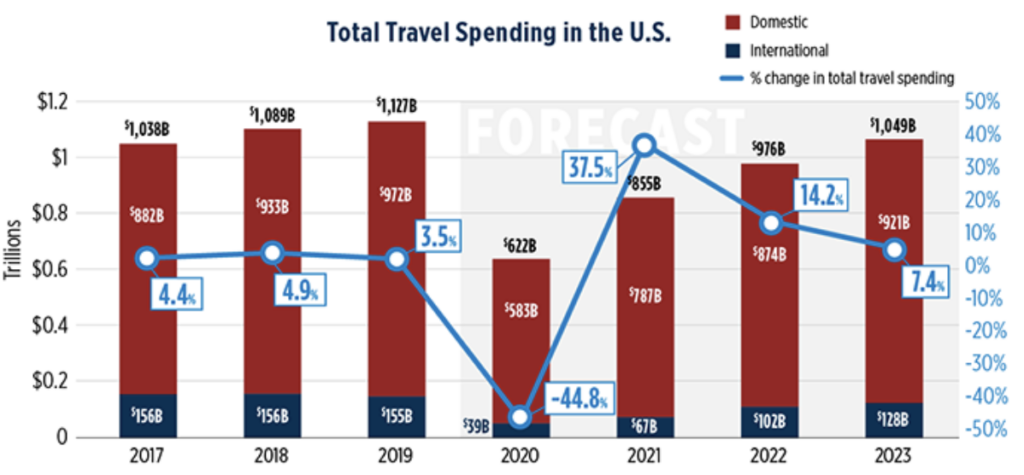 The report indicates that recovery to pre-Covid numbers will take us into 2024, with international visitor spend recovery taking longer, perhaps 2025.
The analysis is based on estimates that total domestic leisure trips will drop from 1.8 billion in 2019 to 1.3 billion this year, while business trips are expected to fall to 300 million from 462 million.
The number of international visitors will total just 29 million, compared to 79.3 last year, the report projects.
"The data is telling us that travel and tourism has been more severely damaged than any other U.S. industry by the economic fallout of the health crisis," said Tori Barnes, U.S. Travel Association EVP for public affairs and policy. "Given that travel employed one in 10 Americans and was the No. 2 U.S. export before the pandemic, supporting this industry through to the recovery phase ought to be a national priority."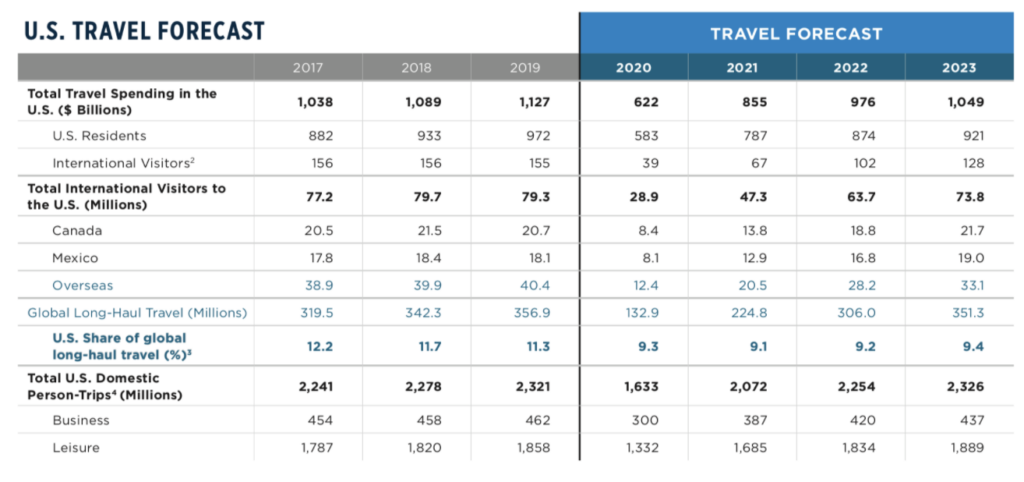 ---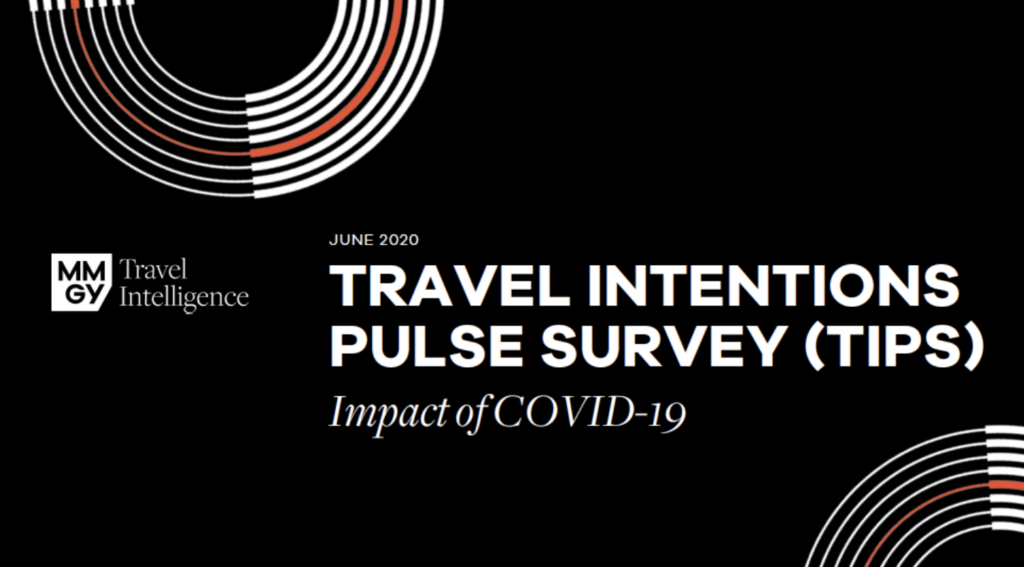 2) MMGY's recent survey tracks traveler sentiment and intent, looking at impact on travel with regard to planning, booking and cancellations, as well as intention to travel over the next six months. Get key findings from June 15.
MMGY has brought together Expedia Group™ Media Solutions, Sojern and ADARA to create a unifying campaign that maintains a consumer presence for the travel industry, shares a message of positivity and reminds American travelers of the real power of travel. Launched last week, the digital campaign, entitled Where Can Travel Take You, will run through July.
MMGY Travel Intelligence's latest Travel Intentions Pulse Survey found: 39% of U.S. travelers intend to take a domestic leisure trip in the next six months
56% of travelers say that due to the pandemic they're more likely to book travel to U.S. destinations
42% expect to travel to destinations closer to home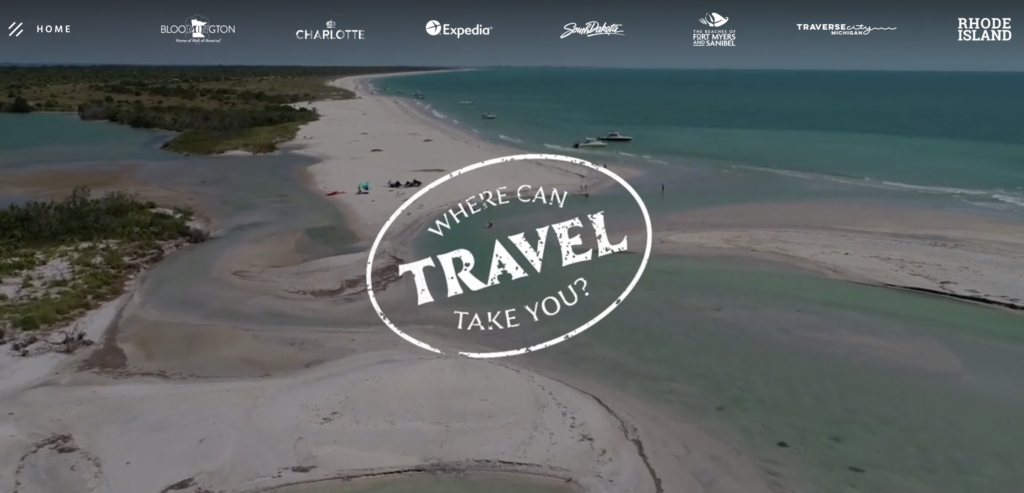 All media drives consumers to a content-driven landing page experience on Expedia, www.traveltakesus.com, to start planning their next getaway. Participating destinations showcase the diversity of the country's landscapes, seeking to encourage American travelers to consider the incredible experiences that might be right down the road. More info here.
Destinations include:
Bloomington, MN
Rhode Island
Charlotte, NC
South Dakota
The Beaches of Fort Myers and Sanibel, FL
Traverse City, MI
---

3.) Explore a new dashboard from Rove Marketing that monitors daily unique mobiles devices at 20 U.S. National Parks.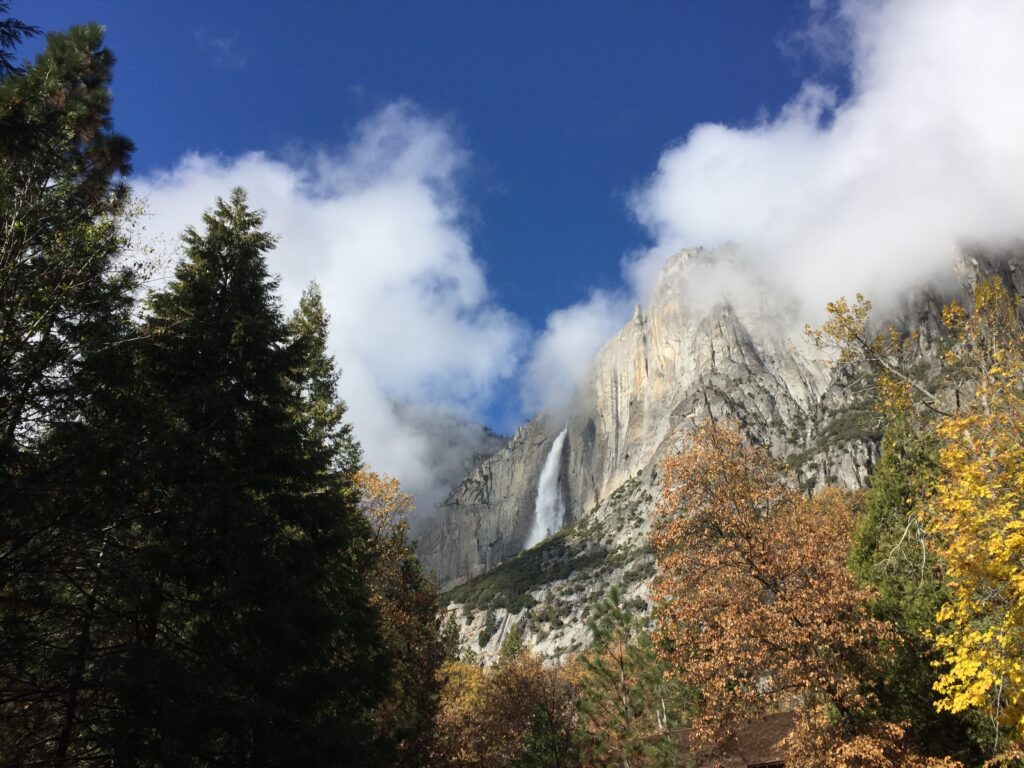 Find top origin cities and a breakdown of visitor driving distances to better understand American drive market and outdoor recreation travel trends. Click here.
---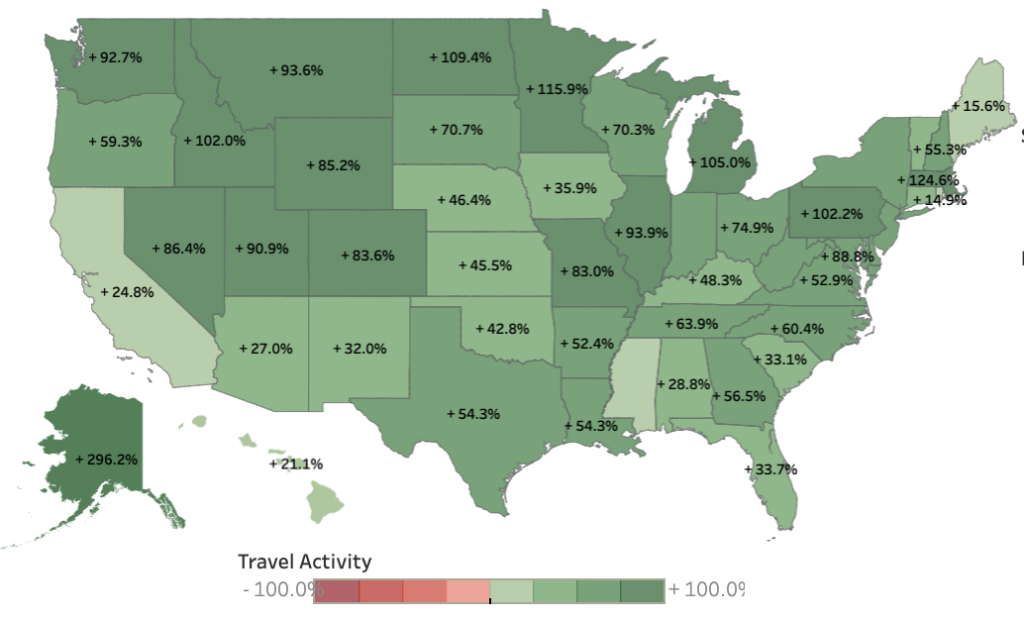 4.) From Arrivalist, a Daily Travel Index to measure consumer road trips 50 miles or more throughout 50 states. Toggle between a map view and a daily travel index to see a drive market index of U.S. travelers who moved at least 50 miles from their home and spent a minimum of two hours on their journey. Click here.
---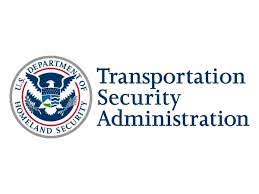 5.) Access the national TSA checkpoint traveler numbers, updated daily Monday through Friday. The number reached a post-COVID peak at 576,000 travelers on 6/18/2020.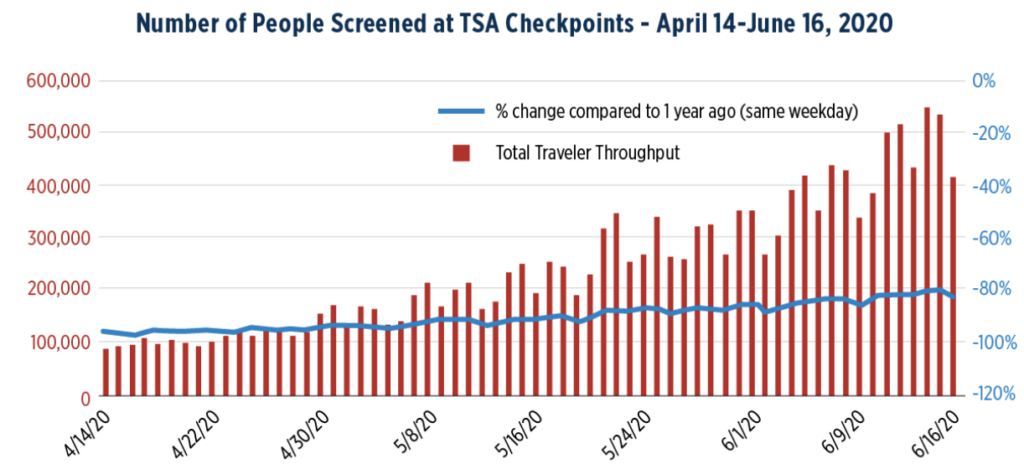 ---
6.) Updated daily, ADARA's Traveler Trends Tracker taps into real-time travel data on travel-related consumer behavior including hotel volume and flight bookings for both business and leisure travel. Domestic air and hotel bookings for future travel continued to recover, from a peak of -89% year-over-year in the week of April 6 to -64% in the week of June 8.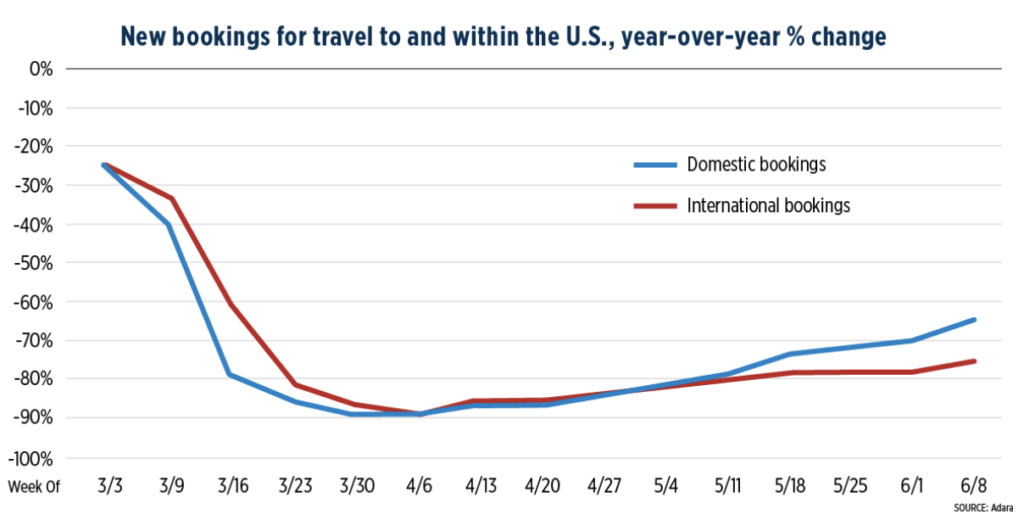 ---
7.) Get insights into Americans and travel in a weekly survey by Destinations Analysts. It tracks key consumer perceptions, attitudes and behaviors of American business and leisure travelers. Survey results from questions like the one below from 1,205 respondents during the week of June 22, 2020 are found here.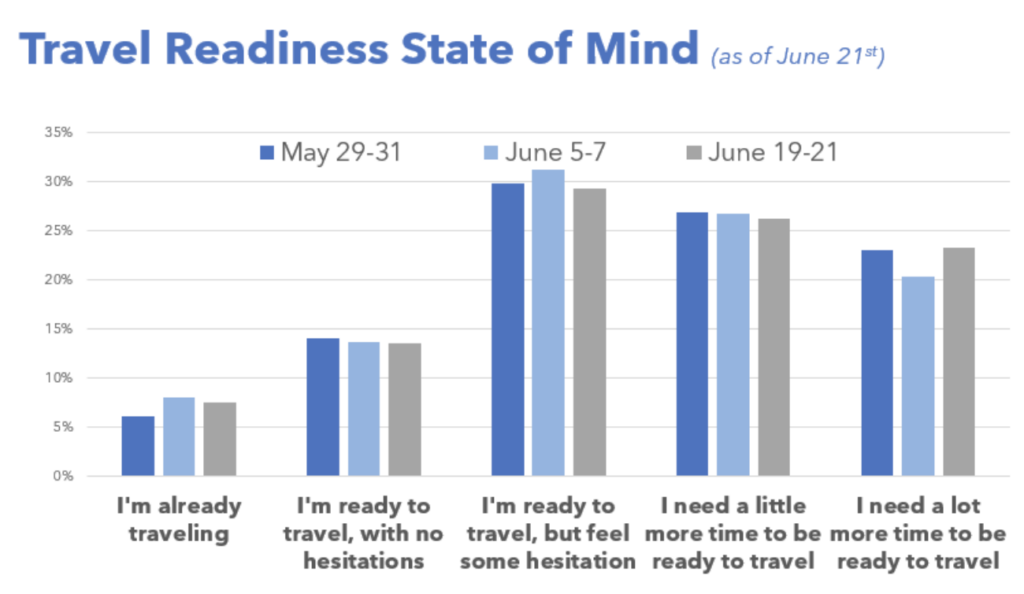 ---
8.) Longwoods International conducted Wave 14 of the Travel Sentiment Study, fielded June 17, 2020 with a representative sampling of more than 1,000 American adults. Several key indicators were unchanged from two weeks ago. Travelers are more likely to support tourism businesses which demonstrate a clear, thorough cleaning and hygiene plan (43%), which test staff and the use of PPE by staff (34%), and those that have controls on social distancing at the business (34%). More here.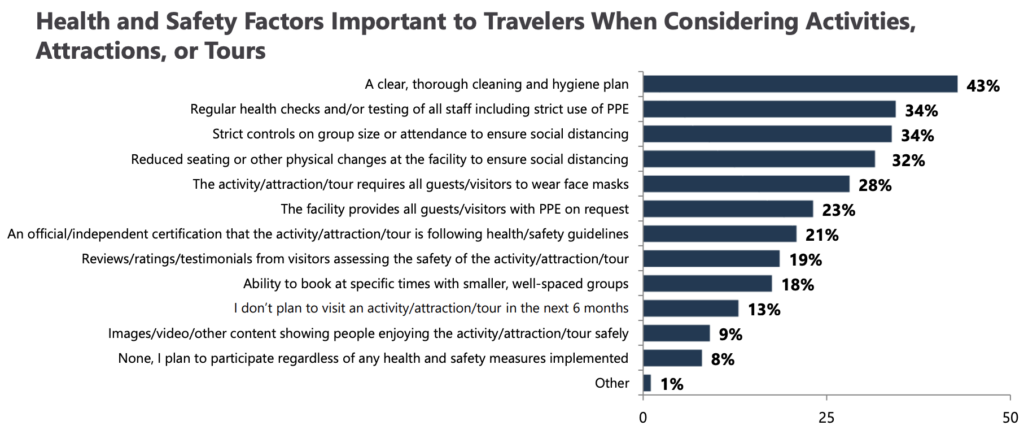 ---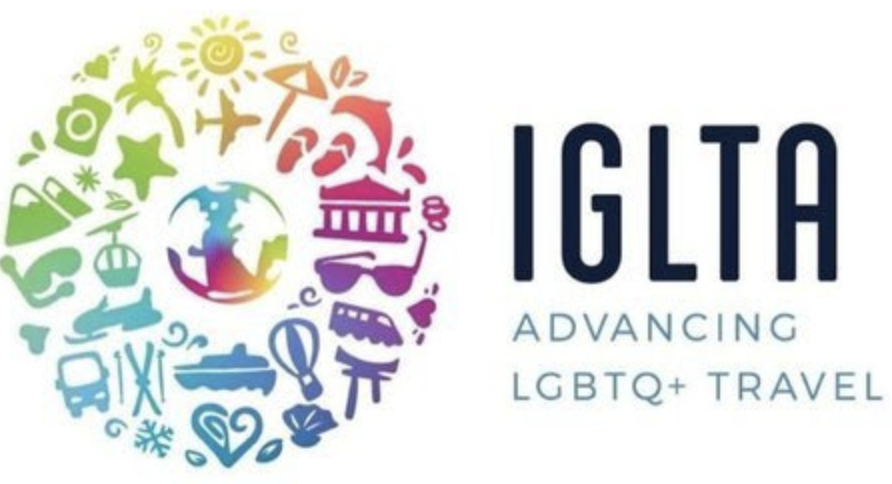 9.) In a recent survey of members conducted by the International LGBTQ+ Travel Association, two-thirds of LGBTQ+ individuals indicate they would feel comfortable traveling in the next six months, assuming safety protocols are in place. September is the most popular month.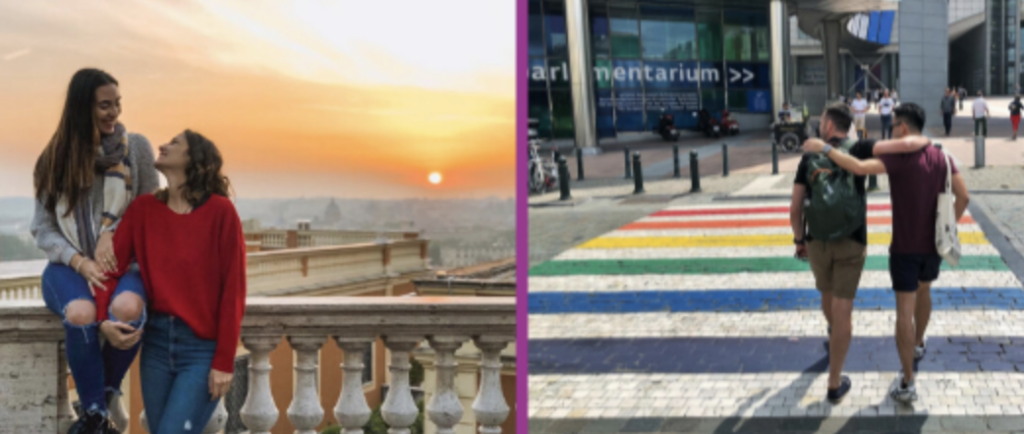 "Previous studies have shown our community to be a resilient and loyal travel segment with a tendency to travel more than their non-LGBTQ+ counterparts," said John Tanzella, IGLTA president and CEO. "We wanted…to remind the tourism industry at large that LGBTQ+ travelers should be a valued part of their recovery plans. Messages of inclusion have the potential to resonate even more strongly with LGBTQ+ travelers now."

48% are likely/very likely to stay in a hotel or resort
57% are likely/very likely to take a domestic leisure trip
34% are likely/very likely to stay in a vacation home, condo or rental apartment
29% are likely/very likely to take an international leisure trip
20% are likely/very likely to visit an amusement park
21% are likely/very likely to take a group trip
13% are likely/very likely to take a cruise
45% are likely/very likely to take a short-haul flight (3 hours or less)
35% are likely/very likely to take a medium-haul flight (3-6 hours)
27% are likely/very likely to take a long-haul flight (6 hours or more)
33% are likely/very likely to attend an LGBTQ+ Pride Event
The IGLTA Post Covid-19 LGBTQ+ Travel Survey was conducted April 16 – May 12, 2020 with responses from 14,658 individuals who identity as LGBTQ+. Click through for a worldwide result and a breakdown for the U.S.
---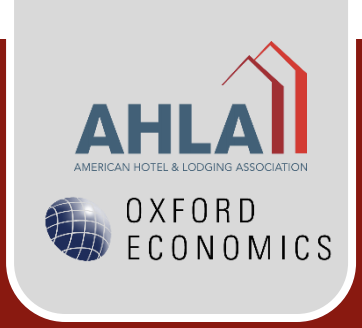 10.) As a result of the sharp drop in travel demand from COVID-19, state and local tax revenue from hotel operations will drop by $16.8 billion in 2020, according to a new report by Oxford Economics released last week by the American Hotel & Lodging Association (AHLA). Hardest hit states include California (-$1.9 billion), New York (-$ 1.3 billion), Florida (-$ 1.3 billion), Nevada (-$1.1 billion) and Texas (-$940 million). The report includes a state-by-state breakdown of the tax revenue losses. Read more here.
---