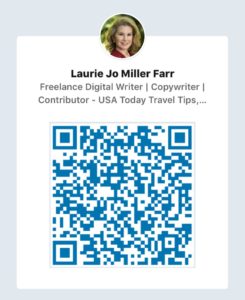 We're all for (QR code) networking!
Post-conference surveys indicate that successful networking is a key feature for our fast-paced, intimate, professional community gathering at the annual eTourism Summit.
Getting back to the office with a pile of business cards or dozens of name badge snapshots? Well, that's another matter…
FYI – Update your LinkedIn app and take a close look at the search bar. There's now a digitalized business card in your smartphone. This new feature, available in both the iOS and Android apps, makes use of QR codes to connect LinkedIn profiles instantaneously.
You're not only carrying your our own personal QR code, but you also have the capability to scan others. (No more concerns about running out of business cards.) Once you scan someone, you teleport to their LinkedIn profile to connect; it's a lot smoother than passing phones around.
P.S. While we're on the subject, please make a mental note to send The Travel Vertical updates from your professional world. Our newsletter's "Who You Know" articles on people in transition within the eTourism Community are always popular. Just use the "Contact Us" button at the footer.