Brand USA has had a busy week launching two efforts on both the small screen and the large. The organization's digital screen strategy – mobile to giant screen and everything in-between – is to drive storytelling that is relevant, engaging and real.

GOUSA TV is a Connected TV channel aiming for three million views in year one. An array of experiences cover four  category and experience playlists: Great Outdoors, Road Trips, Food & Drink, Culture & Events.
The service is now available on Roku, Apple TV and Amazon Fire TV in the U.S. and abroad. In 2019, GoUSA TV launches on Google Chromecast and on leading platforms in China. Read more here.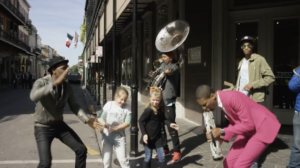 "America's Musical Journey," Brand USA's giant screen, 3-D production, debuts at the Smithsonian's National Air and Space Museum, with additional theaters being added in the fall.
Narrated by Morgan Freeman, the film follows contemporary musician Aloe Blacc as he traces the development of  American music.
Last previous Brand USA film, a 3-D IMAX called "National Parks Adventure," showed lesser-known landscapes and was the highest-grossing documentary in 2016, according to the DMO. See a YouTube trailer and read more here.