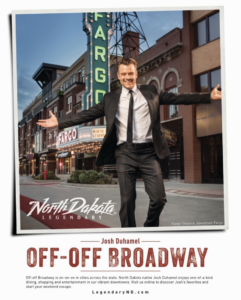 On New Year's Day 2018, North Dakota hit a low of -45º F (as in below zero). That's a tough sell. A native Minot, ND is willing to take the job on for another two years at $365,000.
North Dakota Tourism unveiled its $2.9 million marketing plan for 2018 while announcing that actor Josh Duhamel will continue as the face of the state's tourism campaign. This comes on top of $525,000 contracted since 2013.
"…Having Hollywood actor and Minot native Josh Duhamel make the pitch helps, said Sara Otte Coleman, who heads the state's tourism agency," the Associated Press reports.