People on the Move
Visit KC CEO Jason Fulvi is joining Arrivalist as Chief Sales Officer upon his resignation effective in early September. He joined the DMO in 2018 following 16 years at Visit Pittsburgh.
Visit KC's VP & CFO Randall Landes will become interim CEO. Visit KC's budget for the 2022 fiscal year, which began July 1, was reduced to $6.62 million, down 38% from the previous year.
Brian Wright is the new Director of Marketing at Mammoth Lakes Tourism. He joins from Santa Monica Travel & Tourism where he's been Director of Global Business Development for the past 3+ years, prior to which his background included executive communications roles with Visit California.
Lauren Baker has departed her role as Director of Marketing at Houston First Corporation (Visit Houston) following 10 years with the DMO. She joins Amazon Web Services as Marketing Manager.
Lisa Konupka, Interactive Marketing Manager, has departed this role at Tunica Convention & Visitors Bureau in Mississippi following 16 years' service to join Advance Travel & Tourism, a digital marketing agency, as Account Executive.
Visit Corpus Christi welcomes the newest member of the team, Mallori Johnson, in the role of Destination Services Manager. She's a graduate of West Texas A&M University with a background in public relations and event planning.
Nevo Waintraub has joined Yelp as Senior Sales Business Director. He joins from Arrivalist.
MMGY NextFactor has announced that Deb Archer (left) and Linda John (right) have joined the consulting team to play a critical role in strategic planning and assisting in the facilitation and development of tourism master plans and recovery plans. Both thought leaders have decades of career experience; Archer led Destination Madison as CEO and John served as the Executive Director for Visit Eau Claire.
At the Destinations International annual meeting held this week in Baltimore, Butch Spyridon, President & CEO of Nashville CVC passes the role of chair to Gretchen Hall, President & CEO of Little Rock CVB.
---
---
Register Now: See Tomorrow Conversation Series
While we've come a long way in measuring campaign performance, quite the opposite is true for brand performance.

It's no secret that the ability to quickly turn data into decisions is what separates successful companies from the rest. It's also no secret that differentiation and relevance allow a brand to stand out from its competition and capture people's time, attention and money. This is especially true for the tourism industry where competition is vast and the traveler is making decisions every day.
Every DMO, regardless of existing data sources and infrastructure, can quickly harness this wisdom to stand out from competition and learn from the best brands in the world. Maurizio and Michael will showcase examples from inside and outside the hospitality and tourism space while Ed and Will share their experience from their diverse marketing backgrounds. P.S. No technical or data knowledge required. REGISTER HERE.
Sponsored by:
---
---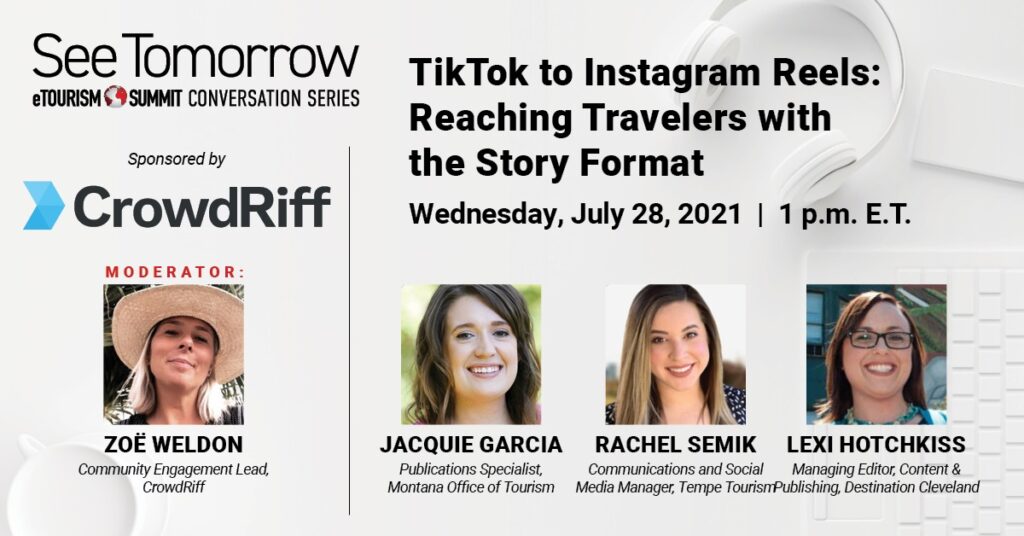 What makes a great travel story? From Uber Eats to Twitter Fleets, Spotify to TikTok, and of course, Instagram Stories and Reels, the story format has captivated consumers and marketers alike.
What makes a travel story memorable, engaging, and actionable? Should you use photos, videos, or both? And, most importantly, how can you make the most of the story format to attract interested travelers to your destination? REGISTER HERE.
Sponsored by:
---
---
The Travel Vertical Podcast — in partnership with Destination Marketing Podcast — offers bi-weekly episodes curated for digital tourism marketers and their agencies. Each episode is less than 30 minutes featuring award-worthy campaign ideas, research round-ups, fun facts, and a surprise guest or two. 
Episode #7: A look ahead at some events for your calendar as 2021 shapes up as way more normal than 2020. American spectator sports, Broadway theater, the Olympics, and a Platinum Jubilee for Queen Elizabeth II are in the works. Plus, eTourism Summit announces the seven winners of the 2021 Emerging Tourism Stars.