Fact of life: There's always gonna be someone smarter, prettier, richer, taller, thinner. The principle applies to destinations, too. We found Cubic, a full service creative agency wrapped around a destination branding publication called Underdog City. They get it… they're in Tulsa, Oklahoma.  
Real Okies who get it
We talked to Billy Kulkin, Cubic CEO, and Megan Shepherd, Editor, about how the Underdog City concept snowballed — or tumbleweeded. A Real Okie and Tulsa native, Megan left the prairies to try out the praises of Boston, Dallas and Burlington, Vermont. But she returned to Oklahoma where she uncovers and shares Underdog City stories, people and places in the activation of hidden gems deserving some of the limelight. 
Finding awesome in unlikely places

Truth is, when you can't compete (Hello, NYC…Hey, Grand Canyon!), small can be a good thing, too. Do you know "how to find awesome in unlikely places?"
Just ask the folks in the home of the elusive Sasquatch what's around the Beavers Bend in McCurtain County, Oklahoma. Learn how the Joplin, Missouri CVB draws visitors into a local mystery story that unfolds through an interactive experience.
Ambassadors are right under your nose
How do you find your underdog city's story? Megan says, "We learned that it starts with what is authentic. That's something locals identify with, a passion in the community that feels real and is never contrived." She suggests that a very good place to mine for brand ambassadors is within the small business community, especially among local artisan makers and craftspeople. "We asked people in the cultural community in Muskogee, Oklahoma, 'Why do you love it here?' Then, preserve that and expand it into experiences for visitors."
Must-see lists are so yesterday
Megan points out that at its core, "Traveling suggests a desire to be surprised." She is pleased to observe that "Smaller cities are stepping up to deliver the experiential aspects of a trip, even one just a couple of miles down the road to a neighboring town. Frankly, even a short jaunt may offer a unique experience which can be more fulfilling than ticking off 'must-see' items on a list you've been told to pursue."

Real Okies Talk Muskogee
Some 42 miles from Tulsa, the city of 38,000 is undergoing a rebranding as "Real. Okie. Muskogee, Oklahoma" that's spiking the town's tourism potential via a startup music festival. Although little has been heard nationally from these parts since 1969 when Merle Haggard introduced the tagline in "Okie From Muskogee," the 78-year-old country western performer is heading an impressive lineup at G Fest this June.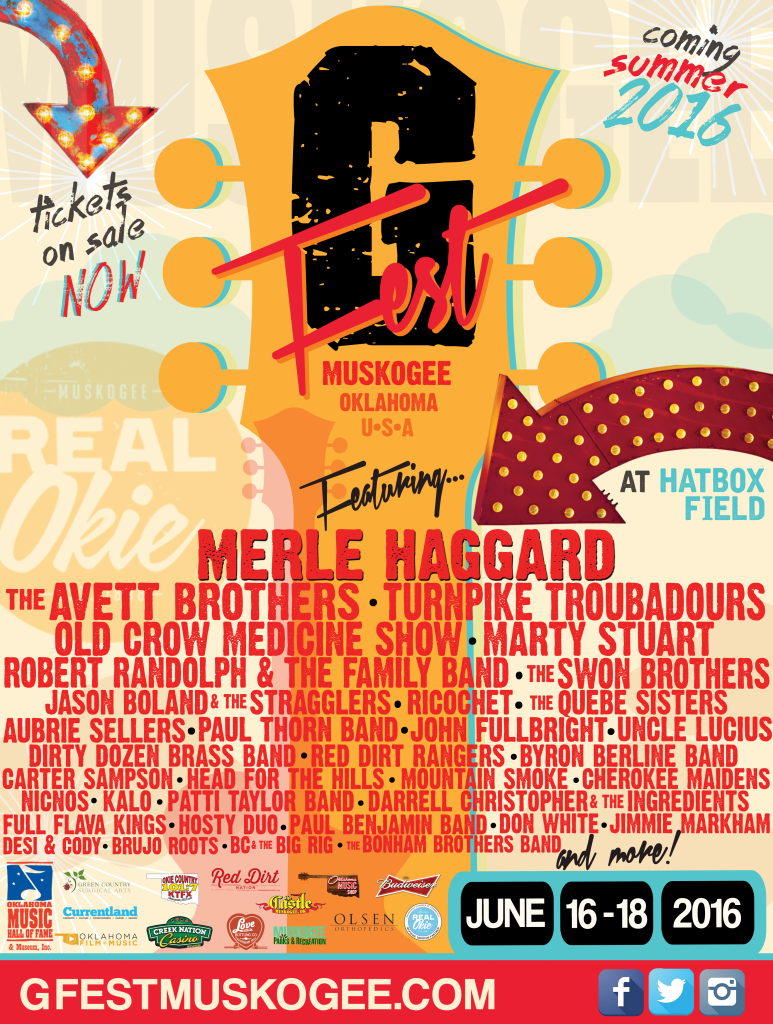 From OK to the UK
Authenticity is guaranteed in Muskogee, where the music festival will take place on an unused airfield. A former hospital has been transformed into the Oklahoma Music Hall of Fame, whose executive director, Jim Blair, told Underdog City, "Since Thanksgiving, we've had ticket sales every day except for three days, coming from 17 different states and the UK." Treasure McKenzie, Greater Muskogee Area Chamber of Commerce's President & CEO says  everyone in town is happy to roll out the red carpet for visitors. Real Okie Pride Training educates business owners and community members on how to show visitors a great time.  
The next Bonnaroo?
If you're an underdog city, you'll want to read all about it, "Could Muskogee Be Launching the World's Next Bonnaroo with G Fest?"