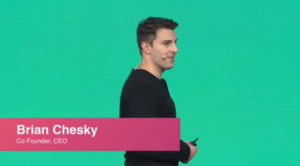 Airbnb is expanding its scope significantly, moving from a home-sharing business to a "holistic travel" company, said CEO Brian Chesky at the Airbnb Open event in Los Angeles.
Chesky took the stage at LA's historic Orpheum Theater last week to announce the launch of Trips featuring Homes, Experiences, and Places…all available in a single app on Airbnb…designed to start with the magic of a trip without sacrificing easy planning.
Trips launches in 12 cities,* expanding to over 50 cities in year one, and eventually beyond — while adding Flights and Services. "And this is literally just the beginning of the Trip Platform," says Chesky. "I mean 'literally'; we even have more space on this icon," he added in response to a cheering audience.
   *Now available as an update on the Airbnb app: Detroit, London, Paris, Nairobi, Havana, San Francisco, Capetown, Florence, Miami, Seoul, Tokyo, and Los Angeles.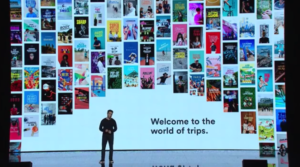 Get a look into the Airbnb vision organized by passion layered above the destination. Short experiences, day-long ones, as well as multi-day immersions are mixed in. Experiences range from truffle hunting in Tuscany with Giulio, learning hand stitched embroidery in Seoul, shooting stars with an astro-photographer until midnight in the Malibu mountains or attending a live concert in your Airbnb host's living room.
Insider guides by bloggers take travelers into local, handcrafted scenes around anything and everything, as well as Meetups and Nearby Now, with restaurant reservations bookable through the Airbnb app via partnership with Resy. For audiowalks, Airbnb partners with Detour, introduced as a shiny, new object at eTourism Summit 2015.
"Most importantly, everything that we do and will do is powered by people…If you have an passion, an interest, a hobby, you can share your community with others in the world. Because travel has never really been about where you can go but who you can become."
eTourism founder Jake Steinman commented on Trips, "It's a game changer for DMOs. Airbnb have inadvertently created micro-websites within each destination that DMOs would have done if they didn't have politics and hoteliers to contend with."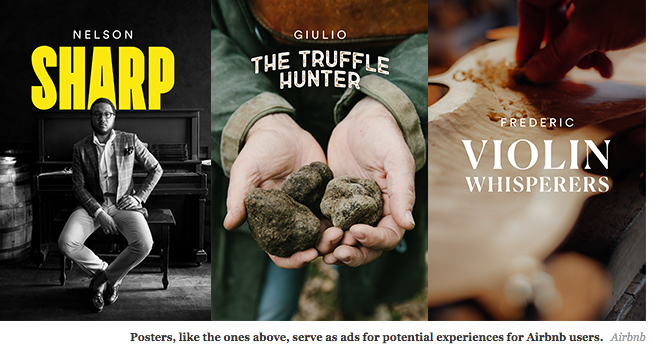 Watch the Trips 60-second video ad here, see the 12-minute highlights video of Brian Chesky's presentation here, and/or the full-length video of 46 minutes here.