Peter Gamez has been appointed as the President & CEO of Visit Oakland. He is widely known in hospitality circles in the San Francisco Bay Area and beyond where he has held global sales and marketing roles for luxury hotel brands including Joie de Vivre, Commune Hotels & Resorts, Two Roads Hospitality. Most recently, Gamez has been a hospitality consultant.
Visit Jackson writes, "Congratulations to our President and CEO, Rickey Thigpen, who now adds "Ph.D." to his name, completing his dissertation in Organizational Leadership at the Chicago School of Professional Psychology!
Thigpen has appeared in Black Meetings & Tourism Magazine as one of the most influential African-Americans in the tourism industry multiple times and, in 2020, received their APEX Award.
In 2019, Thigpen was named the Mississippi Tourism Association's Member of the Year, and in 2020, under his leadership, Visit Jackson received Destination Marketing Organization of the Year. More recently, he was tapped to serve on the board of Destinations International and the U.S. Travel Association."
Elliott Ferguson, President & CEO of Destination DC, and Caroline Beteta, President & CEO of Visit California, are the two new DMO members of the U.S. Department of Commerce Travel and Tourism Advisory Board. Other DMO advisory board members include Vice Chair Brad Dean, CEO, Discover Puerto Rico; Debbie Johnson, Director, Arizona Office of Tourism; Liz Fitzsimmons, Managing Director, Maryland Office of Tourism and Film; and David Gilbert, President & CEO, Destination Cleveland and Greater Cleveland Sports Commission.
Ferguson and Beteta join fellow new advisory board members from the leadership of Airbnb, Carnival Cruise Lines, MGM Resorts, Expedia, American Express, Hilton, and UNITE HERE.
Maggie Ivy, CEO and Executive Vice President of Visit Santa Cruz County in California as announced retirement, effective November 12, 2021. She said, "After 26 years of service at Visit Santa Cruz County, it is time for me to begin the next chapter of my life and to make way for new leadership to guide and support our local tourism industry moving forward."
Sonia Fong joins Louisville Tourism later this month as Senior Vice President of Convention Development. She's most recently been Vice President, Convention Sales & Services at Greater Miami Convention & Visitors Bureau, which she joined in 2000.
Christina Erny, CDME, is promoted to Vice President of Marketing at the Reno-Sparks Convention and Visitors Authority. She joined the destination marketing organization in 2011.
Wendy Haase, CDME, has been named president of the newly formed DMO, Visit Santa Ana (Calif), established in January 2021. She joins as Vice President at Destination Irvine, which she joined in 2010.
Tobie Hollenbeck is now with Visit Lauderdale/GFLCVB as Senior Destination Services Manager. She joins from previous South Florida roles in corporate event planning and marketing.
Becca Smith, Senior Director of Marketing & Events at Connect Travel, is our guest on Episode 9 of The Travel Vertical Podcast, "Countdown to eTourism Summit." She outlines in-person plans for Las Vegas, Sept. 20-22, 2021 in addition to details on the co-location with IPW, Connect THRIVE and Connect TOUR events. The podcast goes live at 7 a.m. ET on Wed., Aug. 11, 2021.
---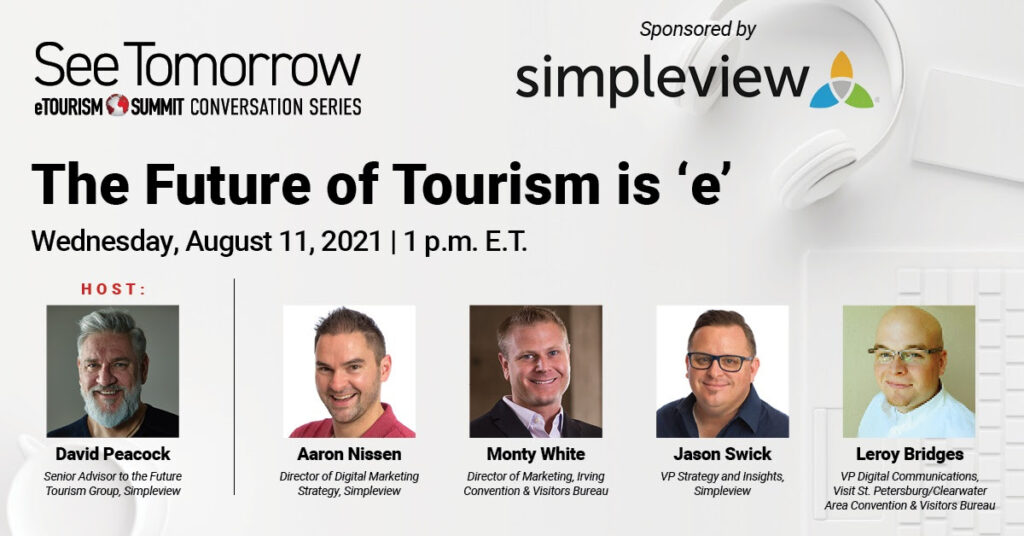 WHAT ARE DMOS DOING TO LEVERAGE THEIR "e" CAPABILITIES?
The Future of Tourism is 'e'

August 11, 2021 | 1:00 pm ET
The pandemic has significantly accelerated the demand for improved digital tools across the industry. Facing reduced resources, progressive destination marketing organizations will want to explore the untapped capabilities of digital.
Whether it's harnessing social and user-generated content (UGC) for campaigns or engaging stakeholders and amplifying their digital presence, the interconnectedness we have all come to expect has a considerable role in the future of tourism.
Join us for a look behind the curtain at what other DMOs are doing to leverage their "e" capabilities and get some ideas for how to make digital work for you.
Host:
David Peacock, Senior Advisor to the Future Tourism Group, Simpleview
Panelists:
Aaron Nissen, Director of Digital Marketing Strategy, Simpleview
Monty White, Director of Marketing, Irving Convention & Visitors Bureau
Jason Swick, VP Strategy and Insights, Simpleview
Leroy Bridges, VP Digital Communications, Visit St. Petersburg/Clearwater Area Convention & Visitors Bureau