Don't ask us why. We're just sharing here.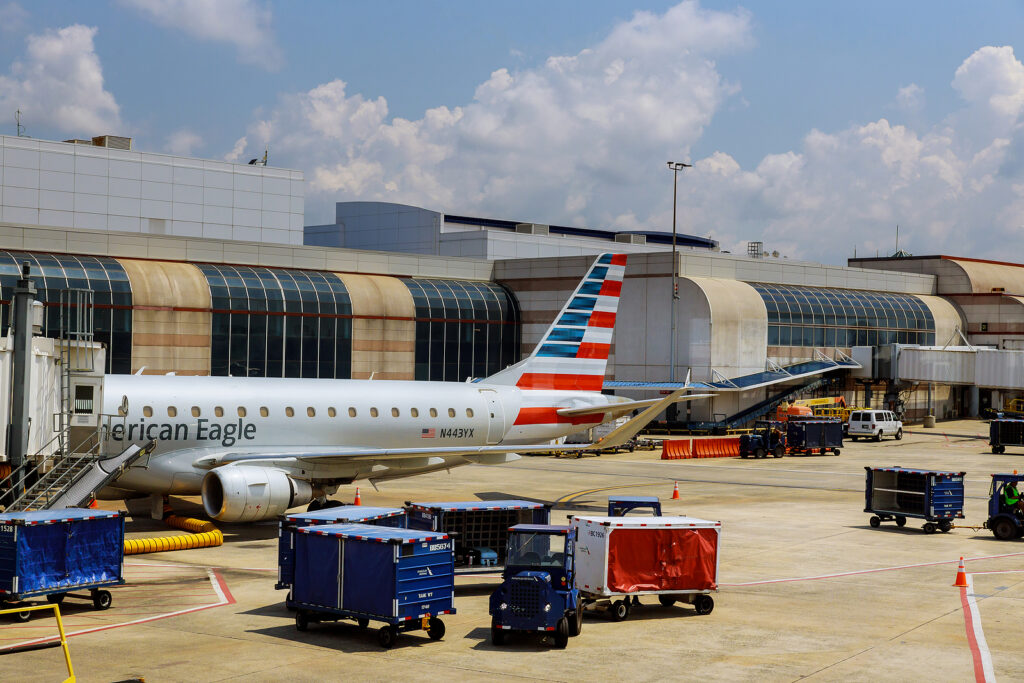 Dallas — Because American Airlines hasn't got much to do (?), they've announced that 30 minutes of free access to TikTok is now available without a Wi-Fi purchase. So, dance videos for all. The press release talks about "travel inspiration," but when you're waiting to shove off from the gate or mid-flight to a destination, is that the right inspo at the right time?
New Orleans — Introducing The Caesars Superdome. Mercedes-Benz has reached the end of a 10-year naming rights deal at the stadium, and we now have a new 20-year deal at the iconic entertainment center.
Under its new branding, the home field of the New Orleans Saints will host the 2022 NCAA Men's Final Four and Super Bowl LIX in 2025.
Los Angeles — In 2018, a 20-year-old Founder & CEO Bunim Laskin appeared on TV's Shark Tank to ask investors for $300,000. They each said no. The idea? Swimply, an app described as the "Airbnb for pools," is the first online marketplace for swimming pool sharing. So, if we both live in (uncharacteristically hot) Portland, Ore., and you've got a backyard pool but I don't, I could rent yours by the hour. Jim Battan, a Portland-based IT consultant, told the Sunday Telegraph that he's had 900 bookings since last September, making him over $100,000. (The website doesn't have FAQs, so we can't answer the obvious question about guests who need to use the bathroom.)
Modesto, Calif. — Meet MoTown CannaPass. Visit Modesto has partnered with Cultivar Strategies, a cannabis travel consultant agency, and Cookies, a local marijuana retail dispensary to be a resource for both the canna-curious and canna-experienced customer.
Visit Modesto CEO Todd Aaronson said they realized opportunities about a year ago upon joining a cannabis tourism committee within California Travel Association. More details at Bandwango.
New York City — All 41 Broadway theaters will require proof of vaccination for audience members through at least the end of October. Masks will also be required inside the theater, except while eating or drinking in designated places. In addition, all employees must be fully vaccinated, each production will have a Covid-19 safety manager on site, and backstage tours will be prohibited.
A vaccine mandate is already in place for the Bruce Springsteen concert show that opened in June and for "Pass Over," the play that plans to open on Aug. 4. The new rule applies to 27 upcoming productions and big musicals: "Hadestown" and "Waitress" from Sept. 2 followed by "Chicago," "Hamilton," "The Lion King," "Wicked" and the play "Lackawanna Blues" from Sept. 14.
The most mask-appropriate musical ever, "The Phantom of the Opera," will return to the Majestic Theatre from Oct. 22, 2021, continuing its run as the longest-running Broadway musical of all time.
BREAKING NEWS — New York City has become the first major U.S. city to mandate vaccination proof for indoor dining, gyms, concerts, performances. "Key to NYC Pass" will be implemented in mid-August, the mayor's office announced on Tuesday.
Disney — Effective last Friday, Walt Disney World in Florida and Disneyland Resort in Anaheim have reinstated new Covid protocols requiring all guests ages 2+ to mask up indoors, regardless of vaccination status.
Mask Mandates — Gov. John Bel Edwards has reinstated the mask mandate for everyone in indoor settings, making Louisiana the first state to do so. Hawaii has kept its statewide indoor mask requirement throughout.
An "all-indoor settings" mask mandate—regardless of vaccination status—has been reinstated throughout the San Francisco Bay Area. The mandate is already in effect in Los Angeles since mid-July. Meantime, Las Vegas, St. Louis, Kansas City, Savannah, Atlanta, and Washington, D.C. have made similar decisions.
San Francisco — Facebook, Twitter, Google, Apple, Uber and Lyft have altered their return-to-office plans, postponing until at least mid-October. (Lyft until Feb. 2022). Google is the first in this group to mandate employee vaccines for those returning.
In other Google news, the search giant quietly rolled out a mobile-only trial run of its new things to do display for attraction business listings, killing off Reserve With Google from next month. Think Beta, because initial reports are that it's rough around the edges.
Other observers say that Google's new Tickets feature may be an important development for the tours and activities sector, once which they'll likely monetize with paid ads.
Honolulu — Hawaii is going to limit the number of tourists allowed on Oahu, the most popular island.
A management plan created by the Hawaii Tourism Authority intends to manage the number of Oahu accommodations, seek land use and zoning changes and review airport policies, rolling out implementation over the next three years, the Honolulu Star-Advertiser has reported.
New York City — At Hudson Yards, the 150-foot-high honeycomb-like structure called The Vessel is facing calls for its closure or dismantling following this year's fourth suicide from its heights.
Billed as "the largest and most expensive private real estate project in US history," the West Side project that opened in 2019 is sited on a disused freight yard near the Javits Convention Center on the Hudson River .