"Be beachy. The best beachers beach on the beach in Myrtle Beach."
Q: Is it gobbledygook or a new multi-platform campaign from Visit Myrtle Beach? A: Both!
See the spots here.
The campaign spots are distinctly different from so many classic destination marketing montage styles, taking a lighter approach showcasing the "best beachers" through the lens of the sports world with a spoof on live sports coverage and shows like SportsCenter.
They feature two charismatic broadcasters calling highlights and play-by-play of regular people doing regular beach things as if they are extraordinary (i.e. a kid dips a hushpuppy in honey butter, grandma sinks five holes in one at mini golf).
It shows the audience that in order to beach better, you have to visit Myrtle Beach.
The "beach" isn't just the beach – it's also used as a verb, adjective, and noun so it's synonymous with Myrtle Beach.
The campaign is planned to extend beyond summer continuing to showcase how people beach better in Myrtle Beach.
The spots are running nationally through connected TV and linear TV in select markets.
Credit to MMGY, The WorkShop, Valiant Pictures and FreshFly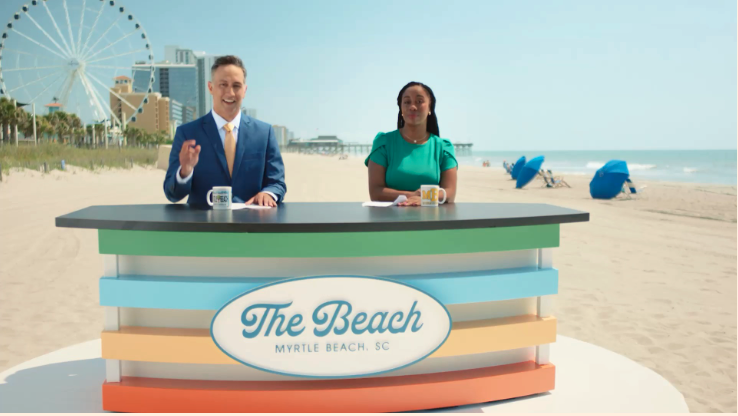 We loved this so much, we had to find out more ASAP, so The Travel Vertical talked to Stuart Butler, Chief Marketing Officer at Visit Myrtle Beach.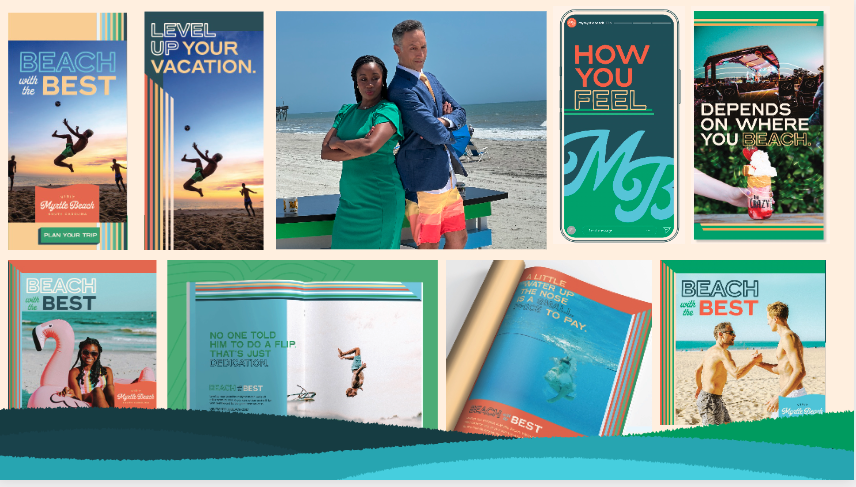 TTV: Where did this campaign idea of having news anchors on the beach come from?
SB: The original idea came from a collaboration between our team and our agency, MMGY. We were discussing ways in which we could showcase and celebrate normal, everyday beach going activities in an over-the-top and exaggerated way. The sports analogy came pretty early in the process. At first, we had considered showing real athletes alongside regular people but realized that the hero of the story should be the visitor and not the celebrity. The sportscasters came about as a result of us wanting to lean in on the sporting angle, and we knew it would be an effective way of communicating the narrative in a fun and unique way. Putting the sportscasters on the beach was an obvious choice because our brand is "The Beach", and we knew it would be an interesting visual for the viewer.
TTV: How much fun was this to imagine, write, and produce?
SB: It was a lot of fun, and we had a lot of people involved in the process. For many of us, it was our first time working on a comedy project, and that's a lot harder than you may imagine. Everything from voice intonation, to timing, to facial expressions, to word choice had to be meticulously crafted. Some of the jokes that read well on paper simply didn't translate well to the screen. We had to really find the perfect recipe in the edit. Fortunately, we had a great team, from the talent, the production crew, our creative agency, and the Visit Myrtle Beach team, we all contributed to the finished product.
TTV: How will Myrtle Beach keep this tone of voice going?
SB: The fun, laid-back, and colorful tone we're using is well articulated in our brand documents and it's part of the Myrtle Beach culture. It's baked into our DMO DNA. The commercials are designed to reflect the excitement and fun that someone will experience when they visit The Beach. We plan to work this tone into a lot more of what we do moving forward.
The average DMO commercial is very formulaic, and not that interesting or effective anymore. Destinations will have to step up their game if they want to compete in a media landscape where there's so much fragmentation and where it's increasingly difficult to grab someone's attention. That problem isn't just isolated to TV commercials. In my opinion, a large portion of our industry plays it too safe and simply recycles the same ideas over and over.  
Internally, we are spending a lot of time deconstructing the traditional DMO formula and asking ourselves tough questions about why things are the way they are. We're not interested in being different for the sake of it, we're interested in finding out if there's a better way to do it. That involves experimentation, taking risks, and not being afraid to fail.
Expect to see a lot more of this non-traditional approach from us in the months ahead. Travel is supposed to be fun, so let's have some fun marketing travel!