For Immediate Release
Connect Travel, the owner and producer of eTourism Summit, has announced the winners of the second annual Emerging Tourism Stars for 2022. The nine winners will be recognized during the 23rd Annual eTourism Summit, the premier U.S. gathering of destination digital marketers in travel and their partner agencies, to be held on June 6-8, 20212, in Orlando.
Emerging Tourism Stars was introduced in 2021, created in partnership with MMGY Global, designed to recognize and celebrate astute individuals in destination marketing organizations and attractions. In particular, the awards focus on those that are new to the eTourism community of digital travel and tourism professionals or have risen to the challenges of a new role within the community.
"For 23 years, the eTourism Summit has been about innovation and 'See Tomorrow' ideas. With support from MMGY Global, we're excited to recognize our next cohort of Emerging Tourism Stars—a diverse group of talented individuals who will likely become destination marketing leaders of the future," said Will Seccombe, president of Connect Travel.
They will each receive a scholarship to attend eTourism Summit, where they will be invited to a panel discussion moderated by MMGY Global. In addition, their professional story will be shared in The Travel Vertical and the eTourism Summit Magazine. Winners will have the opportunity to be appointed to an Emerging Tourism Star seat on the eTourism Summit Advisory Board for 2022 – 2023. In addition, winners will be directly connected with a travel and tourism thought leader as a mentor.
"It has been inspiring and humbling to see the number of emerging leaders that have stepped up, innovated and rallied for their organization, their community and the industry," said Justin Farmer, SVP of business strategy at MMGY Global. "We are honored to partner with eTourism Summit on this exciting new program celebrating these future destination marketing leaders."
###
Congratulations to the class of 2022. We're looking forward to hearing more about your winning journeys…so far. And for our readers, one-to-one profiles and interviews with each of the nine winners will appear in upcoming issues of The Travel Vertical.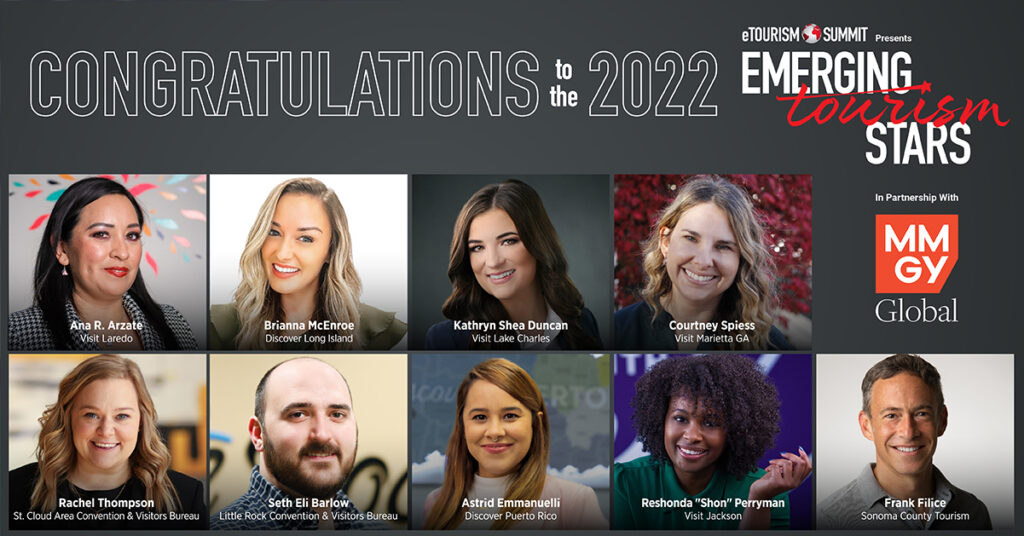 The winners of the 2022 Emerging Tourism Stars program are:
Ana R. Arzate, Marketing Coordinator, Visit Laredo, TX
Seth Eli Barlow, Content Manager, Little Rock Convention & Visitors Bureau, AR
Kathryn Shea Duncan, Director of Social Media, Visit Lake Charles, LA
Astrid Emmanuelli, Social Media Manager, Discover Puerto Rico
Frank Filice, Director, Brand Marketing, Sonoma County Tourism, CA
Brianna McEnroe, Social Media & Digital Communications Manager, Discover Long Island, NY
Reshonda "Shon" Perryman, Creative Design Manager, Visit Jackson, MS
Courtney Spiess, Executive Director, Visit Marietta GA
Rachel Thompson, Executive Director, St. Cloud Area Convention & Visitors Bureau, MN