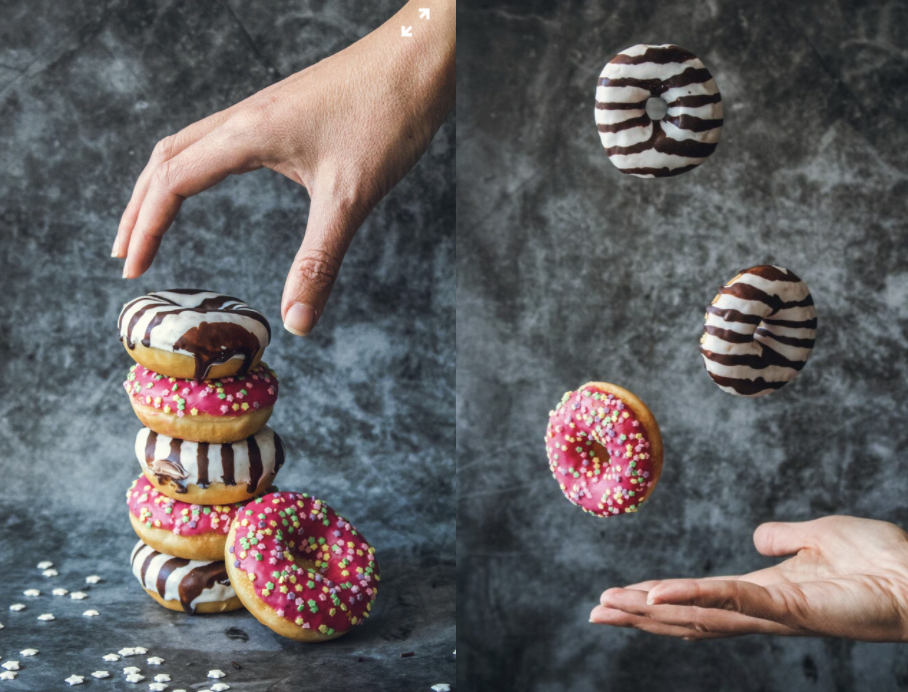 Related: Links to all the latest consumer surveys, research, data.
---
Restrictions: A State-by-State Guide to Coronavirus Reopenings and Lockdowns (as of 5/1/2020). For full details, click here.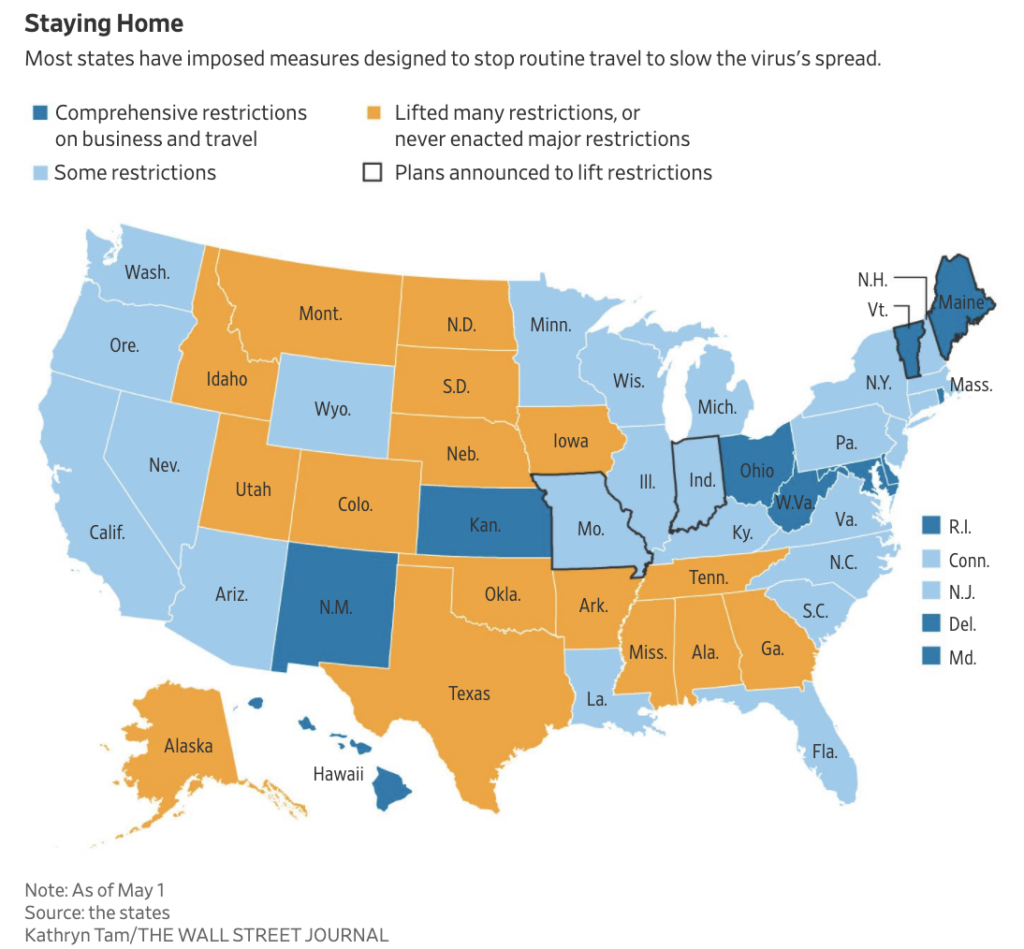 ---
First Trip: The eighth weekly wave of the traveler sentiment survey, Clarity in a Time of Crisis, is in from Longwoods International, with support from Miles Partnership. Not too many folks jumping on airplanes anytime soon…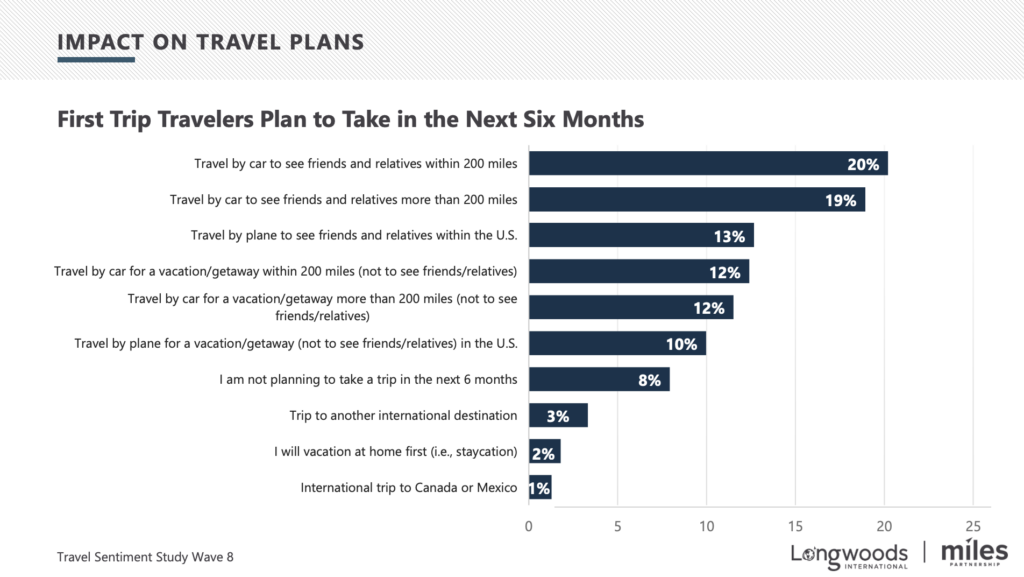 ---
When Will You Travel Again?: In a May 3 survey, Destination Analysts asked Americans about future travel plans. As of now, September 2020 is the most popular month. Regarding flights, only 26.5 % plan to get on an airplane this summer.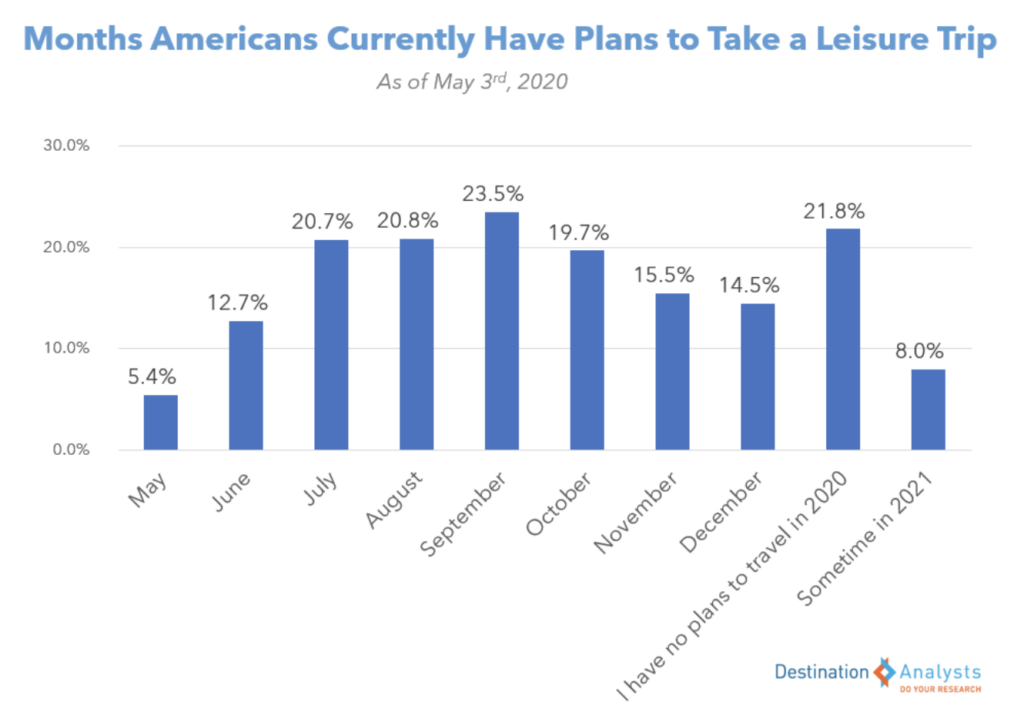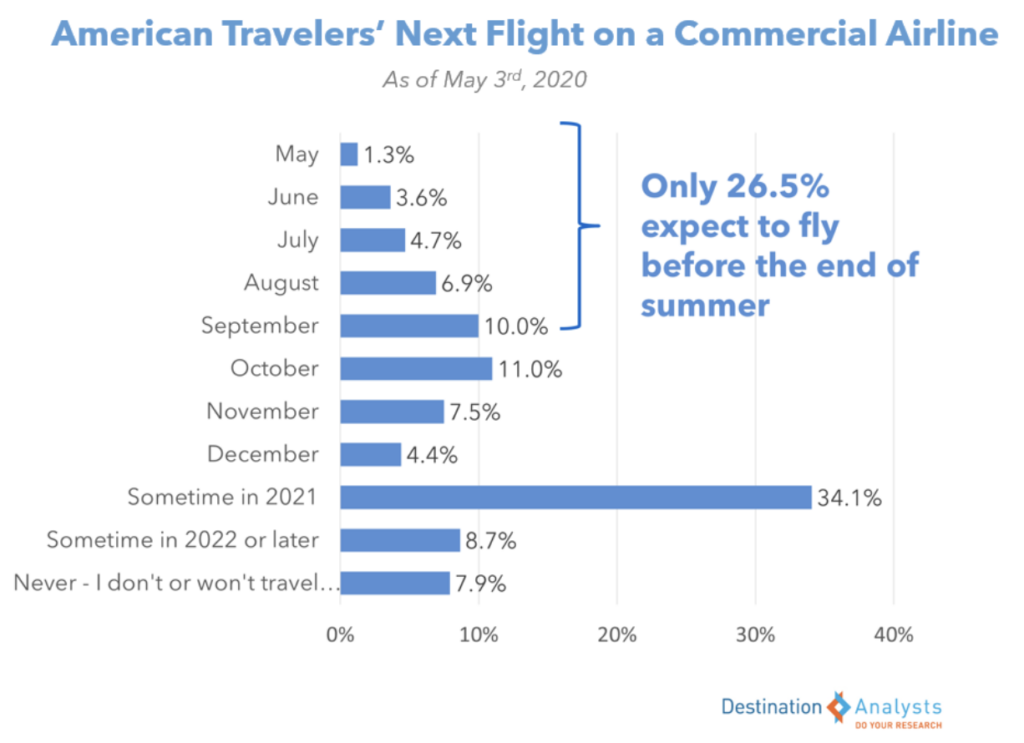 ---
Travel Rebound: The "Travel Intentions Pulse Survey," is a bi-weekly research document to focus on the factors that will drive travel rebound. Conducted by MMGY Global in partnership with U.S. Travel Association.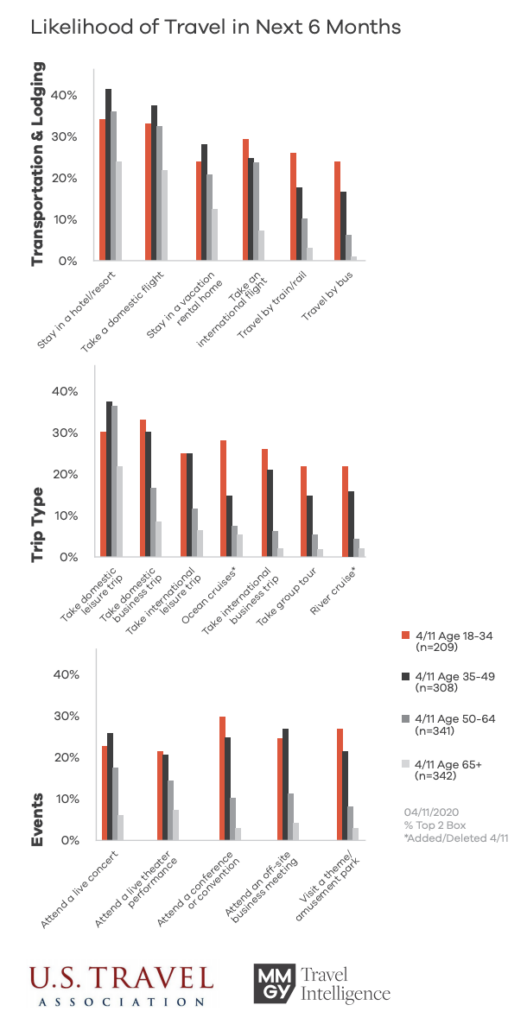 To see the April 27th report that includes key takeaways, click here.
---
Short trips: The third monthly travel tracker survey from Skift Research signals a sliver of silver lining for the travel market. More than half of Americans in this survey indicated they would start to travel on short trips within within six months after restrictions are lifted.
100 miles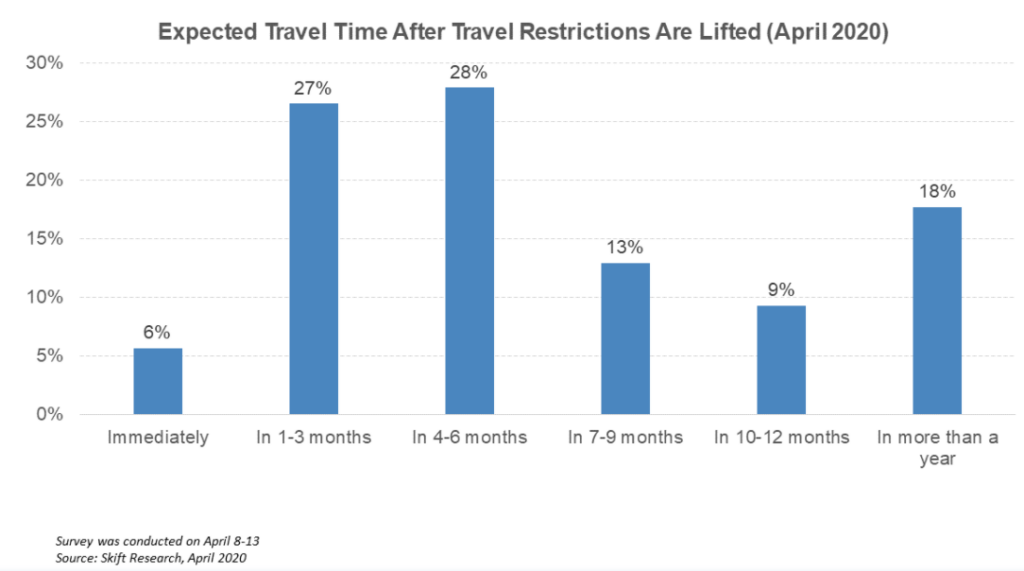 The highest percentage comes from the group (28%) who said they would resume travel in four to six months after travel restrictions are lifted.
---
Sports: The sudden vanishing of sports—pro, collage and youth sports tourism—due to coronavirus will cost at least $12 billion, a new analysis for ESPN indicates.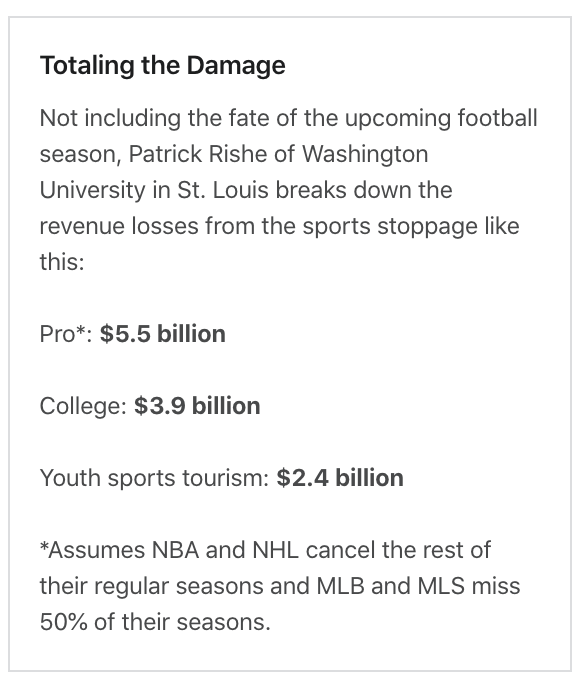 The economic impact will more than double if the college football and NFL schedules are wiped out this fall by the coronavirus pandemic. Get the details from ESPN.
---
Keyword Searches: What are prospective travelers searching for online and what can that tell us regarding 2020 intent versus 2019? MMGY Global is tracking the data.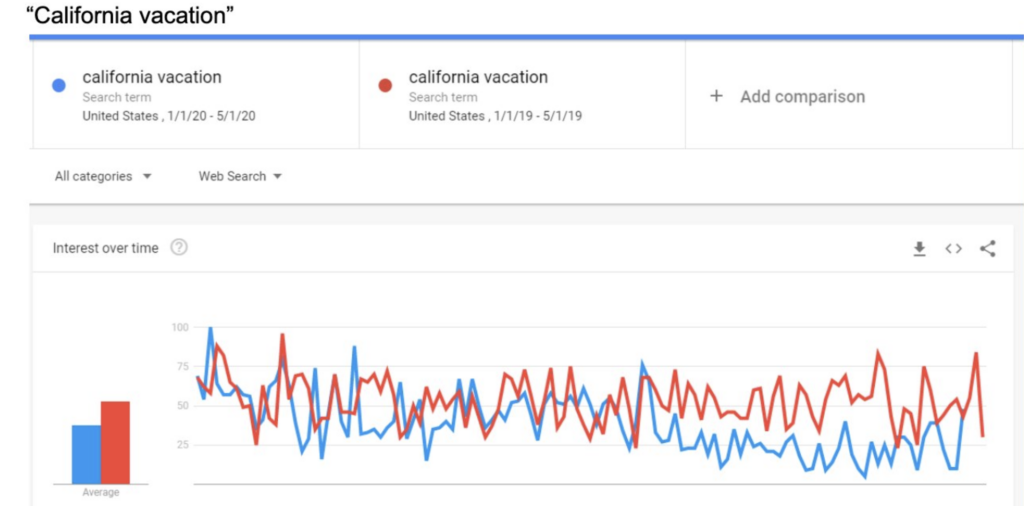 President & CEO Clayton Reid says on Twitter, "The MMGY Global search team has been tracking keyphrase travel term volumes such as family vacation, luxury travel and flights. They are moving decisively higher. "California vacation" is now on par with last year."
---
Road trips: See trends since February. Arrivalist is tracking relevant trips in all 50 states, defined as ones "where the user has traveled a minimum of 50 miles and spent a minimum of two hours at the destination."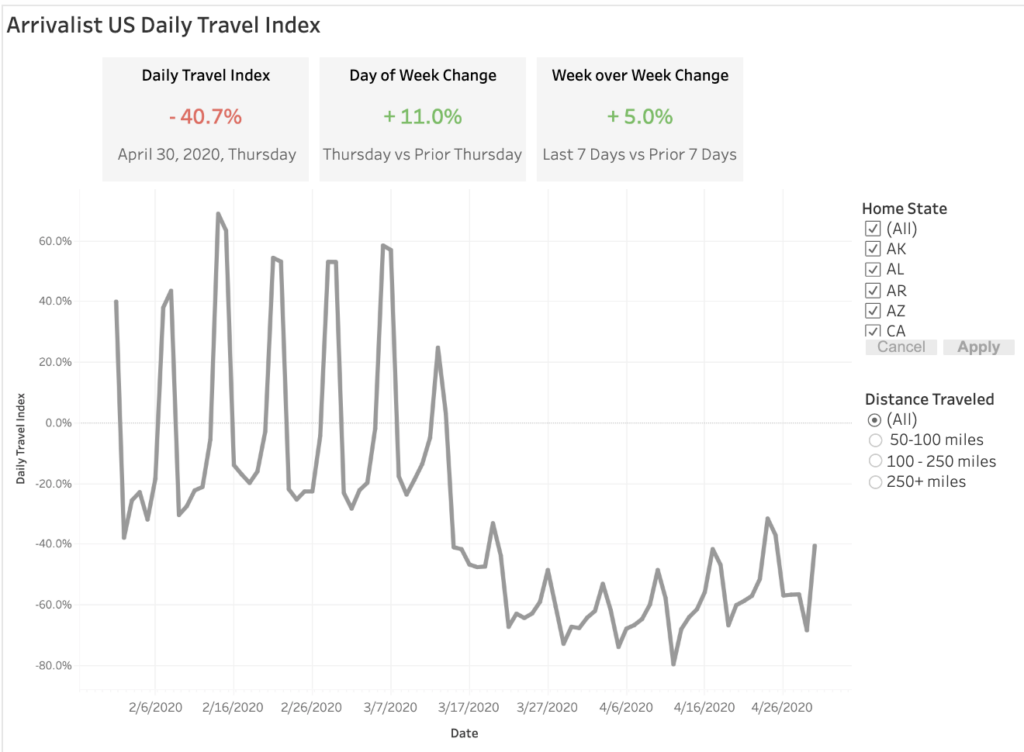 Daily Travel Index uses GPS signals for anonymized location data users who share it. The findings, which can be filtered by state, group of states, and by distance of the trip, are currently being made publicly available.
---
Grocery store retail sales has markedly switched places with food service and drinking places, according to the U.S. Census Bureau.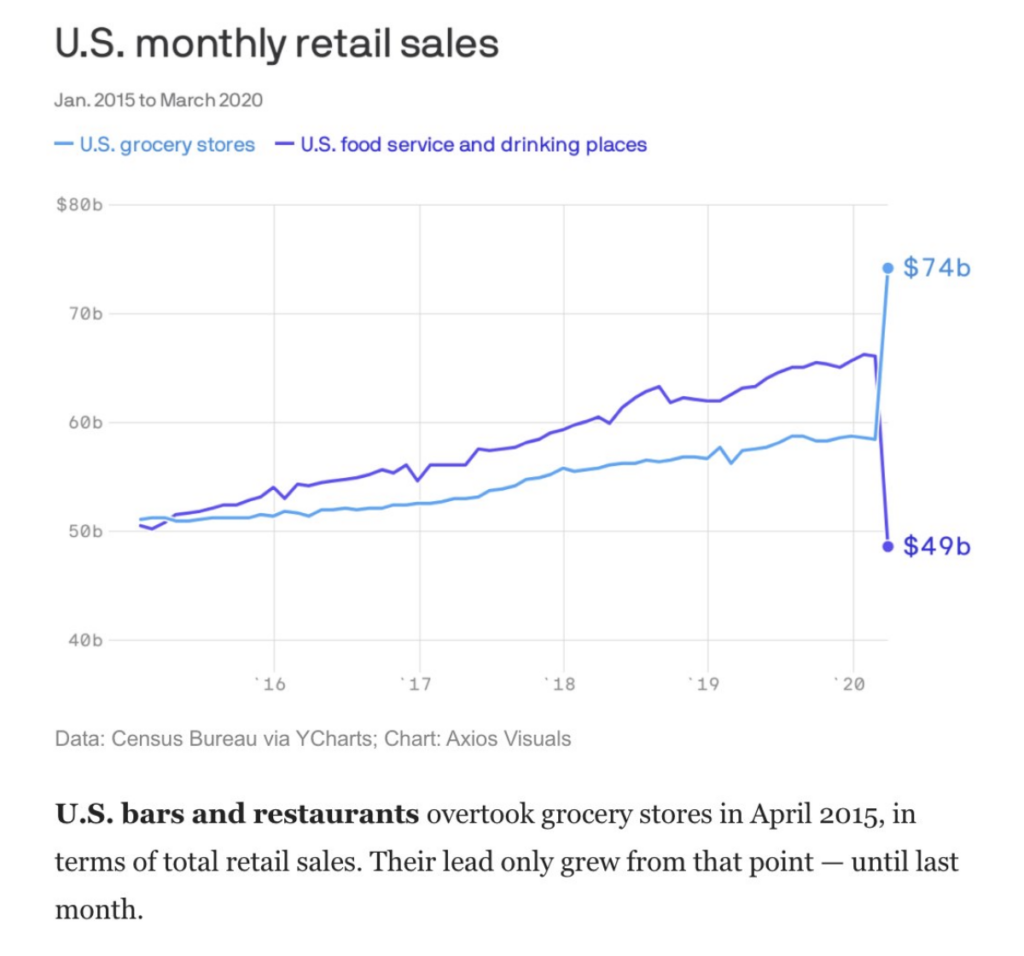 ---
Overnight Stays: More than $1 billion worth in reservations was on the Airbnb system; the company was preparing to go public when everything crashed.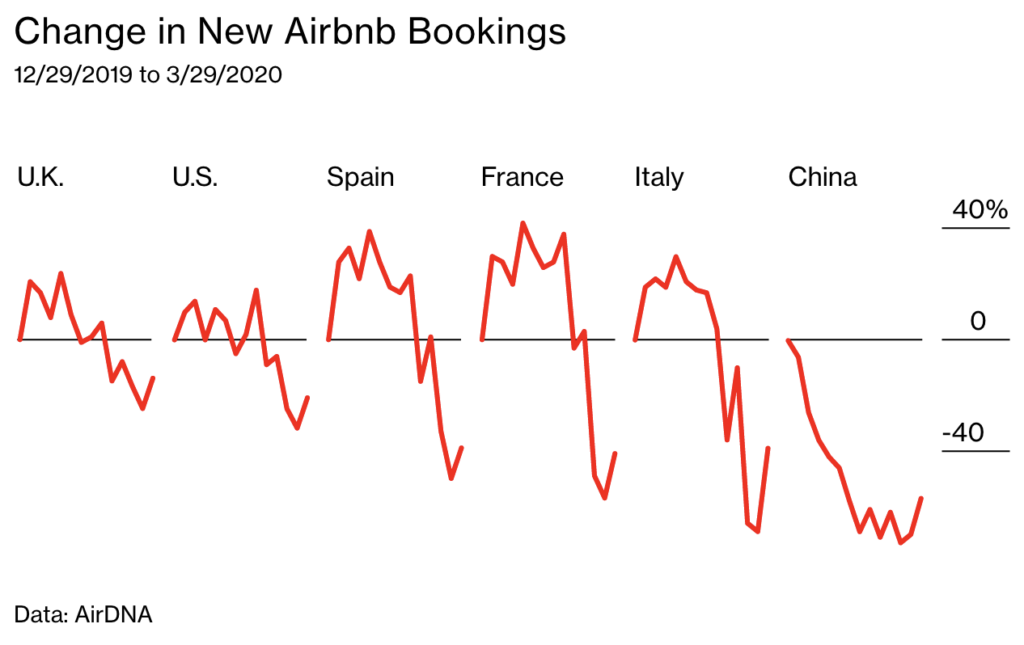 Airbnb has said its revenue could drop by 50% this year, according to projections shared with prospective investors, reports Bloomberg.
---
Taking the long view, data from the National Travel and Tourism Office, U.S. Department of Commerce, looks at the millions of visitors to the USA and their spending data covering 20 years. Even with valleys around 9/11 and the recession of '08-'09, the obvious trend is up, up, up. Fingers x'd.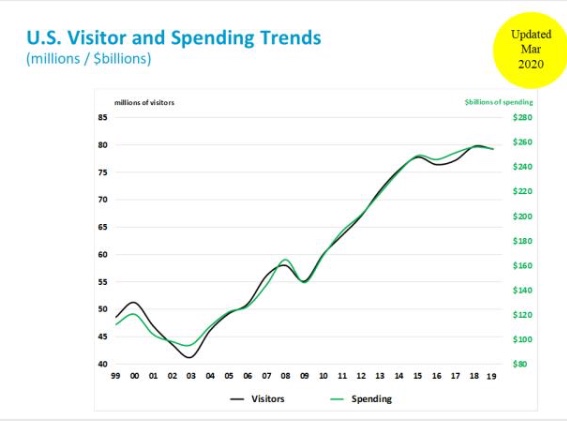 ---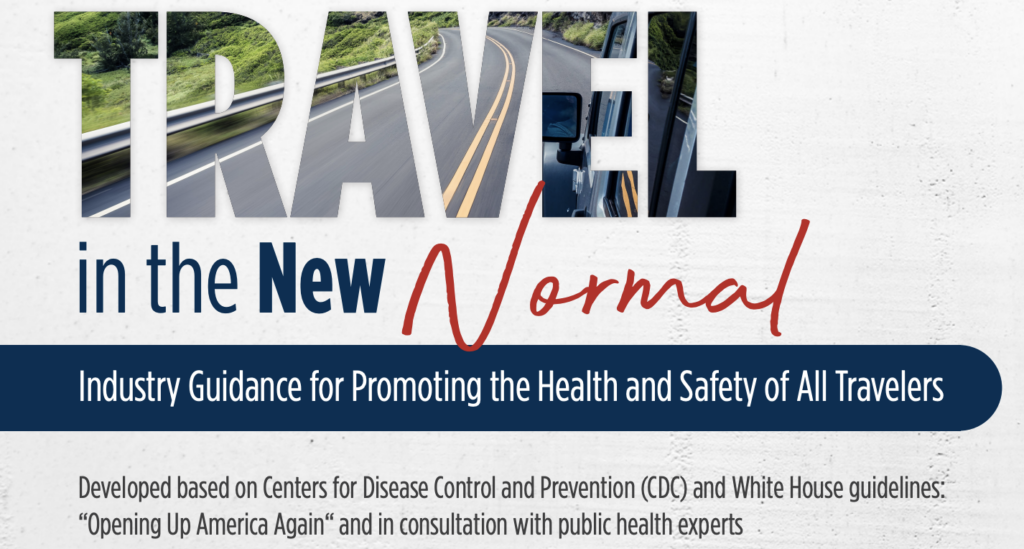 Plus one item that isn't so quickly digested, a 15-page document released on May 4 from the U.S. Travel Association. "Travel in the New Normal," lays out guidelines and measures the industry should follow "to reduce the risk of Covid-19 and help to communicate across each and every step of a traveler's journey."