PLACES
Louisville has successfully hosted the largest trade show in the U.S. since pre-Covid days. The Utility Expo covered 1.4 million square feet of indoor and outdoor space at the Kentucky Exposition Center on Sept. 28-30, 2021.
The bi-annual event generates $13.2 to $16.9 million in economic impact per expo and has extended their contract in Louisville through 2029.
---
Short & Sweet: Throughout the pandemic there have been local leaders that really went above and beyond for Anaheim and its community and the local tourism industry. To acknowledge their support, Visit Anaheim created and distributed its first-ever Champion of Tourism Awards.
Pictured:
Jay Burress, President & CEO, Visit Anaheim
Shaun Robinson, General Manager Hilton Anaheim, Chairman of Visit Anaheim's Board of Directors
California Assemblymember Sharon Quirk-Silva, Champion of Tourism award recipient
---
Paul Nursey, president & CEO, writes, "We are pleased to announce that Destination Greater Victoria has officially been renewed by the Province of British Columbia as the official Destination Marketing Organization for the period 2022-2026. Being able to plan over the medium term allows the team to execute relentlessly. We are grateful to our stakeholders, accommodators and Victoria council and the Capital Regional District for their tremendous support. This will provide a platform of stability as we rebuild together."
---
Visit Philly has more than tripled its fiscal year 2021 budget as it kicks off attracting leisure travelers this holiday season. Equipped with a budget of $14.4 million to take it through to October 2022, the figure is close to the $16 million pre-Covid budget for the DMO.
---
According to the Asheville Citizen in North Carolina, "Local hoteliers are pushing state lawmakers to change hotel tax laws so that less of the $25 million collected locally can go toward tourism marketing — and more toward projects that can benefit residents…In a dramatic and recent development, hoteliers, who by law make up a majority of the TDA, agreed to cut revenue to marketing to 67%. Projects have increasingly gone toward services that also benefit locals, ranging from soccer fields to greenways."
---
Some industry observers are asking, could this be a trend? In Hilliard, Ohio, the City Manager, Michelle Crandall, has proposed hiring a marketing firm and a "downtown manager" instead of naming an executive director to succeed the late Tim Kauffman as executive director of Destination Hilliard.
The new branding for the Columbus suburb was established in 2010, replacing Hilliard Convention and Visitors Bureau. Kauffman, who led the DMO since 2018, passed away suddenly in May 2021.
Meantime, no one is minding the shop. The Destination Hilliard website displays Tim Kauffman's email address and the About Us page shows his name and telephone number three times as a contact for a 2020 visitors guide, map, meeting inquiries, and collateral.
---
And the best small city in the U.S. is…Aspen, Colorado! More than 800,000 Condé Nast readers submitted responses rating their travel experiences across the globe to provide a full snapshot about the places they can't wait to return to next.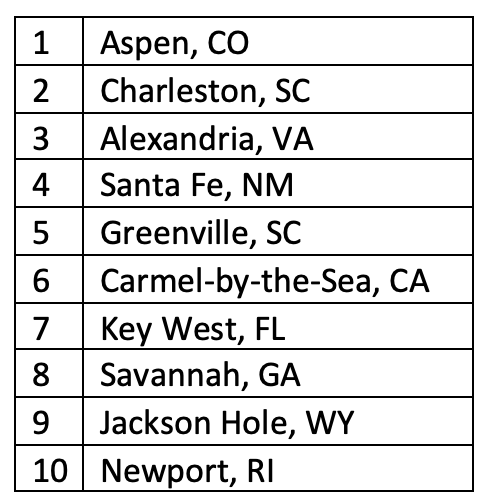 "Aspen is honored to be recognized as Condé Nast Travelers' Best Small City," said Aspen Chamber Resort Association Vice President of Destination Marketing Eliza Voss in a statement.
Aspen managed to knock Charleston into second place in this readers' 34th annual survey; that South Carolina city had held the #1 position for the past decade.
---
"The wait is finally over!" says Adam Burke, President & CEO at Los Angeles Tourism & Convention Board. "We're thrilled to celebrate today's official opening of the Academy Museum of Motion Pictures.
This spectacular new institution celebrates the artistry, science and artists of moviemaking like never before, and is a 'can't miss' addition to any L.A. itinerary."
---
RFPs
A new request for proposal is being issued by meetNKY for a vendor to complete the destination strategic plan with a focus on development and community branding needs in the region.
There will be community and industry-focused listening sessions and surveys to gather resident and business sentiment on the destination along with comparison reviews with aspirational destinations as well.
The final strategic report and destination plan will be released to the public and the industry in Q2 2022.
For additional information on the process or questions, please reach out to [email protected].
---
Hawaii Tourism Authority is seeking "Hawaii Tourism Destination Brand Marketing and Management Services for the United States Major Market Area."
A request for proposals was issued Oct. 5, 2021 (responses due on Nov. 12, 2021 by 4:30 p.m. HST) for a destination marketing and management contractor that can provide brand marketing in the major market area and also provide communication facilitation, collaboration, and promotion in Hawaii for initiatives produced by the community through the Destination Management Action Plans (DMAPS) published in 2021.
The Bidding Opportunity is found here.
Note: Registration for intent to apply is due on Oct. 15, 2021.
---
Discover Puerto Rico has issued Requests for Proposals in which local, U.S. and international-based agencies may participate. The DMO issued RFPs for the following services:
Digital Marketing Services & Web Development
Traditional Media Buying Services
Creative Services
Public Relations
International Services (PR & Sales Representation)
Interested agencies must obtain guidelines and requirements from www.discoverpuertorico.com/industry.
"We seek proposals that demonstrate an ability to continue elevating and amplifying Puerto Rico's destination brand and keep the Island top-of-mind through our creative assets, digital strategy, earned media efforts and media buying. Executing an RFP process is crucial for continuing our mission, while remaining rooted in transparency." — Leah Chandler, CMO of Discover Puerto Rico.
Submission deadline is Nov. 5, 2021. An industry task force has been developed to collaborate with Discover Puerto Rico's executive leadership team in the selection of agency partners.