Obviously for time sensitive reasons, a weekly newsletter cannot play in the "breaking news sandbox." But, there's always the sort-of breaking alternative and there's recent ICYMI news, industry announcements, campaign launches, funding news, research findings, steal this idea content…
And now there's a way for a lucky DMO to win marketing services, too.
BowStern Marketing Communications in Tallahassee has announced a new initiative to revitalize the tourism industry and local economies in the wake of the pandemic. Project Mayday: Tourism SOS is a contest that allows any city, state, DMO or CVB across the country to enter for a chance to win a free year of marketing services, valued at $250,000.
Donated services can include anything from website and campaign design to digital media and public relations support. The final scope of in-kind services will be contingent upon the needs of the winning organization.
"As our country begins to recover and reopen, we know that the ripple effects felt within the tourism industry will be long lasting. As a marketing agency that has the ability to help a destination bounce back more quickly – we felt a responsibility and calling to use our powers for good. Ultimately, this year of free marketing support will translate into jobs and an economic revitalization for the chosen community." — Tom Derzypolski, BowStern president and co-founder
The deadline for interested parties to apply is midnight ET on March
31, 2021. From the initial pool of applicants, five organizations will be selected for interviews. The winning destination will be announced in early spring 2021.
For more information on this initiative, visit www.BowStern.com/MayDay.
---
Entrada Insights, "creators of the world's first Destination Operating System," announced on Monday its new company and brand name—Zartico—effective immediately.
"Zartico is built with science, intelligence and insights from the data and our people and partners create art via storytelling and context. By combining science and art, we create wonder, which has been missing in our world lately. Our company knew its goal was to work with global communities to combine the science and art of the destination."
"This changes everything. If we do this together with our partners, we change the world. And let's face it, the ones who are crazy enough to think that they can change the world are the ones who do." — Founder and President Darren Dunn
The website suggests four reasons why the new name fits.
We're surrounded by SCIENCE of our operating system and insights… but creating beautiful ART out of data is at the very heart of what we do.
The Arctic Fox is our logo because it embodies our team: adaptable, loyal, fierce and resilient.
Words beginning with Z are fun! And we take destinations from A to Z.
And let's not forget cool swag!"
---
Arrivalist and Samsung Ads have just announced a first-of-its-kind partnership as a platform to bring independent arrivals measurement to the travel market in the OTT/CTV space. This partnership brings arrivals attribution measurement to CVB, DMO, and state tourism clients and adds visitation data to the robust linear and CTV viewership, reach/frequency, cross platform and branding data sets available with Samsung Ads. Read more in the press release found here.
---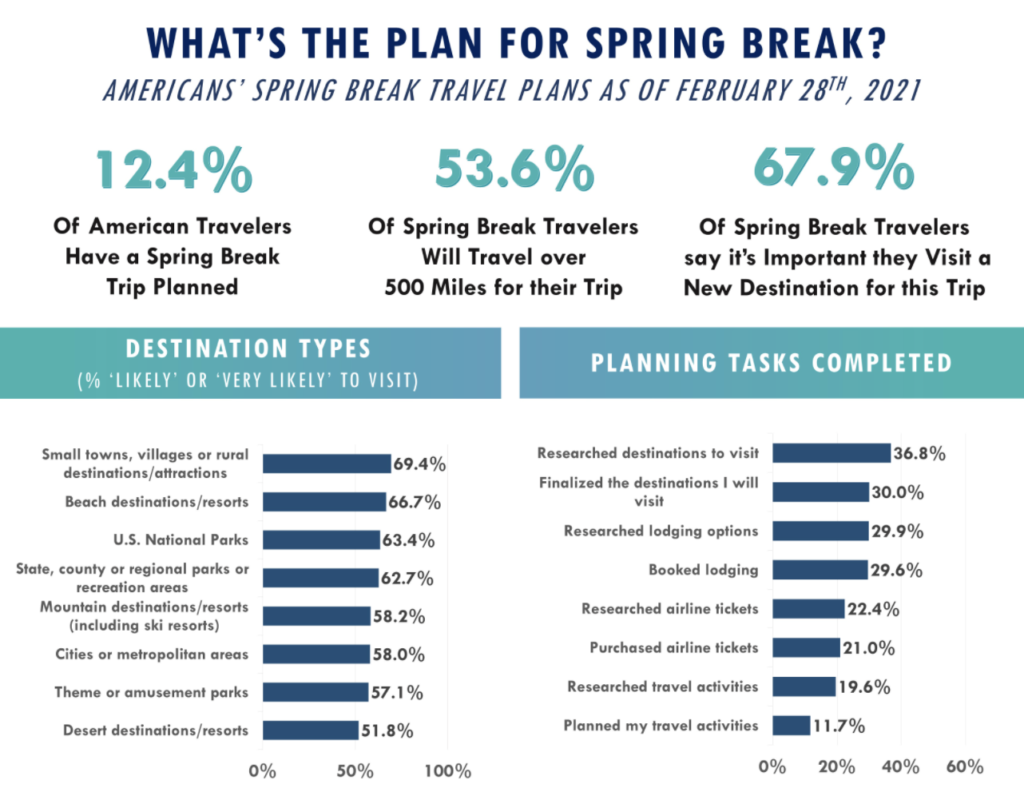 New research from U.S. Travel Association and Destinations Analysts indicates that about one in eight Americans (12.4%) are planning a spring break trip this year. Those who plan to travel for spring break cite the most important reasons:
Relax and escape stress (73%)
Spending time with family (71%)
Escape boredom (71%)
Visit new places or destinations (68%)
Get away from daily life (67%)
The report says, "Interestingly, over two-thirds of these travelers say it's important to them that they experience a new destination for this trip. Half of these spring break period travelers plan to use an airplane for their trip and head more than 500 miles away from home. Beach destinations are popular, as are National Parks and rural areas. Luxury hotels appear to be the most common lodging option for spring break travelers."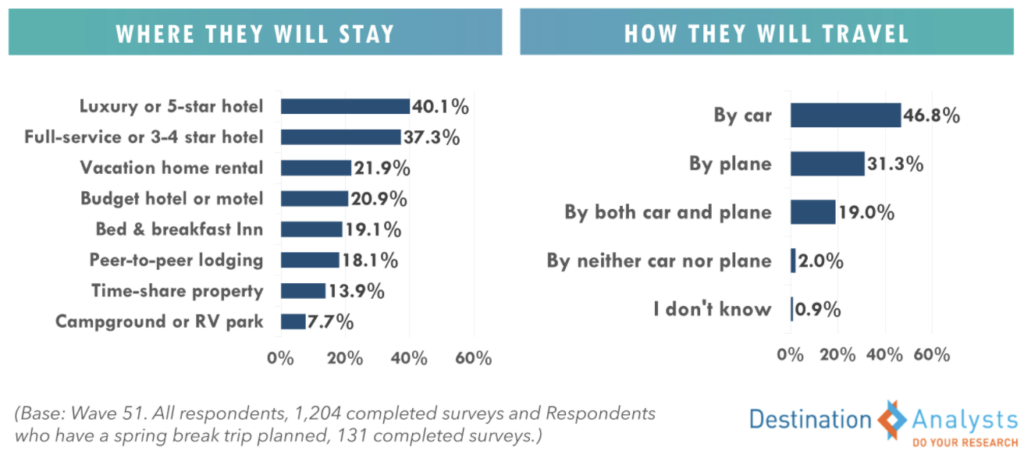 ---
This month, the State of the American Traveler research expanded the depth and range of its free research with Miles Partnership, launching a dynamic, interactive dashboard.
It allows DMOs and industry partners to drill into the research results in more detail and customize the interface to the areas of most interest. Customizable insights from the Destination Edition includes more than 60 U.S. destinations. Check out the dynamic dashboard here and see a short video on how to use the tool.
---
The latest national survey findings from Longwoods International supported by Miles Partnership indicate that 84% of American travelers report they plan to travel within the next six months. That's up from 65% in mid-January, and the third survey wave in a row at over 80%. Noting that we're not yet out of the woods, President & CEO Amir Eylon says, "The last few waves of increasing positive sentiment among several key Travel Sentiment Indicators can now officially be called trends!"
---
California DMOs have addressed Gov. Newsom to say that with no clear guidelines, the state is losing revenue and jobs as customers are backing out of events for late 2021, 2022 and beyond. California has prohibited meetings of any size since the state's stay at home order went into effect on March 19, 2020. CEOs of destinations including Steve Goodling, Long Beach; Scott White, Greater Palm Springs; Mike Testa, Sacramento; Jay Burress, Anaheim; and Julie Coker, San Diego were among 134 to sign the letter.
---
Headline news on March 5 that Disneyland, Universal, and other California theme parks can open on April 1st — no joke. BUT…admission will be restricted to California residents only and capacity will be limited to 15% to 35% capacity, depending on which tier each county is in. Also, Mickey goes omni-channel as Disney is closing 35% (60 locations) of its North American brick-and-mortar Disney Stores before the end of the year, beefing up its online shopping as it shifts to e-commerce.
At Epcot, the large showpieces that will be used in the new nighttime spectacular, "Harmonious," are being put in place on the World Showcase Lagoon at the Walt Disney World Resort in Florida. A central ring structure stands six stories tall, supporting a "high-density water curtain, moving lights, fountains and more," Disney said.
---
No holidays. Starting on March 8, 2021 it's illegal for Brits to leave Britain; travel abroad for holidays and other leisure purposes is a no-no. Under current UK-wide Covid-19 restrictions, no one can travel without a legally permitted reason. Here's the deal:
A "Declaration to Travel" document from the government website.
A trip is permitted only for reasons such as medical, education or work.
Airlines will check forms pre-boarding.
Police conduct spot checks so travelers produce a completed form.
Failure to produce the completed three-page form attracts a £200 fine.
Penalties for attempting to break the rules rise to £6,400 ($8,850) pp.
---
Florida has made a late bid to host the Olympics this summer if Tokyo backs out. Tokyo 2020 got postponed and a decision is pending about 23 July to 8 August, 2021. Japan is currently closed to international arrivals and if the games go ahead, organizers of this summer's Tokyo Olympics and Paralympics will most likely not allow overseas spectators to attend. Look for an announcement on or around March 25.
Breaking news: 3/9/21 – Tokyo Olympics will ban overseas spectators. (H/T Sean O'Neill, Skift via Kyodo News Agency: "Japan To Stage Tokyo Olympics Without Overseas Spectators")
---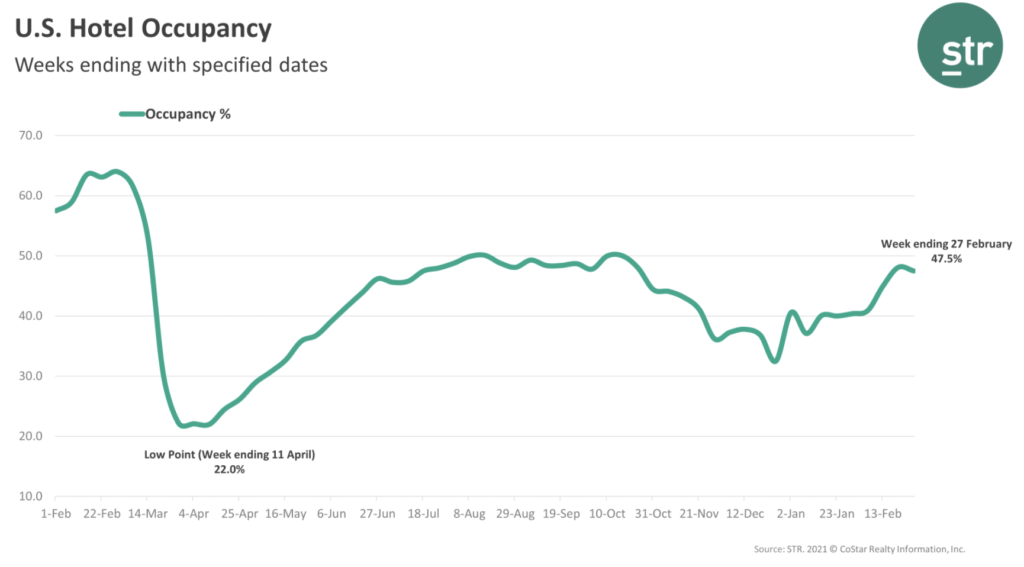 Miami hotels continued to post the best numbers in the U.S., according to data from STR. In January, performance was 54.5% occupancy at $195+ average room rate. Among the Top 25 Markets, Miami saw the highest occupancy level (68.5%) in February. According to Travel Weekly, Miami beachfront hotels and resorts are reporting 80% – 90% on weekends. Among the lowest performers were Oahu Island (30.2%) and Minneapolis (30.8%).
Marriott International's new Vaccination Care Program is providing time off and a financial incentive for U.S. and Canadian employees to get the Covid-19 vaccine, awarding the equivalent of four hours of pay upon completing vaccination.
Las Vegas Sands is selling the The Venetian Resort and Sands Expo Convention Center for $6.25 billion. Apollo Global Management will buy the business through affiliates; VICI Properties will buy the real estate. The Vegas complex has 2.25 million square feet of meeting space and more than 7,100 suites. Experts say it's a signal of optimism for the Strip. "This is the end of an era…however, it shows a great deal of confidence in the future of Las Vegas and the future of travel for this transaction to take place right now." — UNLV assistant professor of hospitality Amanda Belarmino.
---
Airbnb bookings have returned to 70% of their pre-Covid level, stock price was up 23% and the company is forecasting sales up 37% in 2021.
---
A Three-Day Stay Will Cost Around $5 Million** is not a headline you see every day. Who wants to eat space food and play weightless basketball? Voyager Station, the world's first space hotel, is planning to open in 2027 to accommodate 280 guests and 112 crew members. Aiming to be the first commercial space hotel, the enterprise behind the project is Orbital Assembly Corporation, a new construction company run by former pilot John Blincow and comprised of NASA veterans. Read more in Architectural Digest. ** Included! SpaceX Starship shuttle to get there!
---
Joby Aviation is going public. The venture-backed California aerospace enterprise founded in 2009 is valued at $6.6 billion and has raised $800 million, including investment from Uber Technologies and Reid Hoffman, LinkedIn co-founder. The personal, all-electric air taxi with a fleet of four has released its first look at a zero-emission, 4-passenger, vertical-takeoff-and-landing machine. One of its main rivals, Archer Aviation, just inked a deal with United Airlines for $1 billion in orders for 200 machines. Look for intra-city flights beginning 2024.
---
Hornblower Group has acquired ShoreTrips, a Milwaukee-based company with over 3,000 excursions in 400 different destinations. Note: A LinkedIn search shows 160 jobs currently listed at Hornblower.
---
Azamara Cruises acquired the Pacific Princess (it's not the original 'Love Boat,' which is long gone as scrap metal) and they're crowdsourcing a new name via social media.
"Our new sister ship needs a name! Comment below to help us name the newest member of our fleet," the cruise line tweeted.
---
Media in the media: BuzzFeed laid off dozens of employees less than one month after acquiring HuffPost. In the U.S., 47 HuffPost staffers lost their jobs, and the company is shutting down HuffPost Canada, leading to 23 more job losses.