A few facts and figures at your fingertips and a green river, too.
OAG reports that significant capacity has been added this month by all the US major airlines. These top 10 airport and city pairs are currently the busiest air corridors in the nation.
| | |
| --- | --- |
| New York (JFK) – Los Angeles (LAX) | Honolulu (HNL) – Kahului (OGG) |
| New York (LGA) – Chicago (ORD) | Las Vegas (LAS) – Los Angeles (LAX) |
| Atlanta (ATL) – Orlando (MCO) | New York (LGA) – Miami (MIA) |
| Atlanta (ATL) – Fort Lauderdale (FLL) | New York (JFK) – Miami (MIA) |
| Denver (DEN) – Phoenix (PHX) | Honolulu (HNL) – Los Angeles (LAX) |
Source above and below: OAG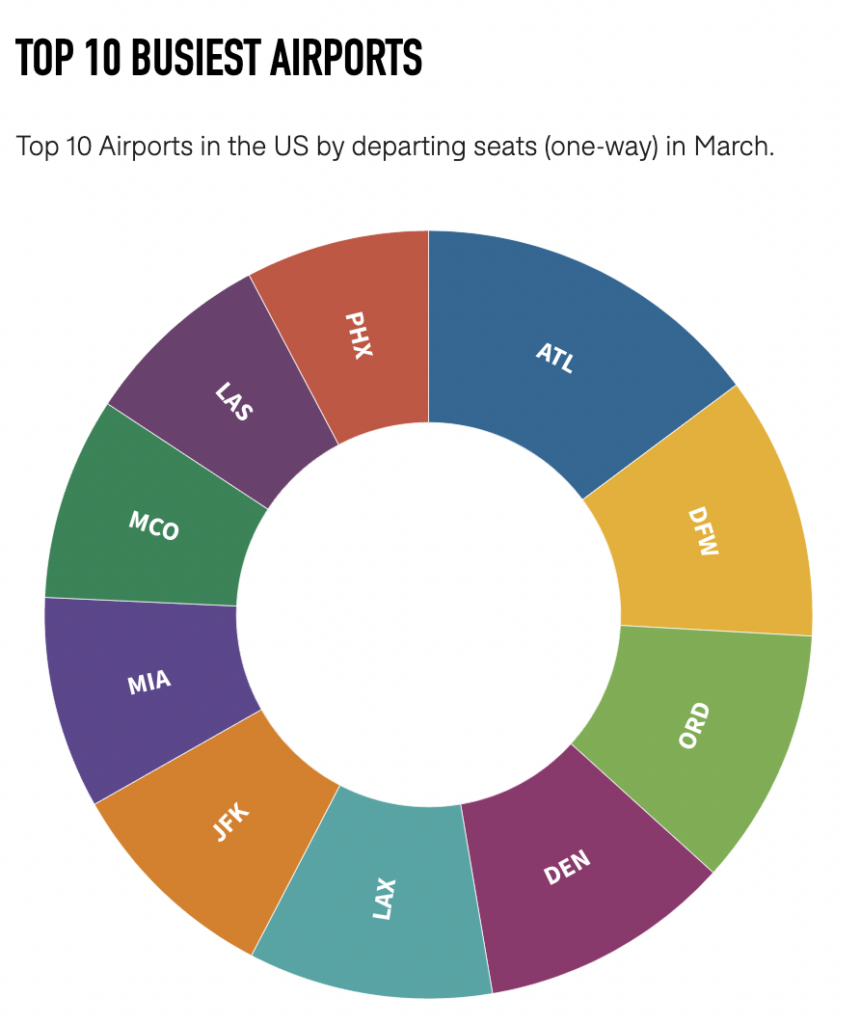 Airports Council International revealed the findings from its annual ASQ Awards to recognize excellence in customer experience worldwide based on data from ASQ's Departures and Arrivals Surveys of over 370,000 passengers in 2021. The nine airport winners in North America are: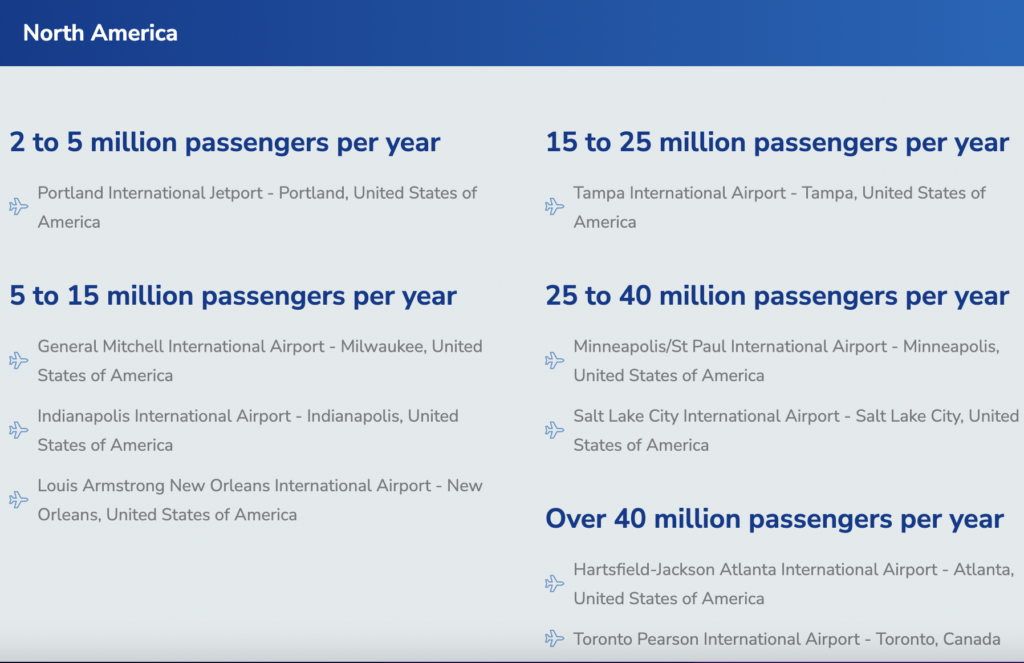 As of Monday, "The most expensive state to buy gas is California, where a gallon costs an average of $5.74. That's almost $2 more expensive than what you'd pay in Kansas, the cheapest state to buy gas." — Make It, CNBC.com
Los Angeles Mayor Eric Garcetti has created the first-ever Tourism Cabinet. The "initiative brings together a wide range of City departments to address the most critical issues impacting the visitor experience," said Adam Burke, President & CEO Los Angeles Tourism & Convention Board. "From infrastructure to mobility to public safety and a host of other areas – and as part of the City's Tourism Master Plan – this unprecedented level of focused collaboration across City agencies will help ensure the long-term sustainability of this vital driver of our local economy." The One of the main focuses of the cabinet will be to support the growth of tourism and the hospitality sector in Los Angeles. Doane Liu is the new Executive Director of LA City Tourism Department.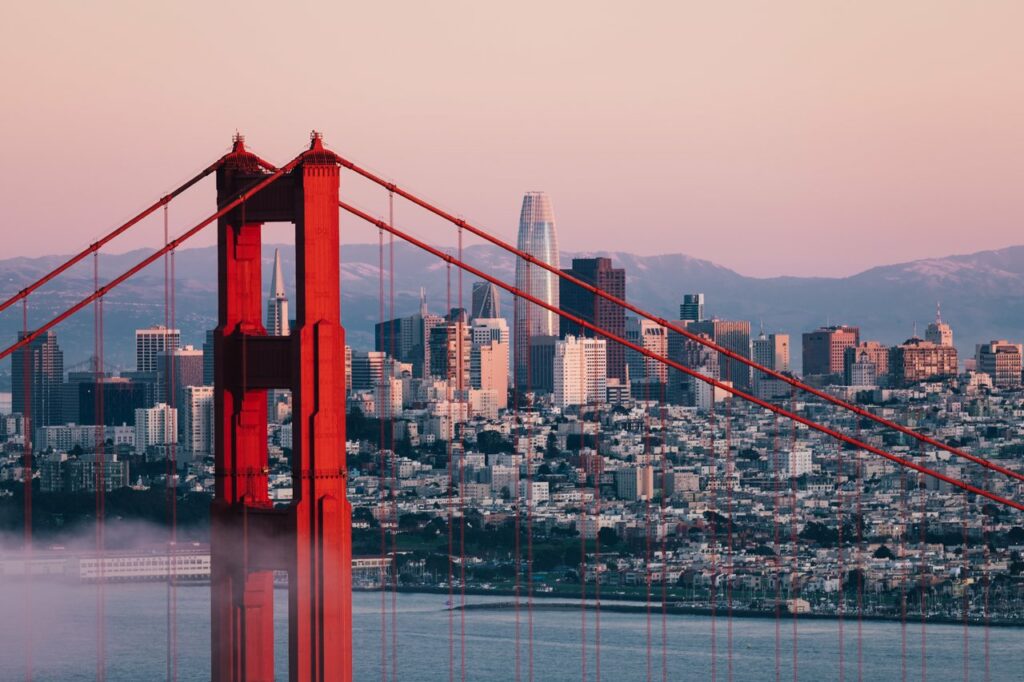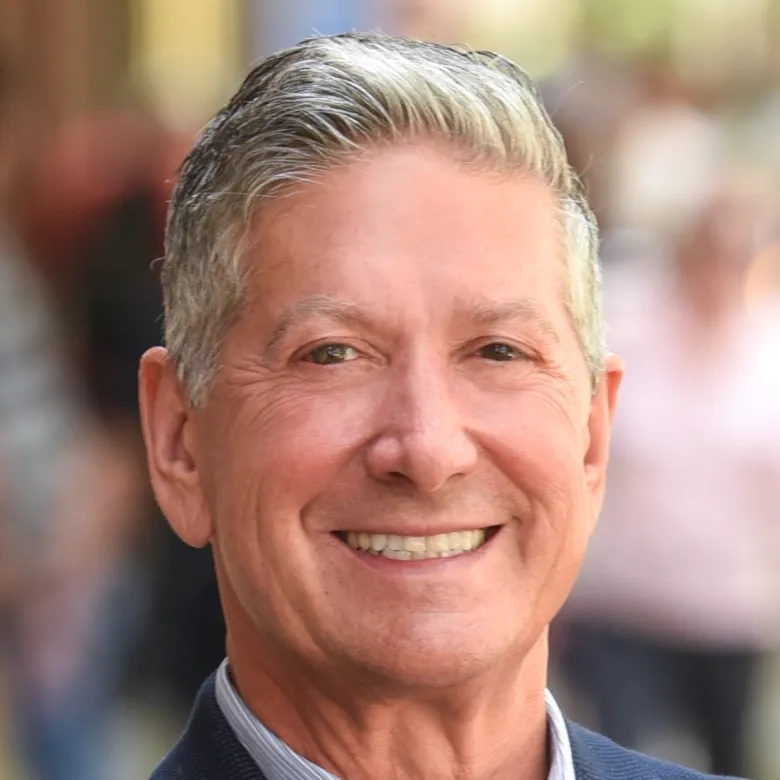 San Francisco Travel Association President & CEO Joe D'Alessandro has penned an opinion piece for CalMatters, a nonprofit nonpartisan news platform. Calling for continued tourism investment for recovery — "particularly in San Francisco, Los Angeles, Orange County and San Diego," he writes, "Recovery in urban centers, where the largest percentage of tourism jobs exist, still lags. Cities disproportionately depend on large meetings and events to generate tourism spending and drive employment. California's meeting market was unable to operate for most of 2020 and into 2021 and has been slow to return."

More from Joe: "Hotel data from STR Inc. further illustrate the divide: Room revenue in California's rural and outdoor recreation areas exceeded that of 2019's record year. The four gateway cities, however, fell significantly short. In San Francisco, room revenue reached just 45% of 2019 levels."
Visit Florida has a funding extension that cleared its final hurdle with the legislature and is headed to Gov. DeSantis for signature. In an agreement reached between the state's house and senate, the extension will be for five years. Initially, there was support for an extension until Oct. 1, 2031. However, that was adjusted to Oct. 1, 2028. Lawmakers also reached an agreement on funding at $50 million as a one-time budget, rather than on a recurring annual basis. Meanwhile, in other Florida matters…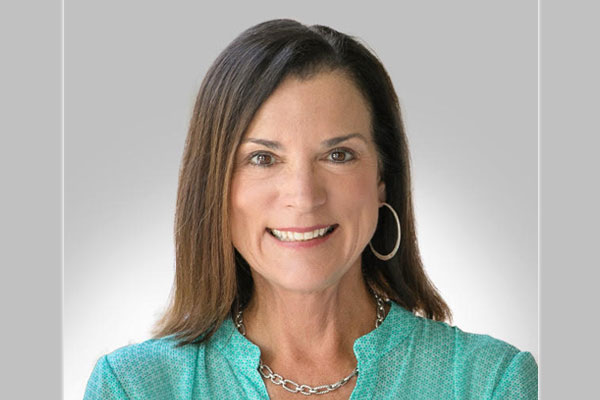 Visit Florida has long had an inclusive focus, reaching out to the LGBTQ community in its marketing efforts. A web page reads, "There's a sense of freedom to Florida's beaches, the warm weather and the myriad activities–a draw for people of all orientations, but especially appealing to a gay community looking for a sense of belonging and acceptance."
Visit Florida President and CEO Dana Young commented in a statement reported by The Washington Post, "We like to say at VISIT FLORIDA that Florida's sunshine is for everyone—no matter where you are from, what you believe, whom you love, or what your abilities. We want all travelers within the LGBTQ community to know that Florida is a place for everyone. We pride ourselves on welcoming every visitor with the same hospitality and friendliness."
Visit Florida market research shows 3.4 percent of the 117.2 million domestic visitors to the state in 2019—or nearly 4 million people—identified as lesbian, gay, bisexual or another orientation that was not heterosexual. Those visitors represented billions of dollars in spending.
Connect THRIVE Summit takes place June 4-5, 2022 in Orlando, co-located with IPW and eTourism Summit. Registration is open now.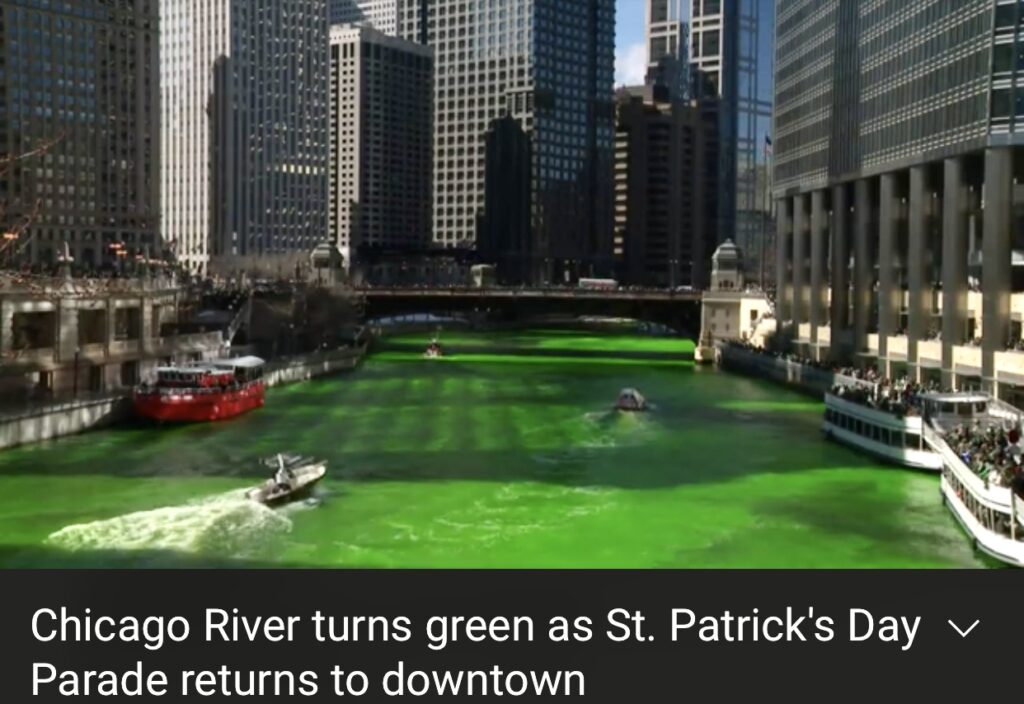 In Downtown Chicago last Saturday, it was in the single digits with the wind chill, but that didn't stop the annual dyeing of the Chicago River, a tradition since 1962. Thousands braved the chill to celebrate the Chicago St. Patricks's Day Parade after two years of pandemic cancellations. In this city with deep Irish roots, "Everybody is Irish today in Chicago," said Mary Linehanfoley, visiting from the Emerald Isle. "It's just amazing here. You have a great country and everybody is so welcoming and every year. Nice good people." Cathal Rasmussen, also visiting from Ireland, told local TV reporters, "It's unbelievable. Super city and we're so happy and so proud to be here. We've had a great week and we're hoping to come back again next year."
Hurray, tourism! (FAQs: How long does the Chicago River stay green? Answer: 24-48 hours…long enough for overnight visitors!)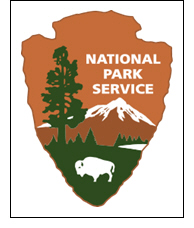 The National Park Service has published its official annual visitation statistics for 2021 indicating that 25 of the most popular parks accounted for 50 percent of all visits throughout the system of 423 parks. Twenty-five percent of all visits occurred in the top eight most-visited parks. Blue Ridge Parkway remained the most-visited, a linear national park that runs 469 miles through Virginia and North Carolina, connecting Shenandoah National Park to Great Smoky Mountains National Park.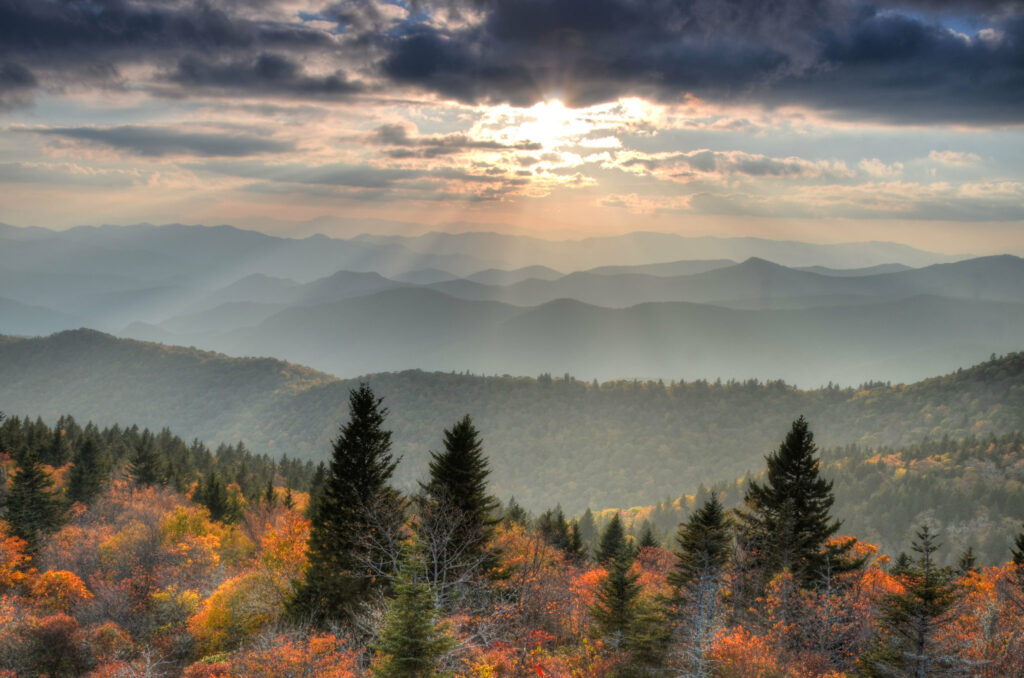 For an in-depth look at visitation statistics, visit the NPS Social Science website. For national summaries and individual park figures, please visit the NPS Visitor Use Statistics website.
Blue Ridge Parkway – 15.9 million

Great Smoky Mountains National Park – 14.1 million

Golden Gate National Recreation Area – 13.7 million
Gateway National Recreation Area – 9.1 million

Lake Mead National Recreation Area – 7.6 million

George Washington Memorial Parkway – 6.8 million

Natchez Trace Parkway – 6.4 million

Lincoln Memorial – 5.8 million

Gulf Islands National Seashore – 5.5 million

Zion National Park – 5 million

Chesapeake and Ohio Canal National Historical Park – 5 million

Yellowstone National Park – 4.9 million

Grand Canyon National Park – 4.5 million

Rocky Mountain National Park – 4.4 million

Delaware Water Gap National Recreation Area – 4.3 million
Acadia National Park – 4 million
Cape Cod National Seashore – 4 million
Grand Teton National Park – 3.9 million
World War II Memorial – 3.7 million
Vietnam Veterans Memorial – 3.6 million
Yosemite National Park – 3.3 million
Chattahoochee River National Recreation Area – 3.3 million
Cape Hatteras National Seashore – 3.2 million
Indiana Dunes National Park – 3.2 million
Glen Canyon National Recreation Area – 3.1 million