P E O P L E
Congratulations to two DMO thought leaders recognized by Hospitality Sales & Marketing Association among the 2020 HSMAI Top 25 Extraordinary Minds in Sales, Marketing, and Revenue Optimization.
Gathan D. Borden, CHDM, Vice President, Marketing, VisitLEX
Anne Sayers, Acting Secretary, Wisconsin Department of Tourism
These professionals, selected by a panel of senior industry executives, will be celebrated virtually on March 16, 2021.
HSMAI Top 25 Americas awards recognize leaders in hospitality, travel, and tourism organizations for their accomplishments in the preceding 18 months.
Also honored this year is Bettina Garibaldi, SVP and managing director of Travel, Hospitality & Leisure at Ketchum Communications, producing award-winning work for Discover Puerto Rico.
Awardees are high achievers who stand out through their creativity and innovation, cutting-edge campaigns and programs, triumph in challenging situations and efforts that resulted in dramatic gains. Bravo!
What adds up to more than 80 years of experience? Entrada Insights has announced the expansion of its advisory and sales teams with six new hires to support recent growth.
Katie Cook, Data Advisor Director, joins from Simpleview and was previously with Visit Austin
Natalie Jamieson, Senior Data Advisor, formerly Visit Baltimore
Kelsey Blevins, Senior Data Advisor, was recently with Virginia Beach Convention and Visitors Bureau
Bill Obreiter, Senior Sales Director, joins from Adara
Mary Flynn, Sales Manager, joins from Adara
Steven Cook,  Marketing and Sales Manager, is the former Deputy Director of Vermont Tourism
Elie W. Maalouf, CEO-Americas at InterContinental Hotel Group (IHG) is the new chair of the U.S. Travel Association's CEO Roundtable.
Linda Thomas Brooks, an industry veteran and media consultant, has been named CEO of the Public Relations Society of America (PRSA), founded in 1947.
Charles Harris, president & CEO at Reno-Sparks Convention & Visitors Bureau has been appointed as a commissioner of Nevada Division of Tourism (Travel Nevada), chaired by the state's lieutenant governor.
Amrita Gurney, VP Marketing & Community at CrowdRiff, where she has been a key team member since 2016, has announced her departure to join Juno College of Technology in Toronto as Chief Revenue Officer.
At Visit Milwaukee, Marissa Werner has been promoted to lead the DMO's newly formed Sports Milwaukee division. An announcement made on the 35th Annual National Girls & Women in Sports Day indicates that the new division will be advised by a committee of prominent women from the local sports and hospitality landscape.
Matt Lewis joins HospitalityMaine as president & CEO. The organization has 1,000+ members in lodging and restaurants, representing the state's second-largest industry. Lewis replaces Steve Hewins who moves to Hospitality Maine Education Foundation. Lewis is formerly executive director at Visit Richmond near San Francisco and was previously with San Francisco Convention & Visitors Bureau.
Norris Flowers, president and CEO of Destination Gettysburg, has announced his retirement effective April 1. Flowers joined the organization in 2005. Destination Gettysburg will soon conduct a national search for a new president & CEO.
In Virginia, Christopher Finley resigns this month as executive director of the Smith Mountain Lake Regional Chamber of Commerce. A local search committee has been formed; Cheryl Ward will serve as interim executive director.
Jay Mollica moves from a previous role as creative technologist at SFMOMA in San Francisco to become Director of Digital Engagement at the Pérez Art Museum in Miami.
Nancy Koshiyama has joined Sojern in San Francisco as Chief People Officer.
Nicole Olivares joins the team at Visit Corpus Christi where she is named VP of Sales, joining following a decade at Omni Hotels.
America Segura has been appointed as brand manager at Visit Corpus Christi. She is a recent graduate of Texas A&M.
Hannah Williams has been appointed as PR and communications specialist at the Visit Mountaineer Country Convention & Visitors Bureau in Morgantown, West Virginia.
---
---
W E B I N A R S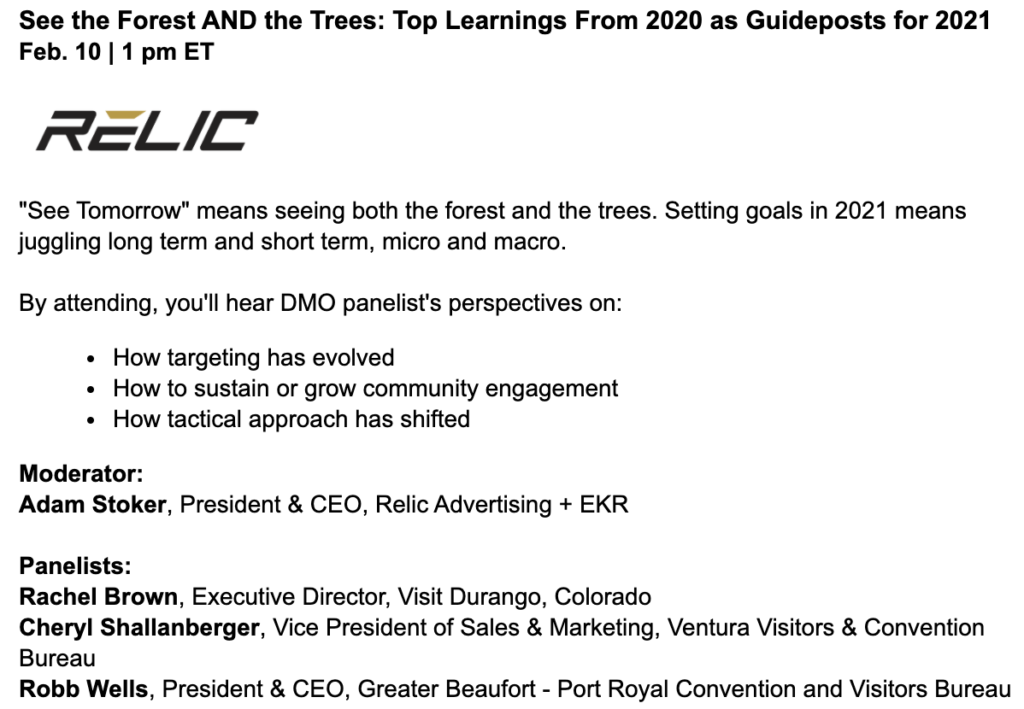 ---
---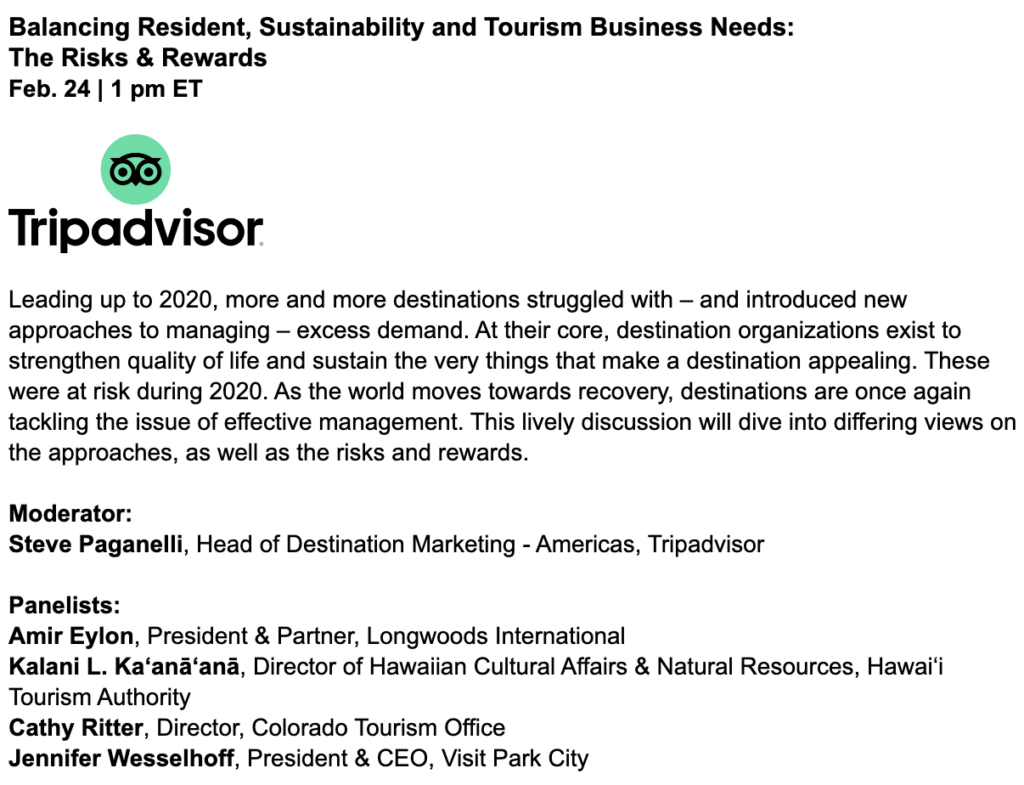 ---
---
R F P s


Visit Ventura is building a new website. Deadline for responses is Feb. 22, 2021. Contact [email protected] for the RFP.
---
---
J O B S
President & CEO — Visit San Antonio
Chief Executive Officer — Bermuda Tourism Authority
President & CEO — Pacific Area Travel Association (PATA), Bangkok
President & CEO — Explore Fairbanks (deadline March 12)
President & CEO — VisitGreenvilleSC
Executive Director — Greater Wilmington Convention & Visitors Bureau (closing March 1)
Chief Executive Officer — Experience Olympia & Beyond, WA
President & CEO — Washington County Visitors Association, OR
Vice President — Experience Columbia, SC
Executive Director — Park County Travel Council, Yellowstone, WY
Executive Director, Tourism — Visit Frederick, MD
Executive Director — Visit St. Mary's, MD
Executive Director — Acadia Parish Tourism, LA (closes Feb. 12)
Executive Director — River Parishes Tourist Commission, LA (closes Feb. 28)
Executive Director Sports Commission AND Sports Sales Manager AND Content Strategist AND Research & Analytics Manager — Visit Corpus Christi, TX
Vice President Sales — Explore Asheville, NC
Vice President Marketing — Visit Florida
Vice President Marketing & Communications — Experience Kissimmee
SVP of Multicultural and Community Development — Broward County / Greater Fort Lauderdale Convention & Visitors Bureau
Chief Marketing Officer — Myrtle Beach Area Chamber of Commerce
Chief Marketing Officer AND Finance & HR Manager AND PR & Communications Manager — Visit SLO CAL, San Luis Obispo, CA
Director of Marketing & Communications — Discover Long Island, NY
Director Marketing & Communications — Visit Stockton, CA
VP Marketing — Discover Halifax, Nova Scotia
Public Relations Manager — Visit California, Sacramento

Director of Digital Media and Website Management — State of Louisiana
Public Relations Coordinator — Virginia Tourism Corporation
Deputy Director of Marketing — Emerald Coast CVB, Destin-Fort Walton Beach, FL
Director of Tourism & Business Development — Town of Ocean City, MD
Senior Marketing Manager — Economic Development Partnership of North Carolina, Raleigh
Business Development Manager — Discover Kalamazoo, WI
Marketing Manager — Experience Columbus, OH
Communications & PR Manager — Visit Durango, CO (deadline Feb. 12)
Business Analyst — Visit Grand Junction, CO
Conference Sales Director — Valdosta-Lowndes Co. Conference Center & Tourism Authority, GA
Sales & Services Manager — Santa Monica Travel & Tourism
Sales & Marketing Manager — Louisiana's Cajun Bayou
Communications Manager — Alexandria/Pineville Area CVB, LA
Visitors Services Manager — Galena County Tourism, IL
Tourism Director — Yankton Area Chamber of Commerce, SD
Marketing Coordinator — Beaver County Tourism, PA
Director of Marketing — Harrisonburg Downtown Renaissance, VA
Sales & Services Manager — Destinations International, Remote

Director of Marketing — Skift, Remote within U.S.
Junior Research Analyst — Longwoods International, Columbus, OH
Senior Designer AND Senior Product Designer AND Senior Product Manager AND Head of People — CrowdRiff, Toronto
Data Analyst — Madden Media, Tucson
Customer Success Representative AND Marketing Automation Specialist — Simpleview, Remote or Tucson

Marketing Project Manager — Destination Think, Remote
Operations Program Manager AND Community Success — Clubhouse, San Francisco
Senior Account Executive — C&R, Santa Monica
Analyst / Project Manager — Sandee, Los Angeles
Growth Marketing Manager — Unfold, NYC
Director, Cooper Hewitt Smithsonian Design Museum, NYC
Vice President-Crisis Communications — Rubenstein, NYC
Outdoor Interpretation Specialist — Crystal Bridges Museum of American Art, Bentonville, AR
Director of Marketing & Communications — Berkeley Art Museum & Pacific Film Archive, Berkeley, CA
Senior SEO Manager AND Growth Marketing Manager — RVshare, Austin

Director, Digital Marketing — GameStop, Grapevine, TX
Account Executive, Destination Product Development — Royal Caribbean Cruise Line, Miami
General Manager — Royal Sonesta, Washington, D.C.
Marketing Manager, Brand Safety — Facebook, San Francisco
Consumer Product Marketing Lead — Instagram, San Francisco
Associate, Content Strategy & Analysis — Netflix, Los Angeles
VP of Marketing AND Director of Content Marketing (8-month role) —Sheryl Sandberg & Dave Goldberg Family Foundation, Remote