Budget cuts had forced Visit Baltimore to pause its Education and Training Foundation, threatening the Diversity Apprenticeship Program.
Now, Guinness Open Gate Brewery (the US-based home of blonde lager and a Maryland visitor experience since 2018) is making a one million dollar commitment to its home via the Guinness Gives Back Baltimore Community Fund that includes fully funding the DMO's program for the next year, with plans to support it for five years.
Visit Baltimore will facilitate the end goal of creating 10 or more hospitality career pathways with a focus on Baltimore's Black community.
The 600-hour paid apprenticeship aims at employment by Visit Baltimore or a partner organization by promoting career interest in the hospitality and craft beer industries among minority students. In a partnership with SearchWide Global, apprentices shadow at Visit Baltimore, Guinness Open Gate Brewery and another local tourism entity in a three-part immersive learning experience. Applications are currently open; eligible candidates must be 21 years of age or older. Read more here.
Branson/Lakes Area Chamber of Commerce & Convention and Visitors Bureau has hired Jason Outman as its next president and CEO, effective mid-January 2021. Outman, who succeeds Jeff Seifried, comes from Experience Columbia SC which he joined in 2010, serving as executive director since 2014.
Discover Kalamazoo has appointed Jane Ghosh as president & CEO. A long-time Kalamazoo area resident, Ghosh comes from outside the industry. She brings three decades of experience leading marketing at Johnson & Johnson and The Kellogg Company and as GM manager and executive director at Ferrara Candy Company. Ghosh succeeds Greg Ayers, who resigned in April after 12 years at the helm.
Sedona Chamber of Commerce & Tourism Bureau announced Candace Carr Strauss will join as president/CEO in February 2021. She is currently CEO of the Big Sky Chamber of Commerce & Visit Big Sky in Montana. She replaces Jennifer Wesselhoff who left for a similar role in Park City, Utah.
Paul Beirnes is the newly appointed deputy director of tourism for Naples, Marco Island and Everglades CVB. Beirnes joins the team at Florida's Paradise Coast with over 30 years of destination marketing experience that includes leadership roles at the likes of Hilton Worldwide, Visit Orlando and Disney.
Heather Brown is named as the interim executive director of Lake of the Ozarks CVB. Following seven years with the DMO, she left the Missouri organization five years ago while serving as director of member services. Tim Jacobsen, former executive director, recently took a position with Fort Smith Advertising and Promotions Commission in Arkansas.
Technology and travel leader Scott Garner has been appointed chief revenue officer at Journera, the real-time data exchange platform for creating more seamless travel. He was most recently chief commercial officer at ADARA, and was previously in executive roles at United Airlines and Orbitz Worldwide. Read the announcement here.
At Expedia Group Media Solutions headquarters in Seattle, Wendy Olson Killion is promoted to Global Senior Vice President and General Manager. Her thoughts: "This next year will be focused on helping to reignite the spirit of travel and MeSo that 2020 has tried to stomp out.I look forward to continuing to push our platform to aid the industry and our partners into recovery. I will work to be a worthy leader of an amazing team who has pushed through and persevered."
Eric J. Lund, former president & CEO of Visit Estes Park for 12 years, takes on a role as VP – tourism development at the historic Stanley Hotel of "The Shining" fame. Prior to his Colorado days, Lund was previously with San Diego Tourism Authority.
Chelsea McCready departs her role as VP-Research & Market Analysis at Nashville Convention & Visitors Corp. after more than a decade. She joins CoStar Group/STR as director of hospitality market analytics, Southeast.
Deb Hickok, president and CEO of Explore Fairbanks, is stepping down in June 2021 following 20 years in the job. Prior to joining Explore Fairbanks, Hickok served at the Bucks County CVB, Pocono Mountains Visitors Bureau and the Pennsylvania Department of Commerce/Division of Tourism.
From U.S. Travel Association: "Congrats to our own President and CEO, Roger Dow, and EVP of Public Affairs and Policy, Tori Barnes, for being recognized by @thehill for your relentless efforts amid this incredibly challenging year. It has never been more important for the travel industry's voice to be heard."
Brad Dean, CEO of Discover Puerto Rico, has been appointed Vice Chair of the U.S. Travel & Tourism Advisory Board for a two-year term. The 27-member group currently chaired by Kurt Ekert, president & CEO of CWT (formerly Carlson Wagonlit Travel), is the advisory body to the secretary of commerce on matters relating to the travel and tourism industry in the United States. The deputy assistant secretary for travel and tourism serves as the board's executive director. Other DMO members are: Liz Fitzsimmons, managing director, Maryland Office of Tourism and Film; David Gilbert, president & CEO, Destination Cleveland and Greater Cleveland Sports Commission; Debbie Johnson, director, Arizona Office of Tourism.
The U.S. Travel Association has named Richard Peterson, president & CEO of U.S. Cultural & Heritage Marketing Council to the National Council of Attractions and Experiences (NCAE) Board of Advisors. Peterson is also currently serving as director-at-large at U.S. Travel Association.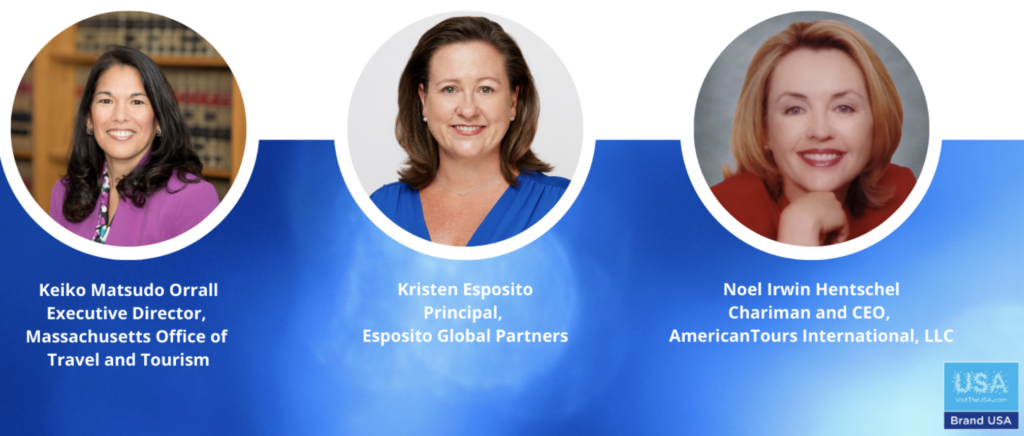 Brand USA has announced two new members and one reappointed member of the 2021 board of directors.
Noel Irwin Hentschel, chairman and CEO, American Tours International, LLC (reappointed, representing the travel distribution sector)
Kristen Esposito, principal, Esposito Global Partners (newly appointed, representing the small business/retail sector)
Keiko Matsudo Orrall, executive director, Massachusetts Office of Travel and Tourism (newly appointed, representing one of two seats for an official of a state tourism office)
Brand USA Board Chair: Kyle Edmiston, president & CEO, Lake Charles/Southwest Louisiana Convention & Visitors Bureau
Brand USA Vice Chairs: Paul Brown, co-founder & CEO of Inspire Brands and Mark Hoplamazian, president & CEO, Hyatt Hotels Corporation
Treasurer: Alice Norsworthy, chief marketing officer, Universal Parks & Resorts
Additional Members: Todd Davidson, CEO, Travel Oregon; Dean Kantaras, owner and managing attorney, K. Dean Kantaras, P.A.; Donald Moore, Sr. VP of business rental sales & global corporate accounts, Enterprise Holdings, Inc.; Tom O'Toole, associate dean for executive education and clinical professor of marketing, Northwestern University.
In Memoriam: Marion "Butch" Fox, president/CEO at Jeff Davis Parish Economic Development, Tourism and Chamber of Commerce since 2007. She had worked in the industry for 30+ years serving at several CVBs, Louisiana Office of Tourism, Louisiana Office of Economic Development, and most recently had been active with Louisiana Travel Association and Louisiana Association of Convention & Visitors Bureaus.
In Memoriam: Charlotte Bell, CEO, Tourism Association of Canada since 2015, based in Ottawa.
Sacramento, Calif.-based advertising agency Mering has agreed to be acquired by Columbus, Ohio-based ad agency TSY (The Shipyard) Enterprises Inc. Mering clients include Visit California; San Diego Tourism Authority; KSL Resorts; Monarch Beach Resort; Mammoth Lakes Tourism, Merlin Entertainments, (Legoland); Wine Institute; California Grown; and Visit Napa Valley. >> Open positions are: Designer in Columbus, Ohio and Sr. Copywriter in Newport Beach, CA.

JOBS
President & CEO — Michigan Economic Development Corporation, Lansing (new, deadline 1/15/2021)
VP Marketing — Visit Florida, Tallahassee (new)

President & CEO — Visit Orlando

President & CEO — Destination B.C., Vancouver
President & CEO — Destination Madison
President — Oklahoma City Convention & Visitors Bureau
President & CEO — Visit Greenville SC
Chief Sales & Marketing Officer — Bermuda Tourism Authority, NYC
Sr. VP, Multicultural & Community Development — Greater Fort Lauderdale Convention & Visitors Bureau
Director of Sales — Little Rock Convention & Visitors Bureau
Public Relations Manager — Destination Cleveland
CEO, Lake Superior Community Partnership, Marquette, MI
Director of Research & Market Intelligence AND Tourism Partnership Manager — Virginia Tourism Corporation, Richmond
Marketing Manager — Tulsa Regional Tourism
PR & Communications Manager AND Finance & HR Manager — Visit SLO CAL, San Luis Obispo, CA

Deputy Director of Marketing — Okaloosa County, Fort Walton Beach, FL

Communications & Marketing Manager — Watkins Glen Area Chamber of Commerce, NY
User Experience Designer — NYC & Company
Business Analyst — Visit Grand Junction, CO
Manager, Paid Media — Discover The Palm Beaches, West Palm Beach, FL
Content Coordinator — Visit Philadelphia
CVB Communications Coordinator — City of Grapevine, TX
CVB Sales Consultant — City of Plano, TX

CVB Marketing Specialist — Geary County, Junction City, KS
Executive Director — Douglas County Travel & Tourism, GA
Executive Director — Visit St. Mary's, Leonardtown, MD
Convention & Tourism Rep — Virginia Beach Convention & Visitors Bureau
Tourism Director — Muskogee Tourism Authority, OK
Marketing Coordinator, Santa Monica Travel & Tourism, CA
Marketing Coordinator — Lake George Regional Chamber of Commerce, NY
Sr. Media Analyst — Net Conversion, Orlando
Product Manager AND Production Coordinator — Simpleview, Tucson
VP – Global Field Marketing — Hard Rock International, Davie, FL
VP Sales & Marketing — The Broadmoor, Colorado Springs, CO
Sr. VP Customer Marketing — Ontrak, Inc., NYC
Director of Partner Services — Huddle Up Group, Phoenix
Program Development Manager — Panorama Travel Solutions (a Wyndham Destinations Company), NYC
Chief Experience Officer — Brightline Trains, Miami
Sr. Communication & Marketing Rep, Aviation — Port of Oakland, CA
Director of Tourism — Six Flags, Valencia, CA
Director Sales & Marketing — Legends (Illuminarium Experience), Atlanta
Marketing Manager — Legends (Sky View Observatory), Seattle

Digital Marketing Manager — SoFi Stadium and Hollywood Park, Los Angeles
Vice President, Marketing Social Media — Audible, Newark, NJ

Content Marketing Manager — Cuvée, Denver
Marketing Automation Manager, Corporate — Hornblower Cruises, NYC

Director of Marketing — TurnKey Vacation Rentals, Angel Fire, NM
Copywriter — Development Counsellors International, NYC
Director, LATAM Field Marketing — Twilio, Remote USA
Content Business Development Manager — Twitter, San Francisco
Digital Marketing Lead, Partnerships — Facebook, San Francisco