Discover Los Angeles says, "It's Your Comeback Story."
Open Mike Eagle opens the narration. "Los Angeles is a movie. The lighting is perfect, the soundtrack is just right. Costumes are incredible, the sets are amazing…everyone's here, ready for the next scene."
According to Don Skeoch, CMO at Los Angeles Tourism & Convention Board, LA Tourism traditionally advertises in January and February, then again in the fall, to promote off-peak travel. This year is different. Continuing a theme presented in the 2017 "Everyone is Welcome" campaign, the new 60-second spot features locals that represent the city's "diverse and inclusive fabric," Skeoch said. The campaign for #StartYourComeback was created in-house and produced by Plus Plus, a sister agency of The Many.
Note: Los Angeles has the green light to resume meetings up to 300 people.
---
New Mexico Tourism Department unveiled a refresh of the "New Mexico True" branding that's been in place since 2012. "The Land of Enchantment," seen on license plates since 1941, is the tagline for a logo that's been tweaked.
Initially, the brand refresh, intended to reinvigorate the state's severely damaged tourism sector, will roll out on the website and social media without a wider spend. Advertising has been on hold since the start of the pandemic. Signage, displays and other iterations of the New Mexico True logo will be updated when possible while the DMO works closely with industry partners to ensure the integration of the new logo is seamless for future branding and advertising campaigns.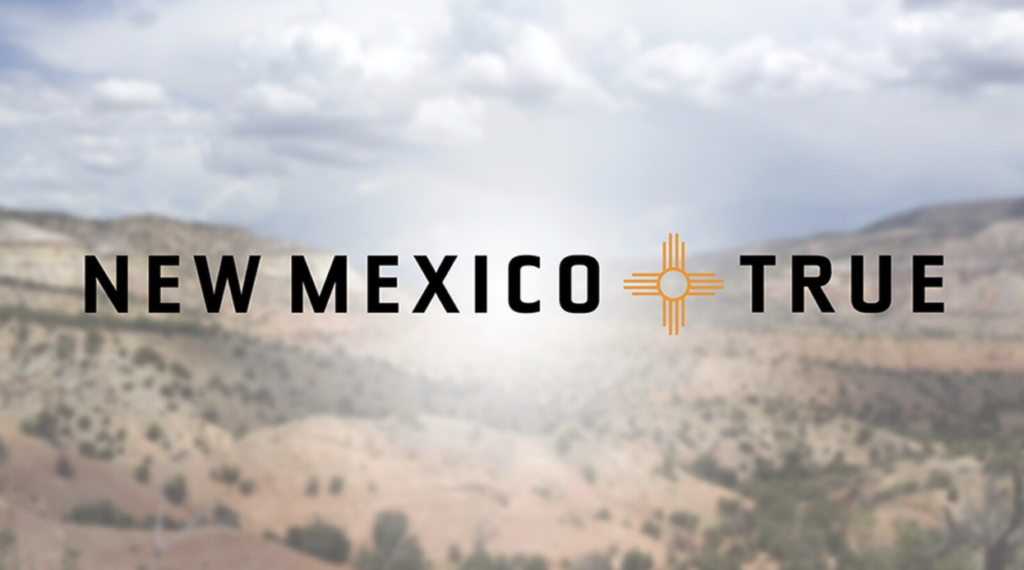 On New Mexico storytelling, the Indigenous community has been critical regarding "colonial ideologies" in using quotes from cultural icons such as artist Georgia O'Keeffe, according to Santa Fe Reporter. "In the as-yet unaired commercial, a partial recording of O'Keeffe's voice is melded with a modern voiceover: 'When I got to New Mexico, that was mine,' the voices say. 'As soon as I saw it, that was my country. I'd never seen anything like it before, but it fitted to me exactly. It's something that's in the air, it's just different. The sky is different, the stars are different, the wind is different.'"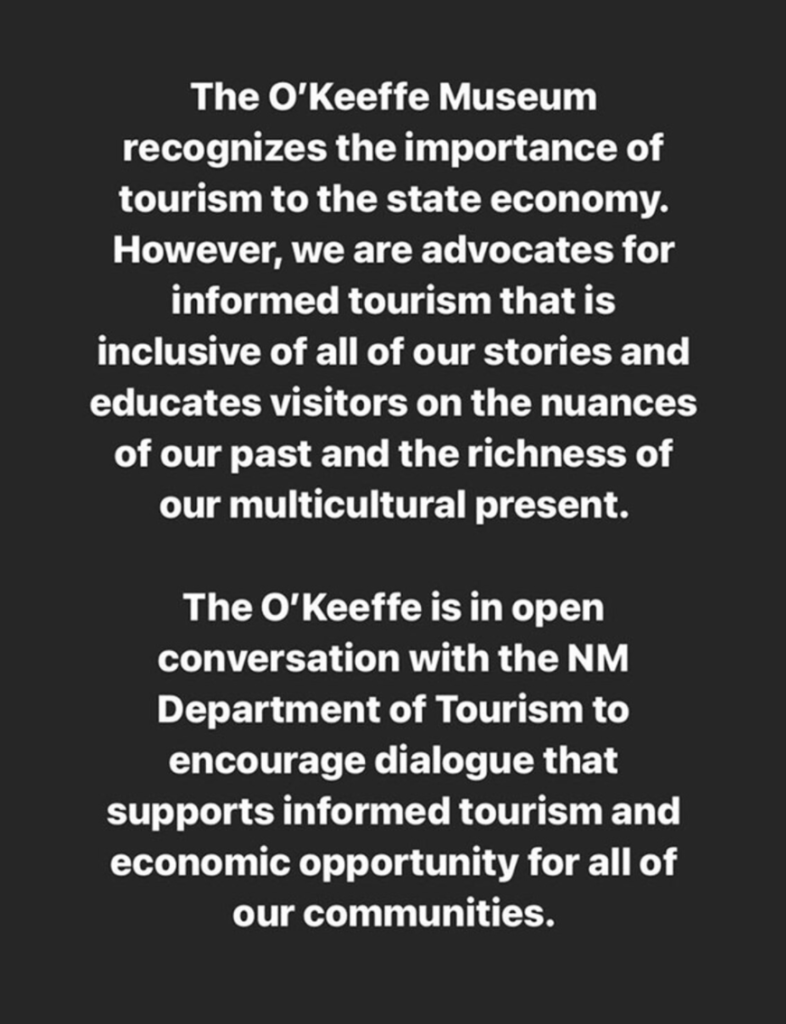 The newspaper reached out to the Austin (TX)-based PR firm Giant Noise that handles New Mexico state tourism public relations after @okeefeemuseum published admonishments (seen here, which no longer appear) on that Instagram account. Their statement: "This video is not in market; it was an example to premier the brand refresh. Creative pieces are still in production."
---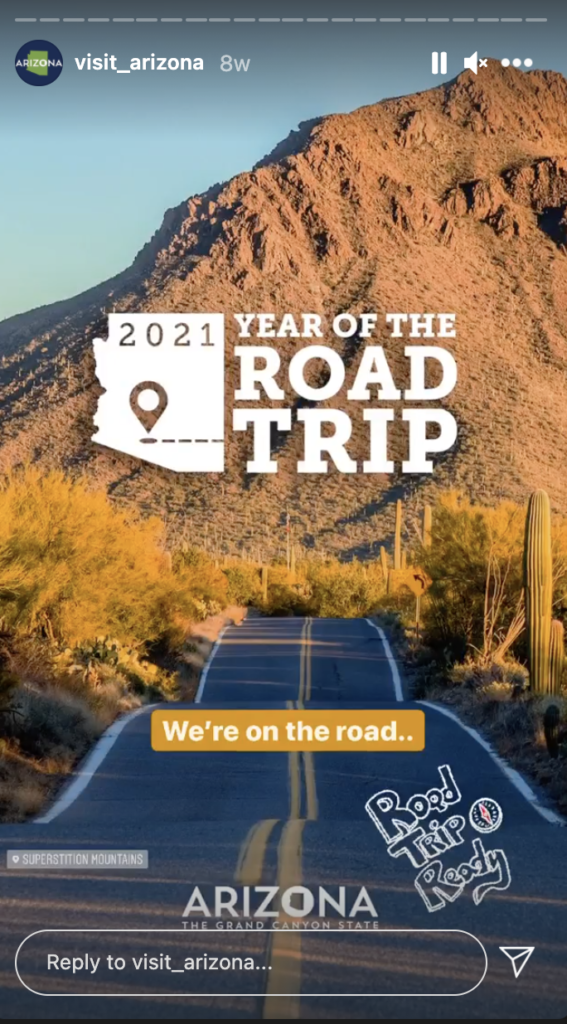 Arizona Office of Tourism has declared 2021 as "Year of the Road Trip" in its new Rediscover Arizona campaign. A dedicated website section is supported by social media to suggest detailed itineraries designed around 3, 5, or 7-day itineraries to assist travelers.
Arizona Office of Tourism releases a new YouTube video every month, each focusing on a different city or experience in the Grand Canyon State.
Visit Arizona's official Instagram account (198K followers) has dozens of stories to illustrate places to stop along the way for road trip highlights, including natural monuments, small towns, hikes, lakes, and wine trails.
---
Don't be a couch potato.
Kicking off 2021, Visit Idaho leveraged its social media pages to launch a virtual scavenger hunt promoting its annual travel guide.
Across three days in January, the tourism office dropped six clues on Facebook and Instagram. Answers were found throughout designated sections of the Visit Idaho website, which meant that in order to have a chance at winning, a deep dive into Idaho's tourism content was necessary.
In March, Visit Idaho launched its "Break Away" campaign to inspire adventure, focusing on 'breaking away' from Covid monotony via video content related to pursuits around camping, hiking and water excursions and adventures.
---
Last week, Alaska Gov. Mike Dunleavy announced three Covid-related recovery initiatives.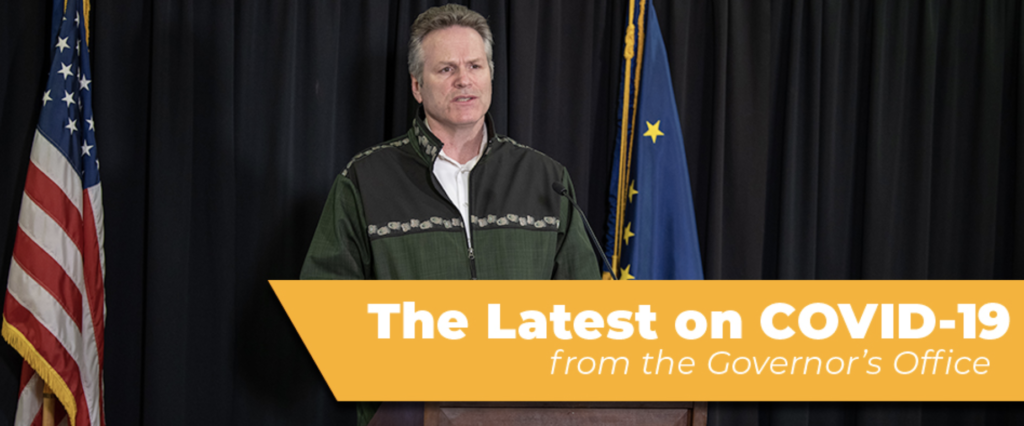 Alaska will conduct a national advertising campaign to support its tourism industry. Alaska Tourism Revitalization plan proposes allocating upwards of $150 million for the expressed goal of providing relief to communities, cultural tourism businesses, as well as tourism, hospitality, and ancillary businesses. Alaska Lt. Kevin Gov. Meyer was to begin a two-week listening tour, meeting with tourism-related businesses and community leaders.
Alaska will offer tourists vaccinations starting on June 1 as part of the state's plan to assist tourism-related businesses. Vaccinations will be offered free for anyone at four largest airports: Anchorage, Juneau, Ketchikan and Fairbanks, said Heidi Hedberg, director of the Alaska Division of Public Health.
Alaska's governor has signed a resolution calling for an exemption from the law requiring cruise ships entering Alaska to make a mandatory stop in Canada, since Canada is closed to cruising this year. The economic loss from another canceled cruise ship season would total $3 billion annually, according to the governor's office.
---
President & CEO Steve Hill of Las Vegas Convention and Visitors Authority hosted media for a first look from inside the loop, Elon Musk's underground transportation system 40 feet beneath the Las Vegas Convention Center. Built in two years, the $52.5 million system starts operating in June with a capacity for moving 4,400 people per hour via 62 all-electric Tesla vehicles, now operated with drivers but eventually without.
Plans have been announced to develop an expanded system throughout the resort corridor to ease traffic congestion and to connect the convention center to Downtown Las Vegas ($5 for 2.8 miles), throughout the Strip, and as far south as Allegiant Stadium (estimated $6 for a four-minute trip to go 3.6 miles) and eventually the airport ($10 for 4.9 miles). For more information: www.vegasmeansbusiness.com
---

Speaking of cool places to go and things to do with an app, Greater Palm Springs Convention & Visitors Bureau has updated its artsGPS. A self-guided tour of more than 100 outdoor public art installations, the app points visitors around Palm Springs, Desert Hot Springs, Cathedral City, Rancho Mirage, Palm Desert, Indian Wells, La Quinta, Indio and Coachella, including Desert X, the visual biennial events that's currently staged through May 16, 2021.
Director of Communications Joyce Kiehl, says more public art is being added in Greater Palm Springs, so the app continues to update. As a bonus, users can also search for local restaurants, book a flight, make hotel reservations and purchase tickets to local attractions through the app.
Download the free "ArtsGPS" iOS app from the Apple Store.
---
Did someone say t-a-c-o-s? And prizes? Some apps feed your needs and some apps simply feed you. Visit Stockton has had over 1,600 registrations and hundreds of check-ins on the Stockton Taco Trail passport program since launch on April 2, 2021.
Social media channels chalked up more than 50,000 views and 500 shares and local media are eating it up as well, with coverage on KRCA 3, Good Day Sacramento, and in the Manteca/Ripon Bulletin.