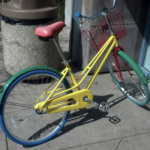 From the garage to the Googleplex.
Of course, Google's co-founders incorporated in the garage of a friend's home in Silicon Valley, right? But, did you know Google's original name was Backrub? Ugh.
What was life like before Google and what Google product could you simply not live without?
On the eve of the 19th Annual eTourism Summit, we take a trip down memory lane with a look at eight Google products (maps, search, gmail, calendar, docs, talk, YouTube, Android) from when they were brand new. Have a look.