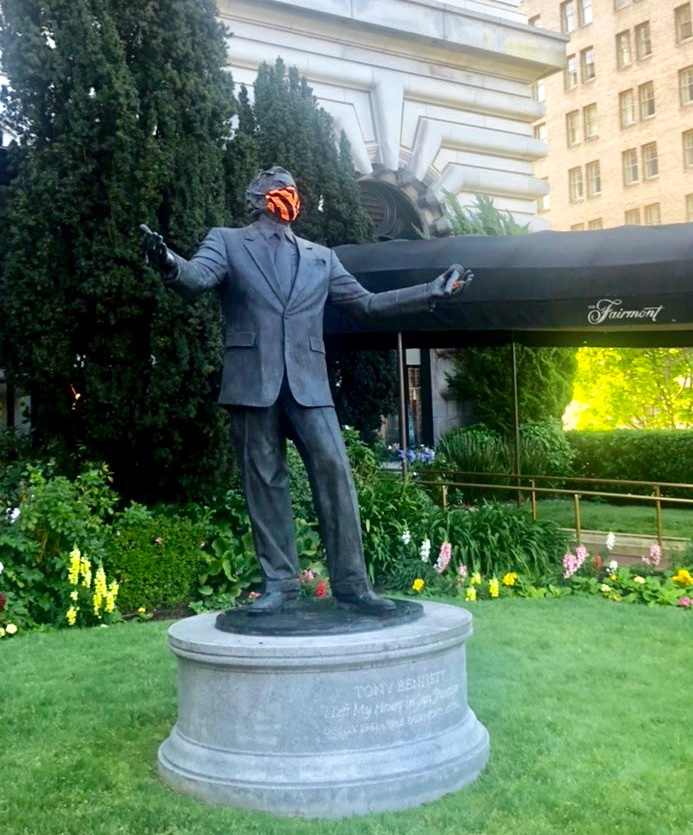 Google Search numbers soared for the "Lyrics to 'I Left My Heart in San Francisco.'"
At noon on Saturday, April 25, the entire Bay Area turned out on windowsills, front steps, and in back yards to raise their voices in a mega-sing-along of Tony Bennett's classic, the city's signature song, in a tribute to workers on the front line of the coronavirus battle.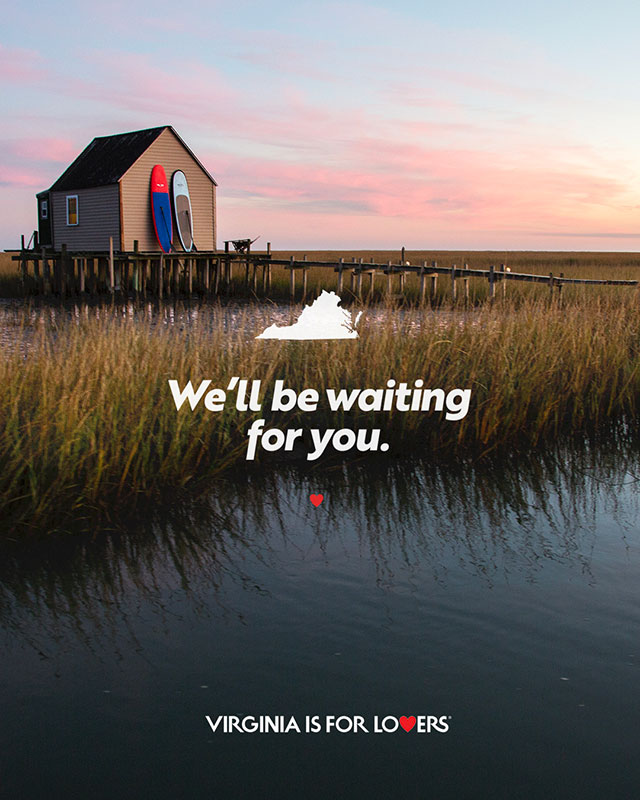 Virginia Tourism shows us a lovely stream of local landscapes and landmarks, captivating when set against a piano ballad. "We'll be waiting for you" is the message. Naturally, the tagline "Virginia Is for Lovers," closes out the spot. The famous tourism slogan has been active since 1969. The objective? An optimistic approach, preserving top of mind awareness, an invitation for later—it's described as a "reverse postcard." See and hear the 30-second spot by The Martin Agency here.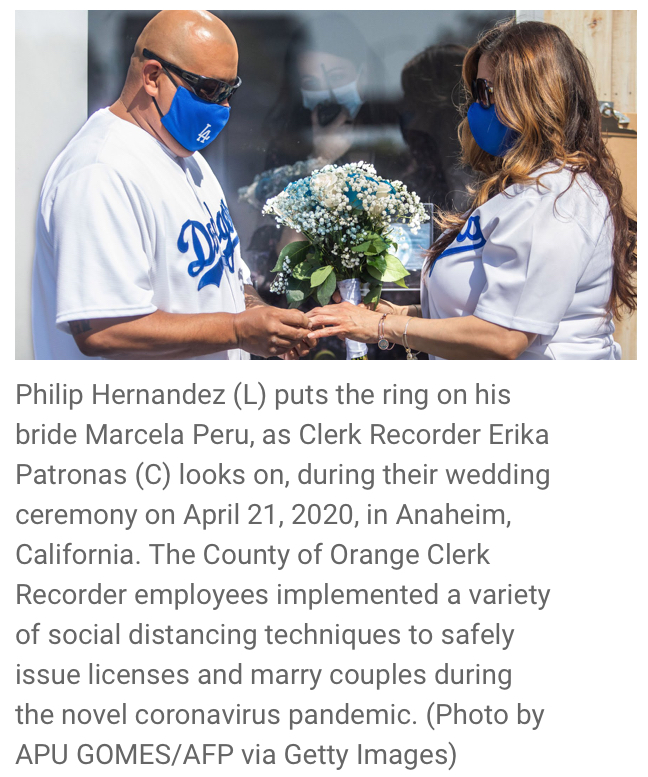 So many spring weddings meant to be held in gorgeous venues surrounded by family and friends have been cancelled. In Anaheim, Orange County, Calif., an empty Honda Center parking lot can handle up to 60 betrothals per day. Couples exchange kisses through protective masks and a county staff member stays safe behind the window of a booth with one witness present.
Related: Steal This Idea: Pivots and Finding New Ways to Reach Audiences — Part III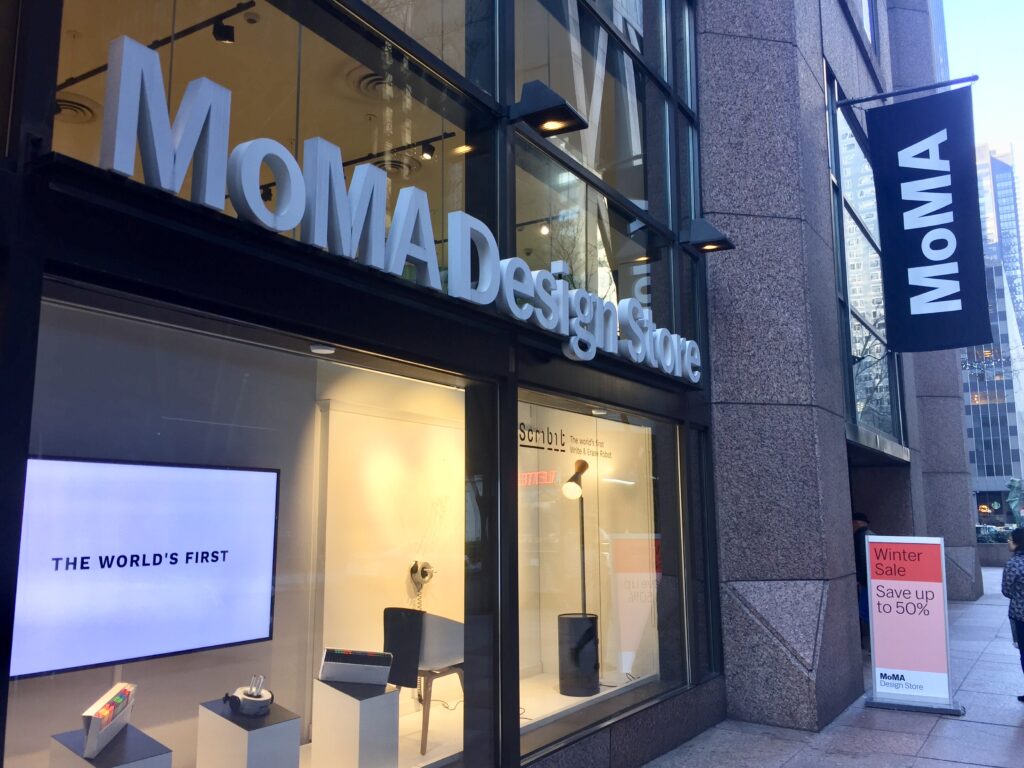 NYC & Company highlights ways to support one-off retailers, launching "Shop in NYC," a digital initiative. The un-Amazon tool curates items from cultural institutions including the Apollo Theater, The Metropolitan Museum of Art, MoMA, New York Hall of Science and the Whitney Museum of American Art. There's Italian food from Eataly, retro clothes from the TWA Hotel Shop and craft beers from The Bronx Beer Hall, The Bronx Brewery, Brooklyn Brewery, Fifth Hammer Brewing, Rockaway Brewing Company, Flagship Brewery and Kills Boro Brewing Co. Order sustainable home goods and kitchen supplies from Package Free, a Brooklyn-based company.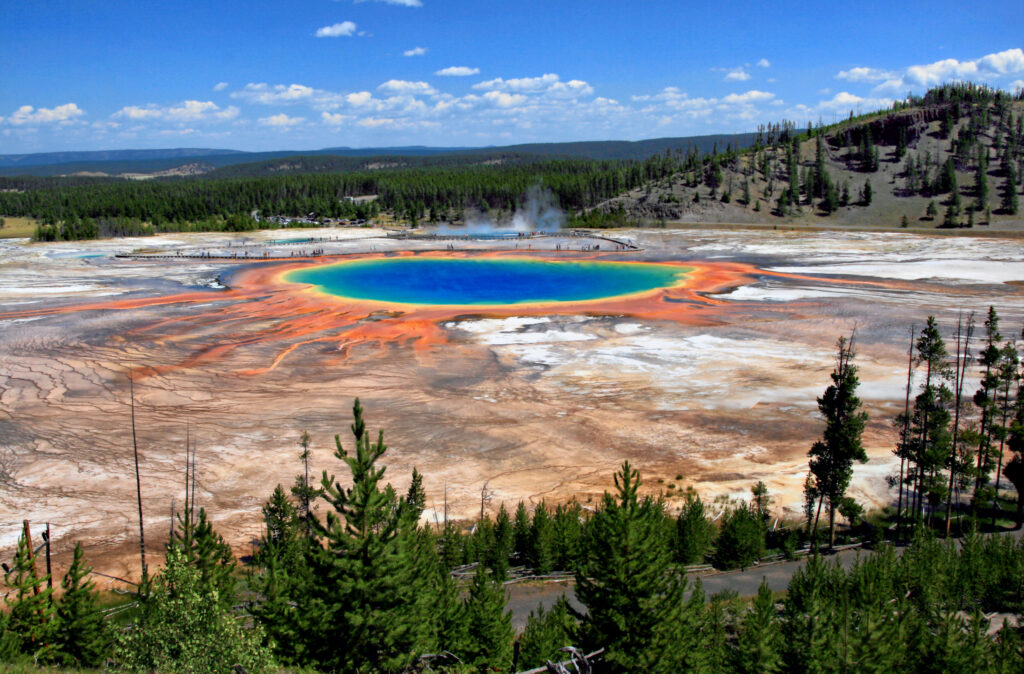 Glacier Country Regional Tourism Commission, DMO for eight northwestern Montana counties, recently released a video titled "Love now. Explore Later." The two-minute ad asks tourists not to come to Montana for now, President and CEO Racene Friede said. "It is not natural for us to say, 'Don't come.' It is not in our DNA. Our whole mandate is to market a region as a travel destination," Friede said.
Related: "Steal This Idea" – Part I and "Steal This Idea" – Part II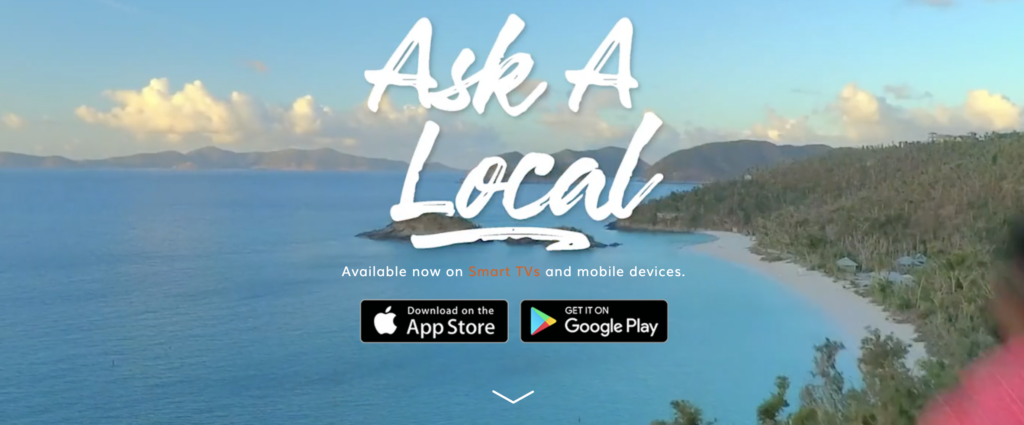 GoUSA TV features travel stories from across the USA via the app #GOUSATV. -> No subscription, no fees, no logins. There are full episodes, documentaries and films about real people from Brand USA. Click to get a 30-sec. trailer here.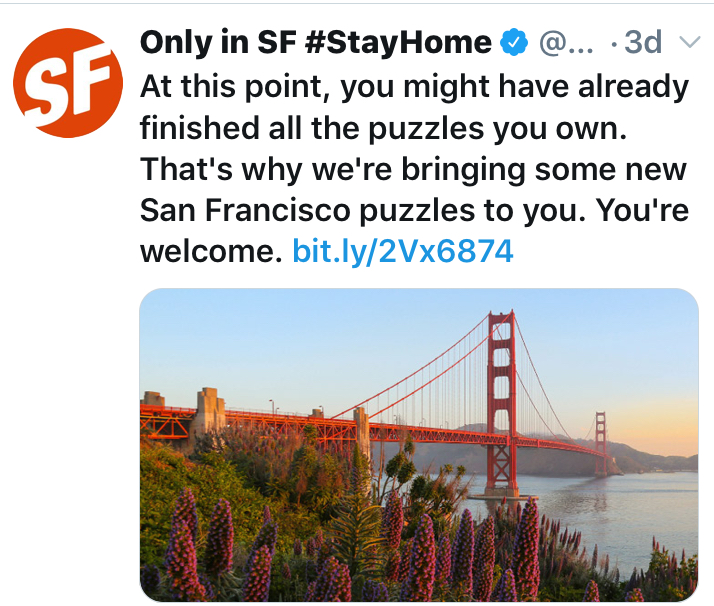 San Francisco Travel has a brilliant interactive digital jigsaw puzzle download featuring city scenes to play on your phone. "Hand out with the PIER 39 sea lions, gaze upon the Painted Ladies at Alamo Square, sit in Dolores Park, take a cable car ride, or check out views of the Golden Gate Bridge. Time yourself, show the edges first (that's cheating), or adjust the number of puzzle pieces from 6 to 518. Here's the link.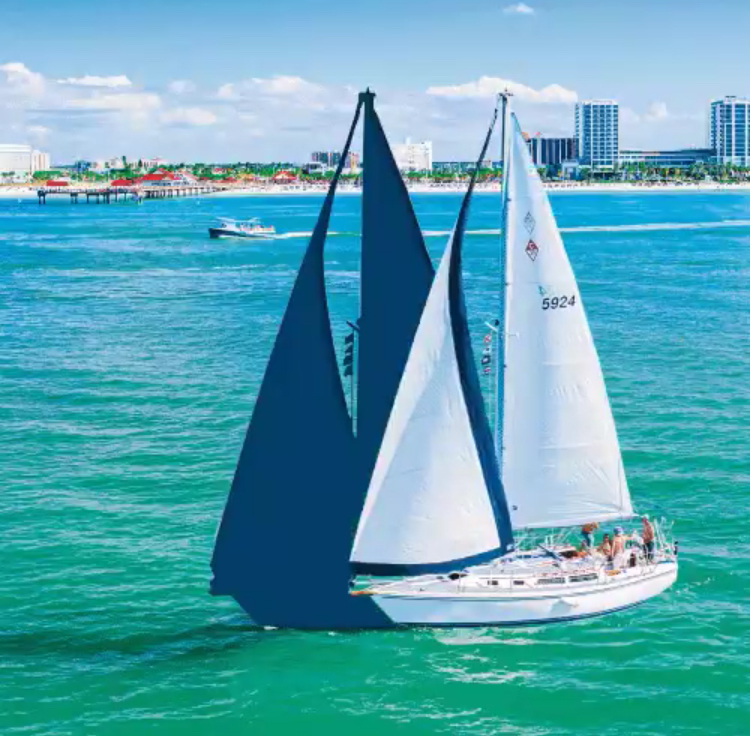 St. Pete/Clearwater is posting GIFs to let you test your eye-finger coordination talent on Twitter. How many tries before you can precisely capture the moving sailboat as it sails through the frame right into its shadow? Their next shadow game, a pelican.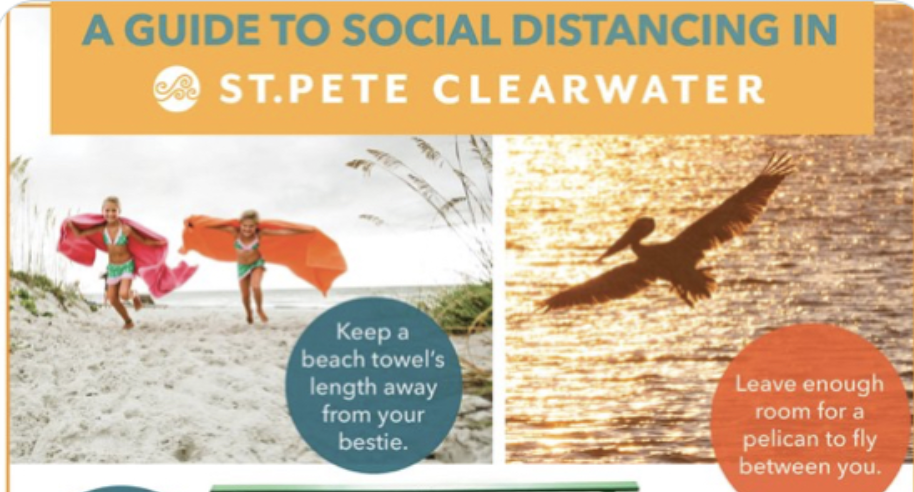 And remember, when beaches are re-opened, spread your (beach towel) wings. Six feet of social distancing is re-defined by Visit St. Pete/Clearwater.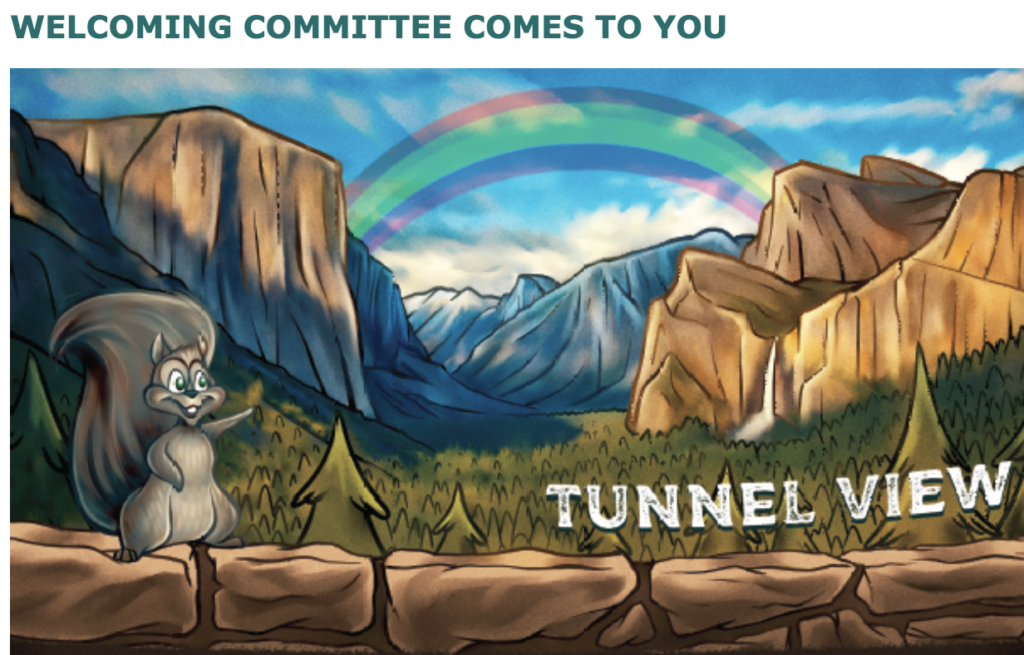 Visit Yosemite Madura County has put it all together digitally with parents in mind because fulltime home schooling is a brave new world. While you're home, Yosemite comes to you: the Activity Kit, Storybook and Coloring Pages feature animals. Teach little ones about birds, mammals, plants and bees that take care of this beautiful region. "Enjoy puzzles, making masks and paper doll crafts while learning about Yosemite, and so much more," says the DMO. Get the kit.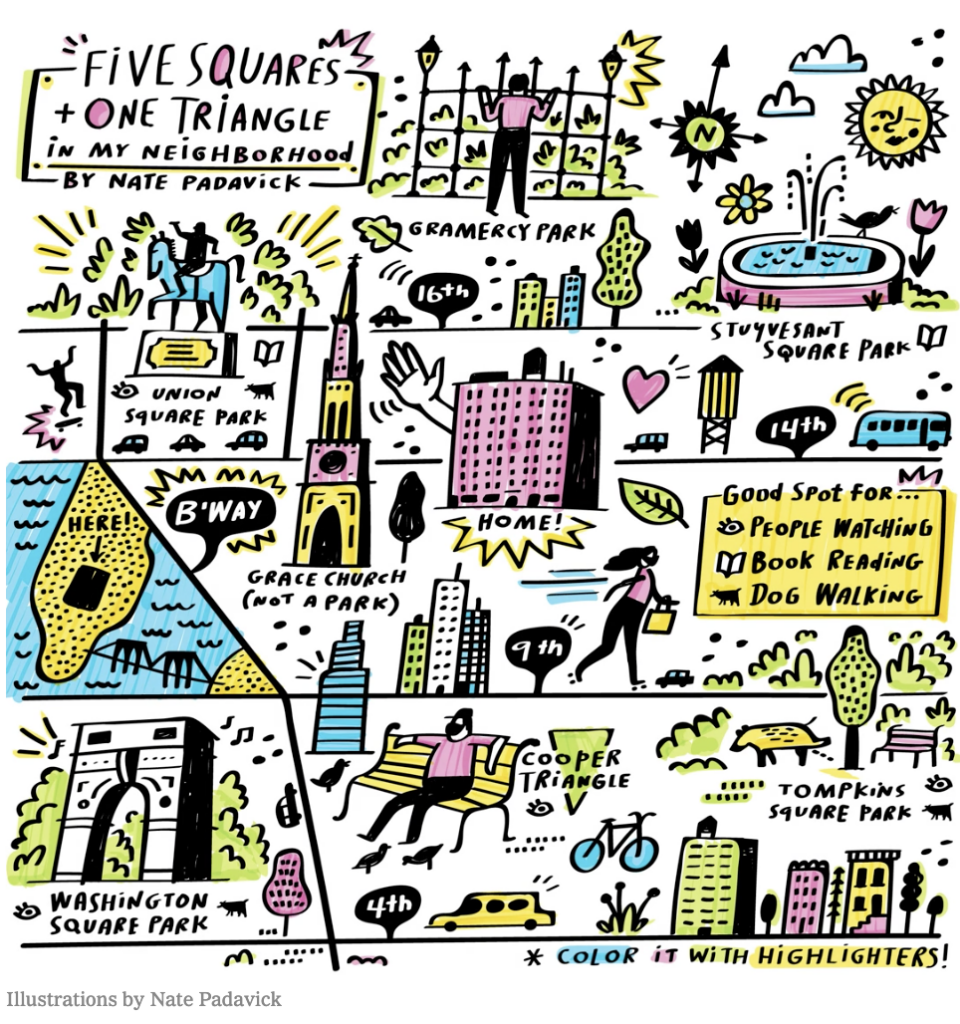 Release your cartography skills on behalf of a destination.
Learn how to make your own illustrated map in eight easy steps, courtesy of a freelance illustrator who shared his methods via The New York Times, get instructions here.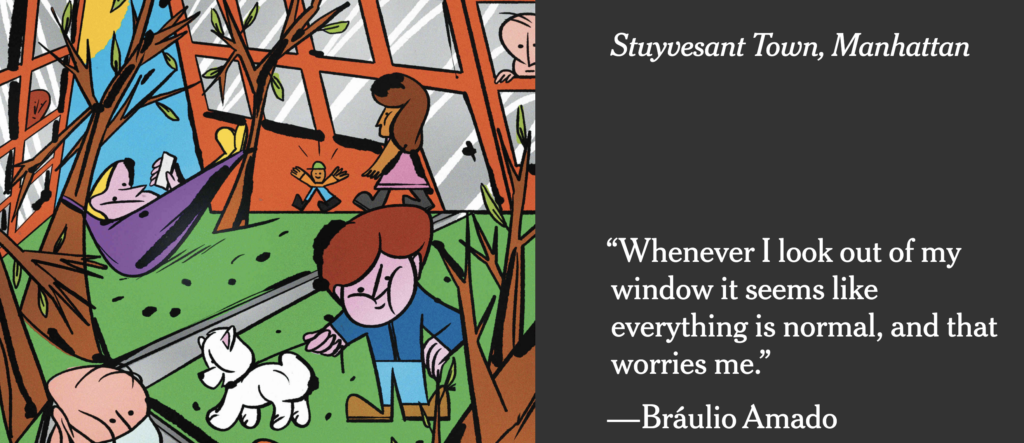 Because people have more time at home these days, have you considered a UGC call for original drawings, watercolors, paintings, sketches as a handmade alternative to Instagram? See more here.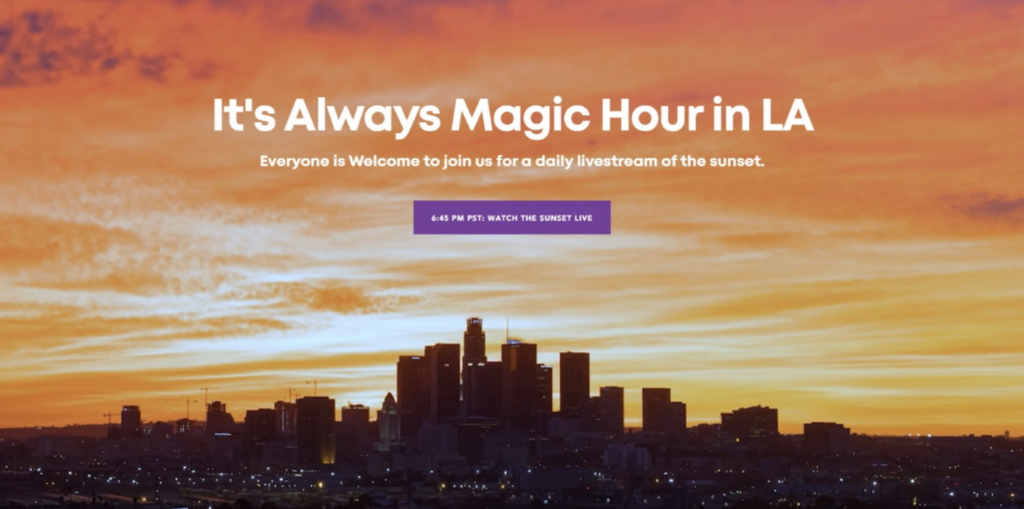 When it's Magic Hour" in Los Angeles, you're there…virtually. Thanks to a live stream of the sunset from Hotel Erwin in Venice Beach, Mother Nature's show is shared evenings at 6:30 p.m. PT. Want your sunset with a curated Spotify playlist from LA, interactive experience with a magician, chef, or photographer? For sure, with a cocktail recipe from an LA mixologist. You got it. Los Angeles Tourism & Convention Board produces the Magic Hour series that was kicked off by a professional location scout doing a Google Earth tour of locations made famous by films including La La Land and Blade Runner.
The most unusual idea is easily awarded to…Faroe Islands, a volcanic North Atlantic archipelago between the coasts of Norway and Denmark. "Now that we don't have any tourists, we have a lot of extra time on our hands," said Guðrið Højgaard, CEO of Visit Faroe Islands. They dreamt up "a website where people can dictate moves for a real-life Faroese guide using an online controller that resembles a video game console," as CNN describes it. "Every day at 5 p.m. local time, a local Faroese resident comes online, and everyone who has logged on to the website can 'control' them for one minute by pressing the run or jump buttons or by navigating up, down, left or right. The local wears a plastic safety helmet mounted with a GoPro and then sets off." This intricate scheme to showcase the remote location of fewer than 50,000 people involves local guides getting around on boat, seaplane, horseback, and on foot. Here's the video.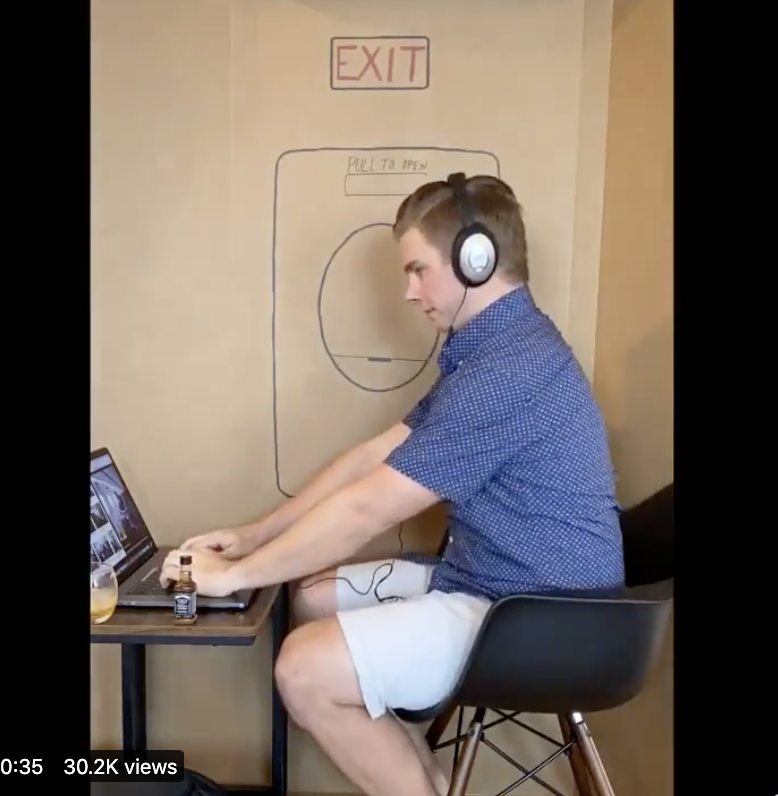 Delta Air Lines displays a sense of humor for giving this Twitter user a shout-out for his just-for-fun homemade video. "We love a good exit row, even when it's on the ground. A+ for effort @andrewdean." Watch the 55-sec. video here.