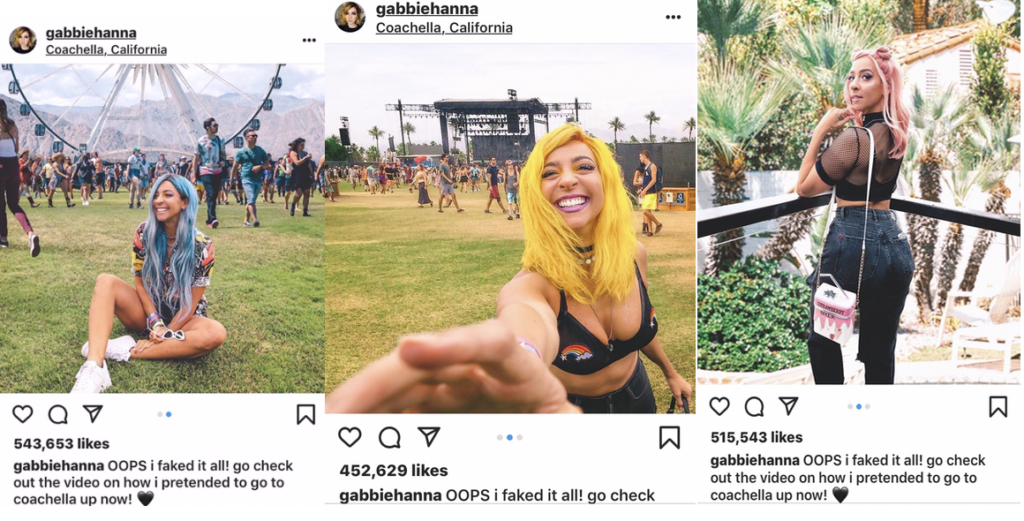 Photoshopped. Influencer Gabbie Hanna (3.8 million followers) decided to pretend attending the Coachella Valley Music and Arts Festival in Indio, California.
She never left home. She pulled off the stunt with regular Instagram Stories updates and photos, making outfit changes and getting help from a graphic designer friend who Photoshopped backgrounds onto her images.
Her point? How easy it is to fool millions of people on social media. It's a story that's been picked up by small bloggers and major news outlets around the world (Newsweek, MSN, Yahoo, The Independent, Daily Mail, Cosmopolitan…)
Related: True Story: How a Fake Restaurant Became #1 on TripAdvisor
Related: The New Social Influencer Celebrity is Not Human
For her 6.5 million followers on YouTube, there's a 23-minute video in which Gabbie talks (a lot) about her fakery methods—3,624,158 views in its first two weeks since April 22. Read the story here.