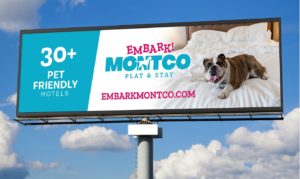 Are there underrated dog-friendly assets to highlight in your destination?
In case you missed it: Ed Harris, CMO of Valley Forge Tourism and Convention Bureau made a crowd-pleasing presentation last month at eTourism Summit, "Steal This Idea! Mascot Marketing."
Of course, cute animals are always a good idea.
We've learned that Ed also helped himself to another good animal idea to take back home to Montgomery County, PA.
He says, "This new campaign was inspired by my experience attending presentations at eTourism Summit about pet-friendly campaigns. Now we're encouraging visitors to come to Valley Forge & Montgomery County, PA (MontCo) to stay in one of our 30+ (pet-friendly) hotels."
See the presentation, "There's Riches in Those Niches" for a close look at dog-friendly destination marketing in Visit Vacaville, CA with DogTrekker.com.
See what Ed came up with back home: billboards and digital ads, a press release, and a YouTube video, "Embark! MONTCO."